//php the_post_thumbnail( 'post-thumbnail' ); ?>
The Back to School and Back to College shopping season is only rivalled by the Christmas winter holidays as the top "spending holiday" in the US, according to the National Retail Federation.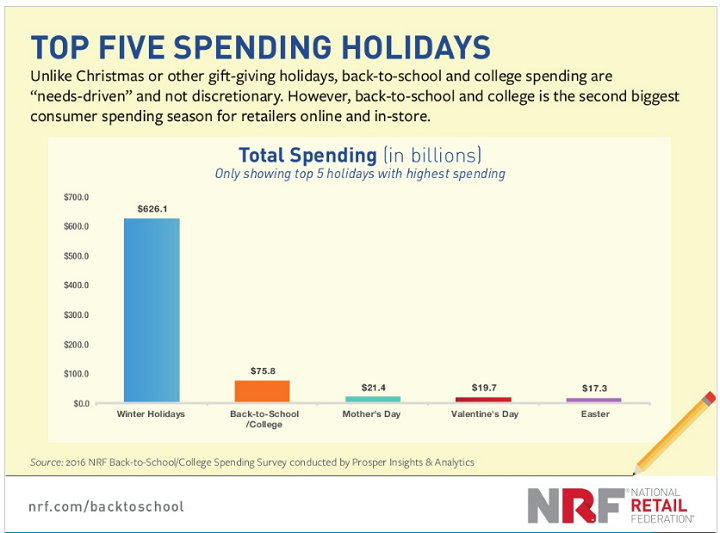 We hope that this post will provide a useful insight into the best products to source for this time of year and when to start selling.
Start selling back to school and back to college products sooner rather than later
It only seems like 5 minutes since the kids broke up for the summer but trust us, you need to stay ahead of the competition as both parents and students alike are making purchases already!
Google search data has shown that keywords relating to back to school and back to college products saw a surge in July last year, this could possibly have been linked to the Amazon Prime Day sales.
When does the back to school shopping start?
According to the NRF in 2016, 73% of buyers plan their back to school shopping at least three weeks before school starts again. Furthermore, 22.2% of consumers plan their back to school shopping at least two months prior to the start of the new school year.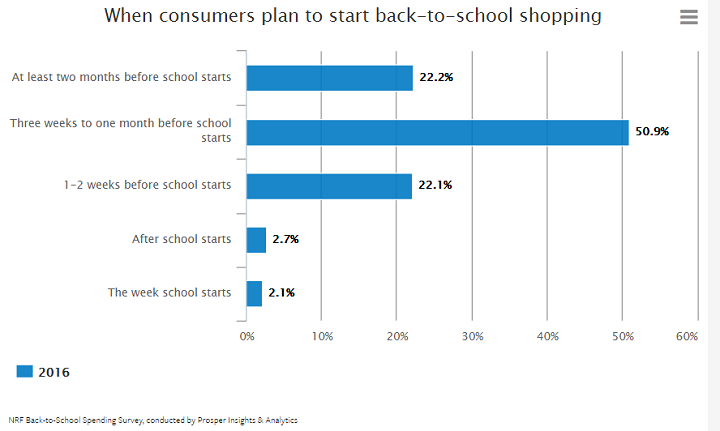 This data suggests that both parents and students are already looking for their back to school and back to college supplies.
We recommend that you start gearing up for this shopping season now and make sure you have enough stock to meet the demand.
Target all age groups
When it comes to product sourcing and product research, don't miss a trick! You should target all ages to maximize sales.
Preschool
Elementary school
Junior high school
High school
College undergraduates
Graduate students
Think outside of the box. Make the most out of specialized schools and colleges such as:
Culinary schools
Technical schools
Performing arts schools
Religious schools
Boarding schools
Remember the essential items!
Backpacks and Bags
Plastic sandwich bags
Laptop cases
Messenger bags
Brown paper lunch bags
Gym bags
Briefcases
Insulated lunch bags
Lunchboxes
Knapsacks
Notebooks and Organizers
Staplers and staples
Spiral notebooks
Lined paper
Composition books
Sticky notes
Three-ring binders
Ring reinforcements
Folders
Writing
Felt-tip pens
Ballpoint pens
Pencil sharpeners
Highlighters
Mechanical pencils
Wooden pencils
Correction tape
Erasers
White out
Arts & Crafts Supplies
Protractors
Markers
Colored pencils
Crayons
Glue sticks
Safety scissors
Scotch tape
Paste
Rulers
Construction paper
Electronics and Tech
Headphones
Laptops
Tablets
Scientific calculators
Voice recorders
The most popular back to school product categories are:
Electronics and tech
Clothing and accessories
Books
School and office supplies
Shoes
Toys and games
Sporting goods
To save time, effort and money when scouting for the most profitable back to school and back to college products, try out BQool's amazing Amazon product research and competitor spy tool BigTracker.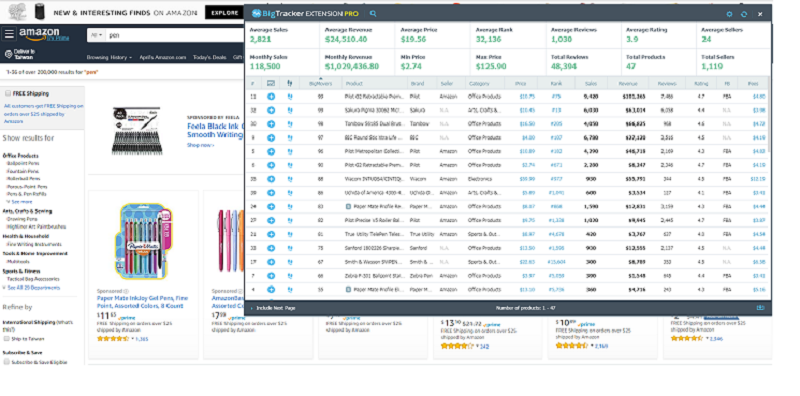 BigTracker alleviates the time consuming, manual data-entry tasks that we all love to hate.
BQool is offering a 14 day free trial of BigTracker to new users. BigTracker also has a fantastic chrome extension. Try today for free!