//php the_post_thumbnail( 'post-thumbnail' ); ?>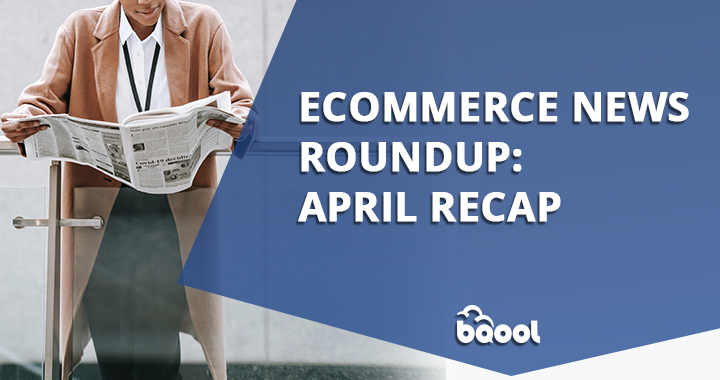 Amazon has made many updates in the last month. Here are Amazon news and updates in April.
Updates to FBA New Selection
FBA New Selection program provides free storage and removals for eligible, standard-size items and free return processing for apparel and shoes. Plus, if you're a new FBA seller, you can get a $100 discount on Amazon partnered carrier shipping.
In addition, FBA New Selection offers these new benefits:
Sponsored ads:


For new-to-FBA sellers, Amazon will offer up to $200 in sponsored ads promotional clicks and the free creation of advertising campaigns.
No ASIN limit


Allow an unlimited number of eligible new-to-FBA parent ASINs. It was previously 500.
Oversize item eligibility


For up to 30 units per parent ASIN, Amazon will provide free storage for up to 90 days and free removals for up to 180 days for eligible oversize items.
Improved benefits for apparel and shoes


Amazon increased the free storage benefit from 50 units to 100 units per new standard-size parent ASIN and extended the period for waived storage fees from 90 days to 120 days. Amazon also increased the free removals benefit from 50 units to 100 units per parent ASIN for 180 days. Eligibility for the customer returns processing fee waiver was extended from 120 days to 180 days, and the waiver applies to 20 units instead of 50 units per parent ASIN.
To qualify for the new benefits, eligible parent ASINs must be received at a fulfillment center on or after April 1, 2021. To learn more and enroll, go to FBA New Selection.
Improve your listing quality using bulk upload in Listing Quality Dashboard
You can now review your product listing quality in one place with the Listing Quality Dashboard. Amazon has added bulk upload functionality, which allows you to add all the missing relevant attributes for multiple ASINs at once. This change will improve discoverability, reduce customer returns, and enable page views, inventory, and sales search filters of your products.
For more details about bulk uploading, refer Improve your listing quality using bulk edits.
Reduce excess inventory this spring through Amazon Outlet
If you sell with Fulfillment by Amazon (FBA), Amazon Outlet provides you with an opportunity to improve your inventory health. Featuring products via Amazon Outlet can help you boost sales, improve cash flow, optimize inventory levels, and reduce storage fees. There are no additional fees to participate in outlet.
Amazon Outlet can now be reached on the mobile shopping app under the 'Programs & Features' section of the main menu. Based on outlet's seasonal trends and customer marketing focus this season, eligible items in categories such as Lawn & Garden, Sports, Outdoors, Tools & Home improvement, and Apparel are expected to have increased exposure on outlet. Customers who often shop in these categories will be able to find outlet through Amazon home page advertising, direct email, and more.
You can use the 'Manage Excess Inventory' page to identify products eligible for Amazon Outlet deals and submit deals for approval using the menu to the right of eligible listings.
Customers can access outlet on their mobile apps by clicking 'See All Programs' in the main menu.
Reminder: Provide product IDs (GTINs) for listings
For most product categories, you are required to provide a unique product identifier, known as a GTIN (Global Trade Item Number) such as UPC and EAN, to create new listings. GTINs are considered invalid if they are not GS1 vended or not recognized by the brand owner. To check for products with invalid GTINs, you need to visit Fix your product and provide the requested information immediately or your listings will be removed.
To fix the ASINs, use Contact us to submit a letter of authorization or a licensing agreement that meets the following criteria:
Includes the name and address of the brand's rights owner

Legible: it is not too blurry and not too light or dark

Includes the manufacturer name and contact information

Includes the seller's legal business name or the seller name that corresponds to your

Account information

page in Seller Central

Includes the seller's physical address

Must be in English

Includes a GS1 certificate
Products that are listed in the At risk listings section in the Fix your product page will be removed if the requested information is not provided by the due date. Products that are listed in the Inactive listings section will remain inactive unless the requested information is provided.
Contact Selling Partner Support or visit the Listing requirements: Product IDs (GTINs) Help page if you have concerns about your ASINs.
The melting temperature attribute is a required step for ASINs
Starting April 22, 2021, the melting temperature attribute will be a required step when you fill out information for the following:
New ASINs

All existing ASINs when you update any attribute on a product information page
For meltable items, such as chocolate, lip balms, and wax-based products, select Yes for is heat sensitive and provide information about the product's melting temperature.
Change to Returnless Refunds for international seller-fulfilled orders
Effective May 25, 2021, if you fulfill customer orders in the US from a country outside of the US, you must provide a valid US return address (for items under $25).
Amazon will use this address to generate prepaid return labels for customers on eligible return requests. If a US return address is not provided, Amazon will issue the customer a refund for eligible returns under $25, without requiring the item to be returned (Returnless Refund). This change will help simplify and standardize the returns process for low price items for both customers and sellers.
Next steps:
If you do not have a local return address, an international returns provider on the Solution Provider Network may be able to help.
For more information on returns, go to the help pages below:
New customs requirements for low-value shipments to the US
US Customs and Border Protection (CBP) has issued new guidance on how to correctly ship your inventory to Amazon fulfillment centers in the US.
Providing the correct information in the right format can help ensure that your inventory isn't held up or delayed by CBP during importation. For FBA shipments to be eligible for duty-free (Section 321) entry into the US, merchandise owners must provide information about their identity (first and last name, or company name) to CBP via the shipping manifest or customs entry filing.
Amazon recommends that you use the following format:
– [Seller legal name] c/o FBA
– Fulfillment center address
To learn more about how to properly format information about the merchandise owner in your customs documentation, review the CBP's guidance. Amazon recommends that you consult with your carrier or customs broker for further guidance about your shipments.
For more information about shipping inventory, go to Delivering imports to Amazon.
Extend your small business reach with Amazon Explore
Amazon Explore is a new service that lets you bring customers to your physical store, virtually. It includes one-to-one, personalized experiences that make it easier for customers to discover new brands and unique products, and shop from the comfort of their home.
Features of Amazon Explore:
You can sell products that a customer sees during the experience without setting up an online catalog. You can take a picture, add your product information at the point of sale, and Amazon will process the transaction.

You can easily schedule appointments with customers through an online portal. You will have full control over setting your availability.

It is easy to set up. You only need a compatible gimbal, phone, and headphones.
For more information about Amazon Explore, watch this video. It demonstrates how you can use Amazon Explore for your business.
Amazon has special offers to help you get started with Amazon Explore (if eligible). Amazon has a free trial for existing sellers, and a promotional discount until July 1, 2021, to help reduce the cost of your phone and other gear. This is a limited-time offer. Offer is limited to one set of gear (gimbal, phone, and headphones) per seller account. Amazon reserves the right to modify or cancel the offer at any time.
New Brand Catalog Manager tool for brand owners
If you are a brand owner, you can grow your business by using the new Brand Catalog Manager tool in the Brands section on Seller Central.
This tool shows you who is selling your branded products, the average customer ratings of each product, your 12-month potential sales revenue opportunity, and more.
Update to Multi-Channel Fulfillment fees: Effective June 1, 2021
In December 2020, Amazon postponed the annual fee adjustments and absorbed costs to support you through a challenging winter. Now, as Amazon sees a path to normalcy, Amazon's next US Multi-Channel Fulfillment (MCF) fee adjustment will take place on June 1, 2021.
2021 US Multi-Channel Fulfillment fee changes page outlines the changes, which include the following:
Amazon will implement moderate increases in fulfillment fees (about 3% on average) to reflect changing fulfillment, transportation, and storage costs. This increase is in line with the industry average increases for fulfillment services.

Amazon is adding the option to block orders from being shipped by Amazon Logistics, for a 5% surcharge. Because sales channels like eBay and Walmart prohibit the use of Amazon Logistics, you will be able to block this shipping method at the account level within your

FBA settings

or for individual orders.

Amazon is aligning most MCF product size tiers to the Fulfillment by Amazon tiers and adding a new

Small standard size: 2 oz or less

tier. Amazon will remove expedited and priority shipping speeds on large oversize and special oversize products.
Amazon has recently launched many of your top-requested MCF features:
New recommendations to help you improve your Valid Tracking Rate
Amazon has updated the Valid Tracking Rate (VTR) Help page and FAQ with new recommendations to help you improve your VTR.
Updated information includes:
Best practices to Successfully Upload Tracking Information: Learn how to reduce order-related defects by avoiding actions that can damage your shipping performance metrics, such as using unsupported carriers or confirming or updating tracking after carrier delivery scan.
Adding Tracking Information: See the list of carriers integrated with Amazon.
By providing detailed shipment tracking information, you can improve the customer delivery experience; reduce customer contacts, order-related defects, and lost-shipment costs; and improve your feedback ratings.
To find out more, go to the Valid Tracking Rate Help Page and FAQ.
Get the latest eCommerce news and Amazon seller tips at blog.bqool.com. Subscribe for updates!