//php the_post_thumbnail( 'post-thumbnail' ); ?>
How to Find Private Label Products to Sell on Amazon
These days, an increasing number of Amazon sellers has jumped on the private label bandwagon, because it not only allows for greater profits but also gives them the opportunity to build their own brands. Although it can be difficult for many sellers to get started, due to the initial upfront investment of $500 to $2,000. If you want to succeed in this business model, the first and crucial step is to pick the right product through Amazon product research. There are numerous ways of conducting product research and below are the commonly recommended criteria:
– Average selling price between $20-$50
– Existing demand with at least 3,000 units sold per month
– Less than 100 reviews
– Lightweight (Under 5 lbs.)
– Sourceable from suppliers such as Alibaba
– Year-round selling potential (not seasonal)
– There are no major brand names
(1) Average price between $20-$50
Price is the most important factor for determining the profitability and success of your product. $20-$50 is the ideal price range to start with because it is a low-risk investment for private label beginners. The $50 maximum keeps you from spending too much on your first orders. On the contrary, if you target on a product that costs $100 to manufacture and order 100 units, you've already spent $10,000 on the products, not even including Amazon closing fees, FBA fulfillment fee and so on. This investment would be tremendously more risky than spending on $20-$50 items.
Another reason is that most of the products within this range will be simple to manufacture and easier to ship. Moreover, as these products are quite affordable, shoppers are more likely to consume them impulsively. That is to say, there are more chances for you to sell out the products quickly.
(2) Existing demand with at least 3,000 units sold per month
The next factor that you should consider when conducting product research is the demand of a product. Generally, a good product would be sold at least 3,000 units per month in total by the top 10 sellers. However, the actual demand could be tricky to assess due to two reasons. First, Amazon doesn't provide the accurate data for the quantity of products sold. Second, even with the data, product research could be difficult for sellers to determine whether the demand will rise or fall in the future. Fortunately, there are Amazon product research tools on the market that provide estimated sales data and product trends. With these tools, you can easily identify the demand of a product.
(3) Less than 100 reviews
Reviews can greatly influence consumers on their online shopping behavior. Since buyers tend to choose products with more product reviews, having more reviews means that buyers are more likely to purchase your product. Reviews are also factored into the ranking process, so more reviews will give your product a better page ranking over your competitors. Hence, reviews can be seen as the bellwether of sales. However, as a product with a vast reviews usually means it is already a hot seller, we'd not recommend finding this kind of product. Instead, it's better to look for products with less than 100 reviews, because it will be easier for you to exceed that number and beat your competitors.
(4) Lightweight (Under 5 lbs.)
When it comes to weight, the lighter the better, as it cuts into profitability in 3 ways. Assuming you are using Amazon FBA, the heavier the product the more it will cost to ship, store, and fulfil at Amazon. The same holds true if you are using merchant fulfilled as it will cost more for you to store and ship a heavier product. Choosing products under 5 lbs. will help keep costs down.
(5) Sourceable from supplier
Now that you have some product ideas, it's time to find a supplier who can make your product inexpensively. The most efficient way is to start searching on Alibaba for international suppliers. If the search returns a good number of suppliers that will increase your chance of finding one that can meet your production, cost, and MOQ (minimum order quantity) requirements. If you can't find any suppliers to make your product or at a reasonable price, then this could be a sign that the product will be difficult to manufacture, which you would want to avoid.
(6) Year-round selling (not seasonal)
For your first private label product, you should find something that would be able to sell year-round, that way you will receive a consistent cash flow instead of banking all your revenue on the holidays. The quickest way to determine the product's seasonality is to use Google Trends. Enter the main keyword for your product and search. A high consistent trend is a positive sign there will be year-round demand for your product. Below is an obvious seasonal product that you should probably avoid as your first product, especially during Q1-Q3.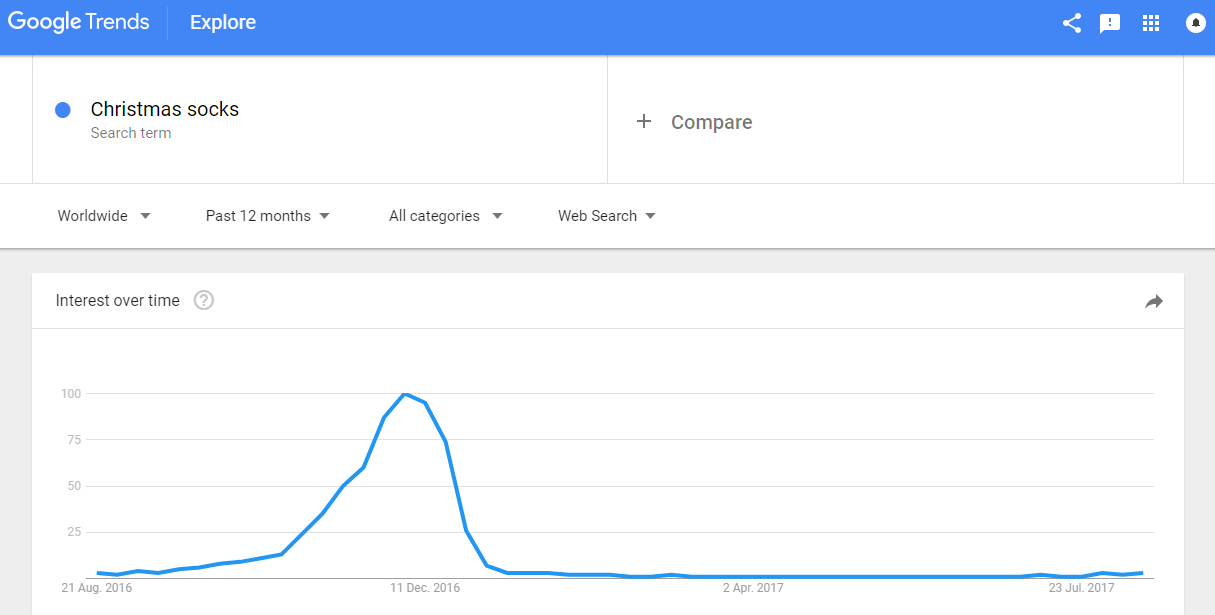 (7) There are no major brand names
As a new brand that is just starting off, we strongly suggest choosing products that do not have many big brand names. Having only a few big brand names or no big brand names indicates that the competition of a product isn't fierce. Mild competition makes it easier for you to create improvements that can differentiate and add value to your products. For example, if you can provide better quality or bundles then you will have a competitive advantage. In addition, it is more likely that your competitors have mediocre pictures and listing descriptions. You can easily optimize yours and surpass theirs.
A useful method is to search for the product keyword on Amazon and see if it pulls up any recognizable brand names. If yes, then this is a product that you will want to avoid.
Free And Paid Tools For Product Research
Now that we have established our product criteria we will cover the various tools available for conducting research.
Manually searching on Amazon
This is the most common way to conduct private label product research, and it's completely free. But the downside is that you will have to spend hours going through different products and categories to check data such as sales price and the number of reviews yourself. It's also extremely difficult to get an accurate sales prediction.
Paid research tools
There are paid online research tools like BigTracker, which will save you countless hours, by allowing you to filter products by variables such as price, number of reviews, and can even provide real-time sales data.
If you already have some private label product ideas in mind, you can enter the keywords into the "Product Finder" feature and start evaluating its potential. Once the keyword is entered it will pull up product information such as average price, reviews, total sellers and estimated sales for each individual item.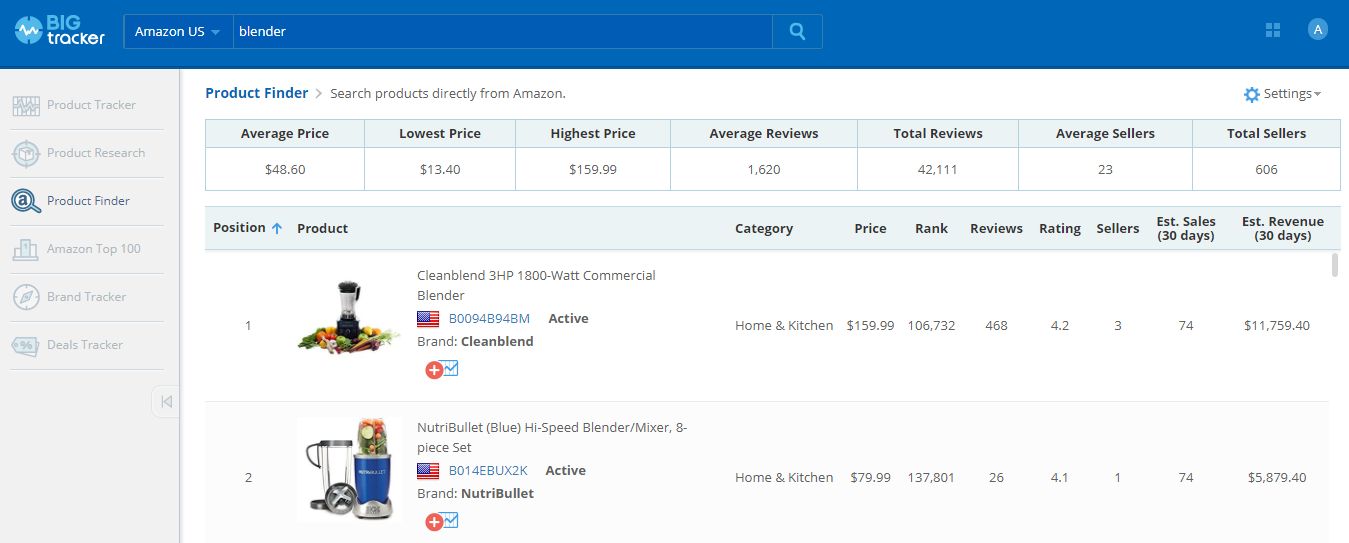 If you're not sure where to start, don't worry, BigTracker has a product research database that allows you to filter Amazon's entire catalog based on your search criteria. There are options to filter by marketplace, brand, category, price, rank, reviews, rating, seller, estimated sales, and revenue, which is just about everything you need to get the complete picture of a product. Below is a screenshot showing a search in BigTracker for the following criteria:
> Price: $20-$50
> Less than 100 reviews
> Est. sales: 300 units per month
> Standard size tier
> Fulfillment: FBA

Now that you have gathered some strong product leads, it's time to track them within BigTracker. Doing so will provide daily updates on inventory, unit sales, and BSR data, which will give you the most complete and up-to-date information about your product choices. Pre-Register Now to receive your exclusive coupon code and get notified about the official BigTracker launch date!
Read More
BigTracker – A New Amazon Product Research Tool Is Coming Soon!