//php the_post_thumbnail( 'post-thumbnail' ); ?>

There are millions of Amazon sellers worldwide and there might be thousands in each product category. Under this circumstance, the odds of encountering intense competition when selling on Amazon is high. Therefore, as an Amazon seller, it is imperative for you to conduct competitor analysis so as to identify your product advantage and stay ahead of them. The following are some competitor analysis criteria that you should notice:
Sellers
The most basic competitor analysis is understanding who they are and how many there are. First of all, if Amazon or other big famous brands already sell it, you should avoid selling it. Because of their scale, they will have better bargain price and discount. That is to say, you will encounter formidable competition.
Second, if there are too many sellers who are selling the same product, it's better for you to avoid it too unless you have superior advantage than others. For example, if most of them are sending by FBM, you will have the advantage by using FBA. Or if you can provide prime eligibility for the product.  Since there are more and more prime users now, you can avoid the competition with non-prime eligible sellers.  
Product Reviews
Reviews offer informative details about your competitor's product. If you are targeting a product, try to look at the product page. If each of the top 5 sellers who sell the product has more than 100 reviews, it might be too competitive for you to enter. On the contrary, if there are less than 100 reviews, it might be easier for you to get into top 5.
Another information that reviews provide is valuable customer feedback. Go through all of the 1-3 star reviews and note the points that consumers are complaining about, especially for those verified reviews. It helps you to understand their needs and you can improve your product accordingly. Also, you can add customers' main concern points as your keywords in product title and description to optimise the SEO of this listing.
Promotion Deals
You must wonder why your competitor's sales rank can suddenly raise, or the number of reviews can increase dramatically. In most cases, these can be explained by the launch of a promotion. For example, in hot selling seasons, many sellers, including your competitors, will offer massive discounts or buy one get one free discount to boost their sales. The difficulty is that you would not know their prices or when they start the promotion unless you keep monitoring on Amazon continuously.
To alleviate your burden, you can utilize Amazon competitor analysis and research tool such as BQool's BigTracker. It's Deal Tracker feature will help you track all the deal details of selected product so you can learn when your competitors started the promotion. Then you can evaluate how to react accordingly.
Pricing Strategy
We've known that pricing has an immense impact on sales and winning the buy box. However, is there a way to keep lowering your price? There are always some existed basic cost, including product cost, shipping fee, and Amazon fee. Since they will cannibalize your profit, the lower your price is, the lower your margin is. To avoid falling into the low margin limbo, you should adopt some tactics to make your product more valuable and different than others. For example, you can add value to your products by bundling two together.
Also, it is helpful if you track the price over time to monitor on your competitors, which can help you identify your pricing strategy. Moreover, you can utilize some Amazon third party tool, such as BQool's BigTracker. Its Profit Calculator will display your profit and cost, and the system will automatically calculate the shipping cost and Amazon fee for you.

Sales Number
The more units are sold, the higher the seller rank you have. However, the fact is that rank is just a floating number, it will change with time. How could you predict if there will still be enough demand for your product?
BQool's BigTracker can figure it out for you with its advanced competitor analysis tool. It will provide you with an accurate estimate of monthly sales number to help you identify sales potential. In addition, you can look at the sales trend to see whether it is growing or declining. If it shows consistent increases or steadiness, it might be a great choice for you to sell the product.
Listing Quality
This is the essential thing that you should do before you launch any products. The quality of listing not only give you a better keyword searching and SEO to gain more organic traffic but also better selling opportunity than your competitors.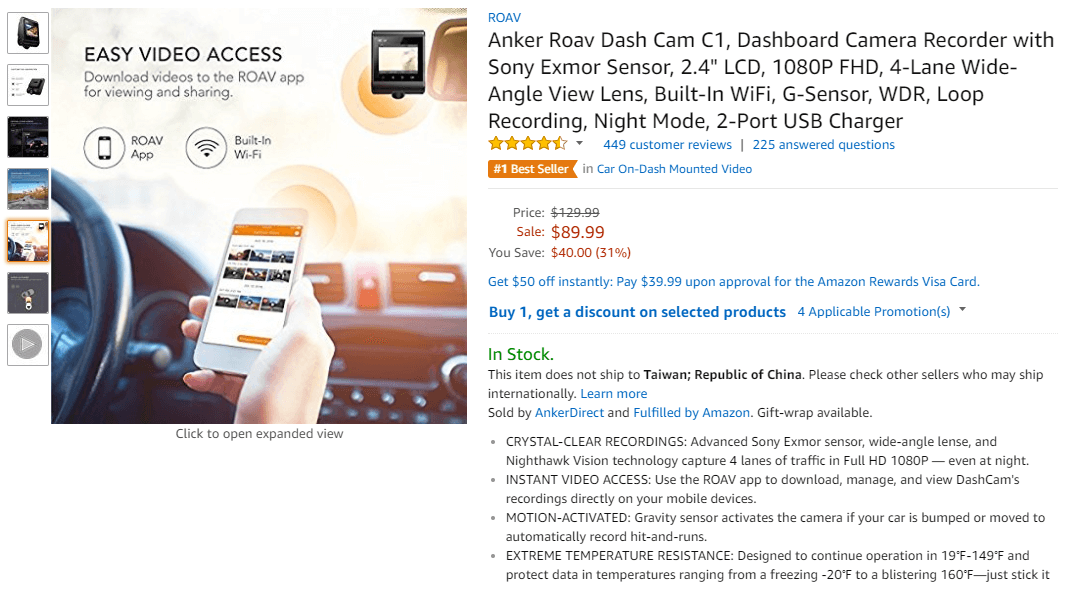 Above are the 6 factors you should consider when organizing competitor analysis on Amazon. To conduct the research more efficiently, you can utilize an Amazon research tool like BigTracker. With it, you can add several products into Product Tracker list to juxtapose their review numbers, deal types, seller numbers, pricing, sales numbers…etc. and effortlessly pinpoint your product advantage. Moreover, if there are changes from your tracking products, the system will send email notification to you on a daily basis. To learn more about these powerful features, please visit BigTracker. 
BigTracker will be officially released on September 4th, 2017, pre-register now to receive exclusive coupon code! 
Read More:
Amazon Keyword Tips – SEO Strategies for Your Amazon Product Page