//php the_post_thumbnail( 'post-thumbnail' ); ?>
Early on Amazon founder Jeff Bezos discovered that in order to provide customers a great shopping experience he had to refine the function of his website.  To be a great online merchant, Amazon underwent hundreds of tests year after year to develop a tool that could expedite checkout, simplify choices, and demonstrate consideration towards the consumer.  This golden tool is known as the Amazon Buy Box on the upper right corner of the Amazon page.  If you don't know what it is, click 'What is the Buy Box?'  Needless to say, this Buy Box works.  Sellers on Amazon literally fight tooth and nail to be in the Buy Box to attract the attention of buyers.  If you're a seller and want to find out how to get in on the action, read 'How to Get in the Buy Box.'  The fact that the Buy Box has remained a prominent feature on Amazon proves its staying power.  Thinking about competing for the Buy Box?  Do it.
Get the buy box to increase your profit
If you're selling on Amazon to make a profit, let me rephrase, if you're serious about making serious dough (not talking about a muffin mind you, I'm talking about real coinage, cash, dollar bills, currency, funds, moolah, wealth, income, bank notes, proceeds, profits… you get the picture), you need to compete for the Buy Box.  We ourselves have witnessed our customers make significant gains in profit once they started using our repricing software to compete for the Buy Box using our free 14-day repricer trial. Hard to imagine, but true. If even that's not enough to convince you to take the Buy Box seriously, keep reading.
Big Business
A few stats to throw out.  E-commerce is the fastest-growing service in the retail industry, followed by supercenters.  Of all the E-commerce retailers, Amazon is the largest by far in the West and one of the top three in the world.  There are 1.3 million-and-growing Amazon sellers which account for 40% of Amazon's $61 billion business; that's over $24 billion dollars earned by third-party sellers.  There's plenty of business to go around, so why wouldn't you want a competitive advantage?  Amazon advantage?  The Buy Box.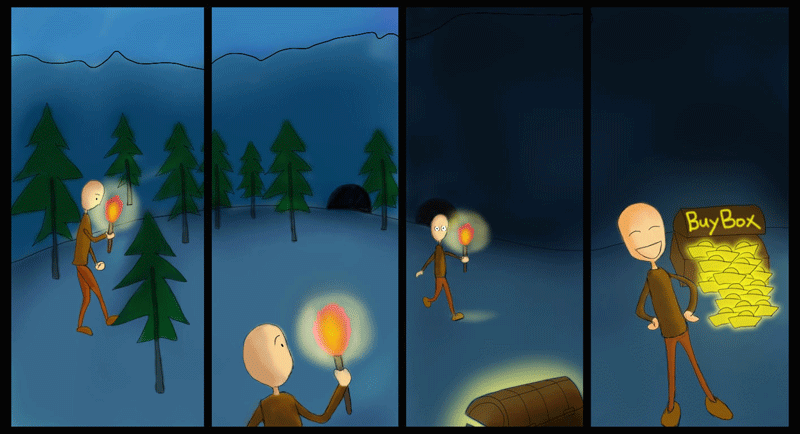 Magic Button
Amazon has the 1-Click patent.  This patent is essentially the 'Buy now with one click' button that helps millions of consumers bypass the checkout process.  Think about it.  Many of those on Amazon are people who are looking to save time and effort by shopping online.  A one-click buy puts Amazon vastly ahead in efficiency compared to all the other e-commerce marketplaces.  It's a valuable asset for Amazon, probably adding about 5% or $2.4 billion to their overall revenue.  Amazon also makes upwards of $40.8 million in fees by licensing to companies like Apple who use the feature for iTunes, iPhoto, and the Apple App Store.  Genius technology endorsed by Apple.  Hmm.
Vetted
Now, imagine you are the occasional buyer on Amazon, and you're somewhat nervous to use your credit card online with new sellers.  You'd rather not leak out personal information to multiple sellers.  Well, the Buy Box gives you comfort.  You automatically assume the seller has been vetted, passing a series of background checks or what have you to be backed by Amazon so publicly online.  You prefer to go with what seems to be the seller recognized by Amazon, not worrying about your saved details being processed again.  You click without suspicion.  You buy without hesitation.  That is the power of Buy Box.  It bridges the buyer and the seller and removes the suspect label.  By eliminating that final degree of separation and the stiffest barrier, the Buy Box establishes seller trust and buyer's confidence.  From the buyer's perspective, the Buy Box inherently offers protection and insurance.
Shoppers
Hoards of Amazon buyers are shoppers who wait till the last minute to purchase Christmas presents, anniversary gifts, birthday presents, and retirement gifts.  They are there for their own convenience sake.  Amazon has established itself as the most efficient e-commerce site, having a great reputation to be able to fulfill free 2-day shipping orders to Prime members.  If you're a last-minute holiday shopper, the Buy Box could not be more valuable.  But it's not just for holiday shoppers.
Lazy shoppers: They're just looking for something reasonably priced.  Yeah, they don't really want to compare brands and prices and get into all the technical details of shipping and checkout costs.  They aren't there to penny-pinch.  They're there for Amazon to make their lives easier.  How does Amazon do it?  The Buy Box.
Clueless shoppers: "I'm not quite sure what's a good bargain and which seller to choose.  Hmm.. ooh nice box on the right side.  I like very much… looks trustworthy on Amazon.  Let me press the button."  Courtesy the Buy Box.
If you're looking to make a splash in one of the biggest markets in the world, there's no better way to start than to win the Buy Box.