//php the_post_thumbnail( 'post-thumbnail' ); ?>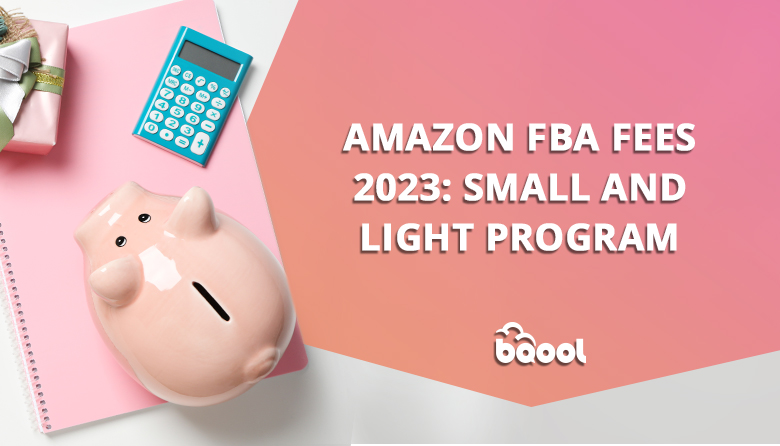 FBA program is a service that lets Amazon handle your shipping, that means, each time a customer makes a purchase, Amazon will take care of picking, packing, and sending the items to the customer(s). This program gives sellers the opportunity to grow their business and start making money on Amazon. As you know the fulfilment fees could cost you a fortune and eat into your profit. That is a pity, especially when you sell cheap products. That is why Amazon launched Small and Light program for sellers who sell small and low-cost products to enable them to make reasonable profit while they can save money on FBA fees.
This year Amazon has brought some changes to the Small and Light program and included a wider range of products you can enroll in and start to save more money!
FBA Fulfillment Fees Small and Light
How does it work?
First thing, you need to be registered to FBA program, then you can select the listing you want to enroll in Small and light program from your seller account. You must submit your offer for approval, make sure the products you want to enroll for this program are eligible. If you want to know more about the eligibility requirements, you can check this page.
Once Amazon approved your item for small and light program you can send your inventory to amazon FBA warehouse.
Go to the FBA Opportunities tool to identify which of your offers are eligible for FBA Small and Light. For more information about the tool, go to Help page.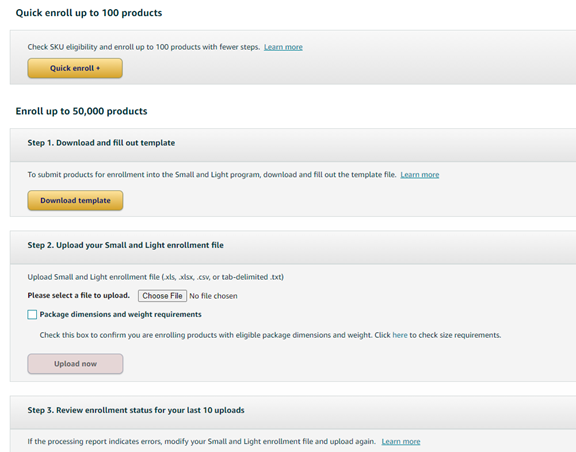 Which Product are Eligible for Small and Light Program?
The product you can enroll in this program have to meet the following requirements to be eligible:
⚠️ The items must be priced $12 or less and weigh 3 lb. or less.
⚠️Measure 18 length x 14 width x 8 height or less in inches
⚠️Note: Measurement for each dimension is the maximum for that dimension. For example, a product that measures 19 x 12 x 6 inches would not be eligible for enrollment.
The product types below are not eligible. (Crushable products, such as potato chips and glass, are eligible if they are properly packaged.
Light and Small Program: Does it Really Make a Big Difference?
The answer is YES, it does. As we mentioned before, the real advantage of Small and light program is to save money so basically the more quantity you sell the more saving you will make, that is how it works.
When you look at the table below you might think if you sell one or two pieces of an item then the difference between regular FBA fees and small and light fees would be about few cents and the savings will look ridiculously low but if you sell a big quantity then you will notice the big difference and all the money you can save!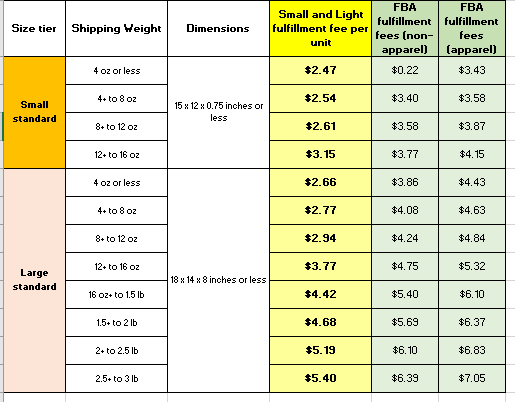 About the 5% Discount
Some Small and Light products priced $5 or less in the Consumables category (Beauty, Health & Personal Care, Grocery, Baby – excluding Apparel) may be eligible for a 5% price discount if the customer orders two or more units of the same item.
FBA covers the cost of the discount – You will not need to pay addition fees for the discount. No action is required by you to participate in the promotion.
BQool Repricer & Small and Light Program
BQool is constantly adapting to Amazon changes to improve your selling experience with our repricer ,that is why this year along the Amazon small and light fees changes, we are bringing new and exclusive repricer updates for FBA sellers using small and light program.
What is Being Updated in RepricingCentral?
BQool Repricer now can intelligently distinguish the small and light from your other offers under the same ASIN and small and light fees are also automatically calculated for your listings. This update ensures sellers have better and complete control of the Repricer.
Last thing, BQool does reprice by SKU as well. And we allow separate repricing strategies for small and light and standard FBA SKU under the same ASIN.
How to Set up Small and Light Program in BQool Repricer
Listings with Small and Light enabled, a small icon will be displayed on them in the listing page.
Then you will be able to sort your small and light listings with BQools' filter for management.
If you would like to create a favorite filter based on the different categories of small and light items, you will be able to achieve that in BQool's advance filter as well.

Updating listings with small and light in bulk can also be done by upload file.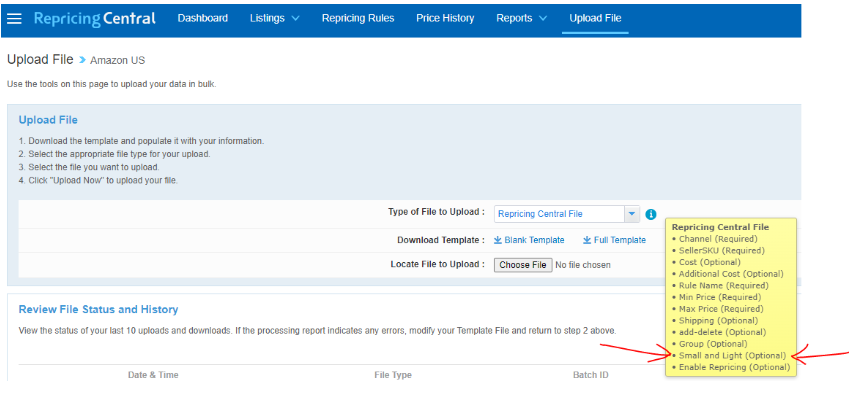 If you are a FBA seller, small and light program is made for you. Do not hesitate to enroll products eligible in this program and start saving money on FBA fees. Now that Amazon reviewed and changed the ceiling price of small and light items to $12, so we would recommend you start looking at the products in your inventory that can benefit from this program so that you can enroll them if they are eligible. With the help of BQool Repricer, repricing small and light items can be even more profitable!