//php the_post_thumbnail( 'post-thumbnail' ); ?>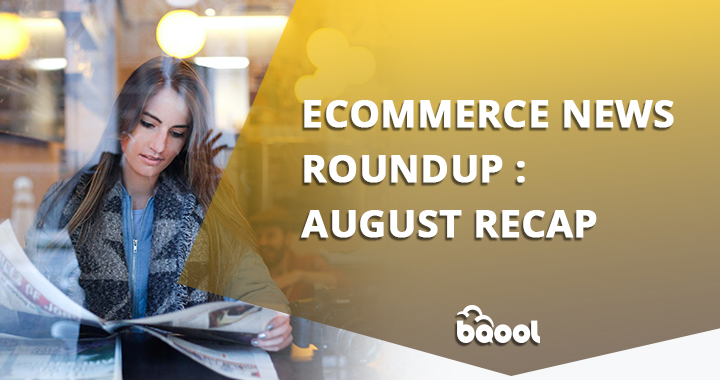 Welcome to our monthly roundup of the latest news and updates on Amazon from August. While COVID-19 has negatively impacted businesses all over the world, Amazon received double profits in Q2, compared at this time in 2019. Read further on in this post for more important news and updates.
Amazon Doubled Its Q2 Quarterly Profit During Pandemic
Earlier this year, Jeff Bezos warned the investors that they might prepare for a possible loss in Q2, as the company planned to spend its expected Q2 operating profit of $4 billion on COVID 19-related expenses. Amazon projected a potential loss of $1.5 billion this quarter. In contrast, Amazon doubled its net profit year over year to $5.2 billion, compared to $2.6 billion at this time in 2019 despite pandemic.
Amazon's New Tool to Improve the Quality of Your Listings

Listing Quality Dashboard is a new tool on Seller Central that highlights important product information for customers. Amazon introduced the benefits of adding the recommended information for your products on the Listing Quality Dashboard:
Improve discovery:

Customers filter their search results using specific attributes. Adding these attributes will ensure that customers don't miss your product when it meets the customer requirements and the filters are used.

Enable the Product Overview experience (beta):

Product Overview is a new experience that will highlight important product attributes above the bullet points on the product detail page. This will help customers evaluate your product easily and make a faster buying decision. This experience is currently available for a limited number of product types and we are working to enable this for more product types.

Potentially reduce customer returns:

Customers often return products due to a lack of critical product information on the detail page, e.g. compatibility features for headphones and cables. By adding more information, you might reduce the number of returns.

Take time-sensitive actions:

The tool will highlight listing information that needs to be filled in by a certain date in order to prevent possible suppression.
Visit the Listing Quality Dashboard in Seller Central by navigating to Inventory, followed by Manage Inventory, and then clicking Listing Quality Dashboard. Keep checking the Listing Quality Dashboard every week to review your latest listing quality improvement recommendations. 
Seller News Now Available on the Seller App 
You can now find the news you normally read on Seller Central through the Amazon Seller App. From the home page, you can select the News section for a feed of headlines. 
Amazon Seller App is available for download from the Apple App Store and Google Play Store.
Track the Status of Your Payments Through the Disbursements Tracker 
You can now check the amount and status of your payments in each settlement period through the Disbursements page.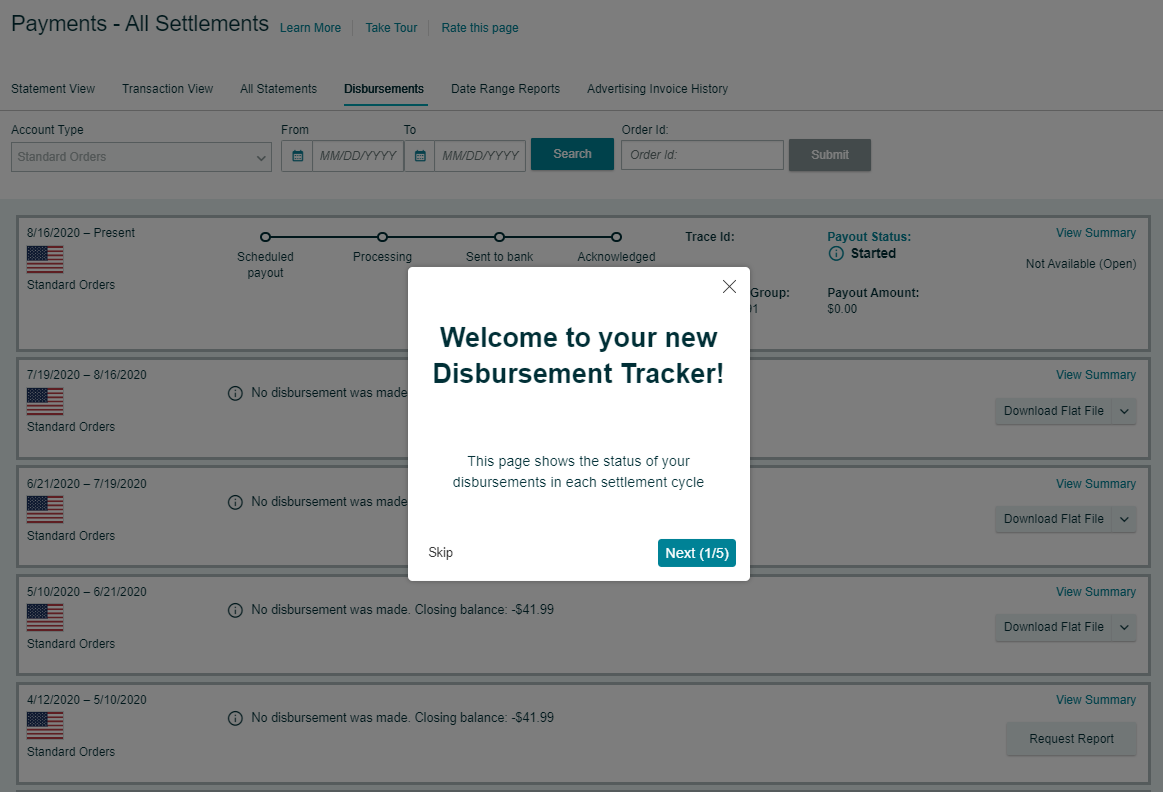 The feature is available through the Disbursements tab on your Payments pages. Your settlements will be listed in chronological order, starting with the most recent one. You can also filter your settlements by selecting a time period.
Through the page, you can download a Settlement Report or view a summary of financial information in the settlement period. If applicable, a Trace ID will be provided for successful disbursements. Your bank can use the Trace ID to research the status of your payments if it has been more than five business days since the transfer.
Visit the page for more information.
Amazon Reportedly Considering Mall Space for Fulfillment Centers
Amazon has had talks with Simon Property Group about converting some of its mall spaces into fulfillment centers. The conversations started before the coronavirus pandemic, and before the latest wave of bankruptcy filings by mall stalwarts like Lord & Taylor, JCPenney, and Nieman Marcus. Simon is the biggest mall owner in the US, and looking to fill empty retail spaces, particularly those left behind by former anchor tenants like Sears and JCPenney. Having its fulfillment center warehouses closer to residential areas would help Amazon make deliveries more quickly, the WSJ notes.
Video Uploads Now Available for Your Listings
You can now upload videos for your listings using Seller Central by clicking Upload & Manage Video under the Inventory tab. Videos uploaded will be eligible to appear in the Images section of the Product Detail Page, a placement previously reserved for brands. Customers spend more and visit fewer Detail Pages. A strong preference for video is shown based on customer purchasing decisions.
Using Amazon Brand Analytics to Analyze Your Brand Data
Amazon Brand Analytics is free to brand owners enrolled in Brand Registry. Register your brand today and tap into actionable insights to help you grow your business both on and off Amazon.
Answer your data questions with six reports available from the Brands primary navigation menu in Seller Central:
Amazon Search Terms Report: Discover which products are winning the most clicks and conversions on strategic search terms and keep an eye on trends to evaluate the impact of your marketing campaigns.

Repeat Purchase Behavior Report: Identify products or brands that are ordered more than once per customer. Advance your strategy and fine-tune your marketing to drive repeat purchases and acquire new customers.

Market Basket Report: Quickly see the top products most commonly purchased alongside your products to identify cross-selling and bundling opportunities.

Item Comparison Report: Find out which products customers most commonly view together with yours to inform your product portfolio and advertising decisions with competitive intelligence.

Alternate Purchase Report: See the products customers most frequently purchase instead of yours to analyze product differentiation and portfolio mix opportunities.

Demographics Report: Get a breakdown of your Amazon customers by age, income, education, gender, and marital status to better connect with your target audience or identify customization opportunities.
Notification on New Product Types and Template Changes
During the week of August 17, 2020, Amazon introduced the new Product Types Coat, Tunic, and Kurta. And you can also add new attributes to existing Product Types. When creating a listing, you can view these new or modified Product Types in Seller Central by navigating through Inventory, Add Products via upload, and selecting the appropriate template to download. For further details, please refer to our Help page.
Valid Tracking Rate Adjustments for USPS Tracking IDs
Amazon has corrected a problem with two U.S. Postal Service (USPS) Tracking ID formats that may be affecting your Valid Tracking Rate (VTR):
Tracking IDs starting with 91, which are a legacy set of barcodes that were supposed to be retired from USPS systems, and

Tracking IDs starting with 95, which were created by the USPS for retail use at the post office.
If your account had a negatively affected Valid Tracking Rate, you will not face enforcement from this issue.
Amazon Air expands operations to Kona International Airport
Hawaii Island residents ordering products via Amazon can expect faster shipping following the start of Amazon Air operations Thursday at Ellison Onizuka Kona International Airport at Keahole. The Kona airport, as well as the Kahului airport on Maui, will service daily flights originating from Amazon Air's mainland regional gateway at March Air Reserve Base in Riverside, Calif.
Get the latest eCommerce news and Amazon seller tips at blog.bqool.com. Subscribe for updates!