//php the_post_thumbnail( 'post-thumbnail' ); ?>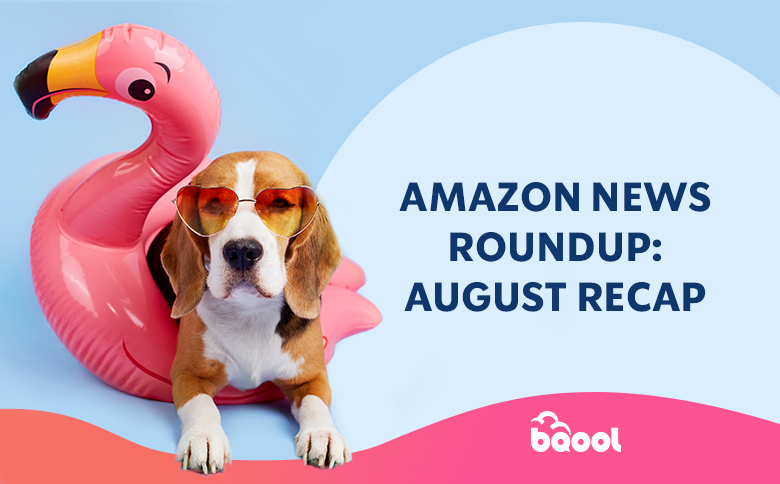 Find out what happened on Amazon in August! Summer may be a distant memory, but Amazon had plenty of news to share. Here is the recap of Amazon August News!
Prepare your FBA Inventory Now to Maximize Holiday Sales
To maximize your holiday sales, plan ahead to make sure that your FBA inventory arrives at fulfillment centers on time for Q4 deal events.
Go to FBA inventory dates for holiday deal events.
It may take longer to ship inventory to fulfillment centers during the busy holiday season. Check your recommended replenishment quantity and plan shipments now to have your most popular products in stock.
New Seller Enrollment for Seller Fulfilled Prime Will Reopen on October 1, 2023
Amazon will reopen a new seller enrollment for Seller Fulfilled Prime (SFP) in the US on October 1, 2023.
Amazon first launched SFP in 2015. Our goal was to allow sellers to independently handle the fulfillment of their products while also making them available to Prime customers with the same fast, free delivery they have come to expect.
As the program grew, Amazon realized that SFP was not providing the same high-quality experience that customers expect from Prime. As a result, Amazon paused new seller enrollment while Amazon worked to make sure that Amazon had more support for sellers and clear standards in place for the SFP program to ensure it provides customers with a great Prime experience. Amazon will now reopen new seller enrollment on October 1, 2023.
To enroll, you must pre-qualify to start the 30-day SFP trial. During the trial, you must meet all SFP program requirements to pass and become enrolled in SFP.
Here are the pre-qualifications you must meet to start the SFP trial:
Have a domestic US address as your default shipping address.
Have an Amazon Professional selling account.
Meet the following criteria over the past 90 days:

Self-fulfilled at least 100 packages
Cancellation rate less than 2.5%
Valid tracking rate greater than 95%
Late shipment rate less than 4%
The SFP trial ensures your offers can consistently meet the high standards of Prime speed and reliability. For more details on the enrollment process and SFP program requirements, go to Upcoming Changes to Seller Fulfilled Prime.
2023 Holiday Peak Fulfillment Fee for Fulfillment by Amazon
The annual Holiday Peak Fulfillment Fee for Fulfillment by Amazon (FBA) will apply from October 15, 2023, to January 14, 2024. This seasonal fee is like those charged by other major carriers and covers increased fulfillment and transportation operating costs during the busy holiday shopping season.
The Holiday Peak Fulfillment Fee rates are unchanged from 2022 for US and Canada FBA. Inclusive of the Holiday Peak Fulfillment Fee, Amazon's average fulfillment fees continue to be 30% less expensive than slower standard shipping methods of other major third-party logistics providers.
The Holiday Peak Fulfillment Fee will apply to US FBA, Canada FBA, Remote Fulfillment with FBA, and Multi-Channel Fulfillment (MCF) items except for US FBA items priced under $10.
You can review detailed rates by size and weight for US FBA, Canada FBA, Remote Fulfillment with FBA, and MCF on the following help pages:
US Fulfillment by Amazon Fee Rates
CA Fulfillment by Amazon Fee Rates
Remote Fulfillment with FBA Fee Rates
Track your FBA shipments from China with reliable ShipTrack carriers
Starting August 21, 2023, if you use a non-partnered carrier to send your FBA shipments from China to the US, you can choose one of our ShipTrack carriers, which automatically provide end-to-end tracking information in Seller Central.
ShipTrack carriers are vetted third-party providers that offer reliable tracking information. Using ShipTrack carriers helps us predict when your shipment will arrive at our fulfillment centers and generate more accurate estimated delivery dates for customers.
Better shipment tracking also helps you to make informed replenishment decisions and reduce your overstock cost and understock loss.
When you use a ShipTrack carrier, information on your shipment's progress is automatically provided to Amazon and available on the Shipment Summary page.
For a list of ShipTrack carriers for your China-to-US shipment, go to the shipment creation workflow on Send to Amazon, and in the "Select carrier" drop-down menu, select "Or use your own carrier".
By the end of 2023, ShipTrack carriers will also be available for FBA shipments from China to Japan and the EU.
For more information, go to Send to Amazon: ShipTrack carrier.
Amazon News – New AI-Generated Customer Review Highlights are the Latest in a String of Review Innovations
A feature that allows customers to filter certain clothing reviews to show only those written for people who are a similar height and weight to get a better idea of fit.
Last year alone, 125 million customers contributed nearly 1.5 billion reviews and ratings to Amazon stores—that's 45 reviews every second, making reviews at Amazon an incredible resource for customers.
The new AI-powered feature provides a short paragraph right on the product detail page that highlights the product features and customer sentiment frequently mentioned across written reviews to help customers determine at a glance whether a product is right for them.
Amazon machine learning models that analyze thousands of data points to detect risk, including relations to other accounts, sign-in activity, review history, and other indications of unusual behavior, as well as expert investigators that use sophisticated fraud-detection tools to analyze and prevent fake reviews from ever appearing in our store.
link: https://www.aboutamazon.com/news/amazon-ai/amazon-improves-customer-reviews-with-generative-ai?utm_source=amazonnewsletter&utm_medium=email&utm_campaign=081923&utm_term=genai