//php the_post_thumbnail( 'post-thumbnail' ); ?>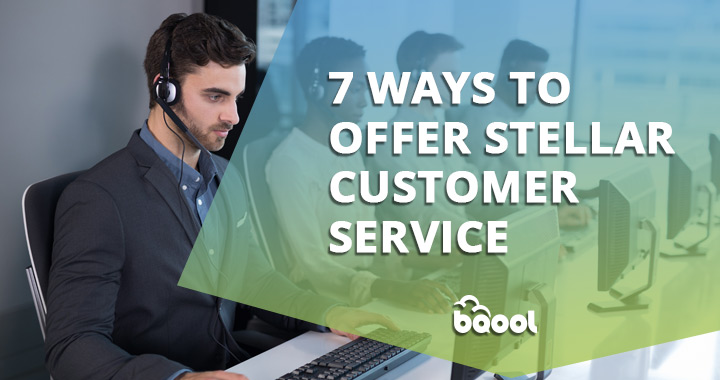 Even as an Amazon seller, your commitment to providing excellent customer service is crucial to your overall success. Things like making a good first impression and taking the feedback you receive seriously benefit your customers, which also helps you. Below are seven different ways to make sure your business offers stellar customer service with every single interaction.
#1 – Make the First Impression a Good One
Making a good first impression benefits you as a seller in numerous ways. When a customer has a great first experience with you, whether they find you via a Google search or stumble across your product as they search Amazon, everything they see should be exactly what they expect. For example, you should provide outstanding photos of your products that offer plenty of transparency, and you should also be sure that your product descriptions are complete, accurate, and never misleading in any way.
Following this guideline will help you build trust with your customers, and this goes a long, long way toward making those same customers happy.
#2 – Interact with Your Customers
Another essential part of offering stellar customer service involves interacting with your customers in various ways. If you have a Facebook page that lists items in your shop, be sure that you are taking the time to post regularly and respond to comments you might receive. Some other ways to interact include:
Sending thank-you emails to your customers.

Thanking your customers for putting their trust in you and ordering your product helps build trust even more.

Writing blogs that clearly address any comments or concerns from your customers.

Posting links on social media to blogs you have written about how to use your products or how to get the most out of them is an excellent way to boost customer service.

Create YouTube videos.

Videos are even better at showing customers how your products or services work, and you can use these in your Amazon seller account, too.
No matter how you choose to interact with your customers, these communications must be warm, friendly, and welcoming. They should also be concise and helpful.
#3 – Encourage Customer Feedback
Customers feel as if they matter when you openly request feedback from them, so be sure that you are making your desire to hear from them known. Using AI-powered technology to automate the subject lines of feedback request emails not only ensures that your customers are more likely to respond, but it also encourages a more positive and favorable response. Let your customers know that their feedback does matter, and then to provide the best customer service you can, take it seriously. Use that feedback to improve your products, prices, return policies, and more.
#4 – Anticipate Your Customers' Needs in Advance
One of the best things you can do to make your customers happy involves anticipating their needs and wants well in advance. When you can do this successfully, you can resolve any objections or complaints your customers might have long before they get the chance to have them. For example, if your tie-dyed t-shirts are known to bleed the first time they are washed, make sure that you include this info in your description, and make sure it is prominent.
Other things you can do include writing up a comprehensive list of FAQs that you update as customer needs and preferences change, making sure your shop and your site are both user friendly, offering only those products that have value for your customers, and making sure all of your policies for shipping, returns, and repairs are clearly visible on your page.
#5 – Take Comments and Feedback Seriously
Asking for comments and feedback is one thing but failing to take them seriously is another. Though negativity must always be taken with a grain of salt (feedback is far more common from unhappy customers than from happy ones), you must also be able to see the truth in it whenever you can. If customers frequently complain that shipping takes too long or that the product doesn't live up to expectation, then it may be time to consider other options, such as making product descriptions more transparent or offering different shipping times and methods.
Though you will never make every single customer happy, it is crucial that you do your very best to keep them happy as a collective. When your customers can see that you are making changes based on their feedback, it lends to your success.
#6 – Make Sure Your Pricing and Policies are Reasonable
Amazon is a huge marketplace, and that means there may be dozens of variations of the same product spread out across numerous price points. Because of this, it is up to you as the seller to do your research and make sure your prices and policies are reasonable when compared to your competitors. For example, if you sell a package of 100 art markers – as do 100 other sellers – you should be sure that you price your markers in such a way that that you can still turn a profit, but buyers are not likely to pass you up for a lower-priced seller.
This can sometimes be a little tricky, so before you decide to offer a new product, try to take some time to research it beforehand. You may discover that the product is not in line with the others you offer, or you may find that offering a specific product can help fill a current gap in your niche.
#7 – Go the Extra Mile
Finally, going the extra mile is the one thing that will truly set you apart from other sellers on Amazon and elsewhere. This is what will really and truly impress them, and when they are impressed, they are more likely to purchase from you again and/or recommend you to their friends and family. Going the extra mile also involves keeping excellent records of previous interactions with your customers, which can make resolving current issues simple and effective. The faster you can resolve issues and answer questions, the happier your customers will be.
In today's digital world where every imaginable niche and industry is thoroughly saturated – especially via Amazon – providing stellar customers service is an exceptional way to make sure your business stands out from your competitors'. These seven tips will help ensure that every interaction your customers have with your website, customer service team, product, and brand, in general, is a positive one.