//php the_post_thumbnail( 'post-thumbnail' ); ?>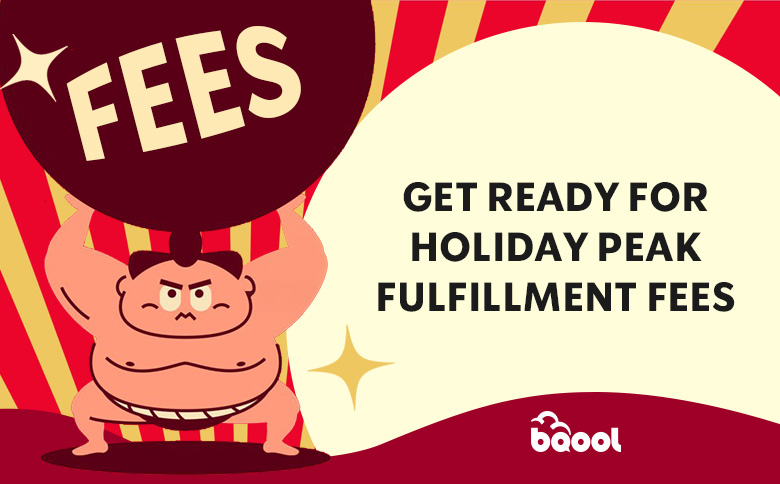 As we approach the holiday season, an exciting but busy period of the year for sellers on Amazon must get ready for the inevitable rise in fees due to higher order and delivery volumes in the US. We fully understand how expensive it is to sell on Amazon and the importance of budgeting wisely. If you are wondering what Amazon FBA fees you might have to pay this holiday season, this article is for you. We will break down what these fees are and which ones you need to be aware of, so that you can more effectively plan for your shipping needs.
Holiday Peak Fulfillment Fees Changes 2023 Explained by Amazon
From October 15, 2023, to January 14, 2024, Fulfillment by Amazon (FBA) will incur an annual Holiday Peak Fulfillment Fee. Amazon mentioned that this seasonal fee is the same as the one provided by other major carriers and is intended to cover the increased costs of fulfilment and transport during the highly profitable holiday shopping season. Unchanged from 2022, the Holiday Peak Fulfillment Fee rate applies to US FBA, Canada FBA, Remote Fulfillment with FBA, and Multi-Channel Fulfillment (MCF) items, except for items below $10 priced in US FBA. For more information, you can review the detailed rates for US FBA, Canada FBA, Remote Fulfillment with FBA and MCF on the corresponding help pages.
You can review detailed rates by size and weight for US FBA, Canada FBA, Remote Fulfillment with FBA, and MCF on the following help pages:
US Fulfillment by Amazon Fee Rates
CA Fulfillment by Amazon Fee Rates
Remote Fulfillment with FBA Fee Rates
What You Absolutely Need to Know About this Fee Update?
As you know the Small and Light program has been discontinued and replaced with lower FBA rates this year. All items priced below $10 will not be subject to an increase in shipping fees during the holiday season.
Additionally, we would like to remind you that if a product is ordered before October 15th and shipped afterwards, the special peak fee will still apply.
The following three tables provide a breakdown of the FBA fees for both apparel and non-apparel items and dangerous goods.
Amazon FBA Fulfilment Fee Changes Peak Period
Here are the different fees updates based on the product category, the size, and the weight: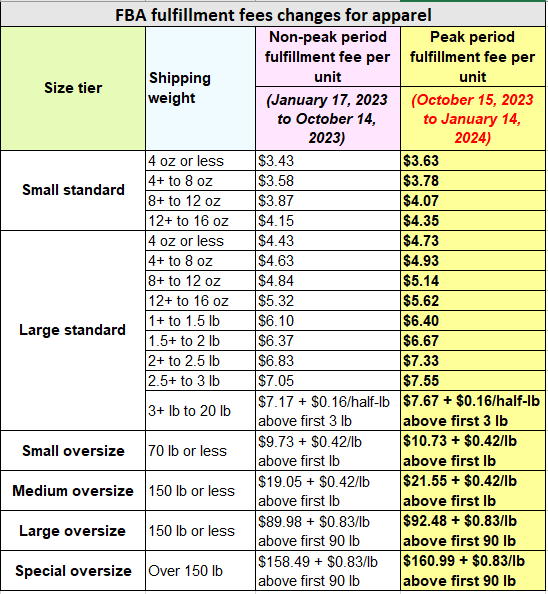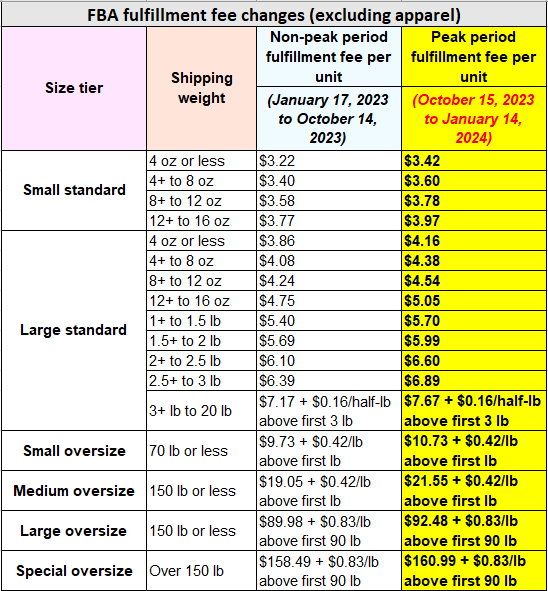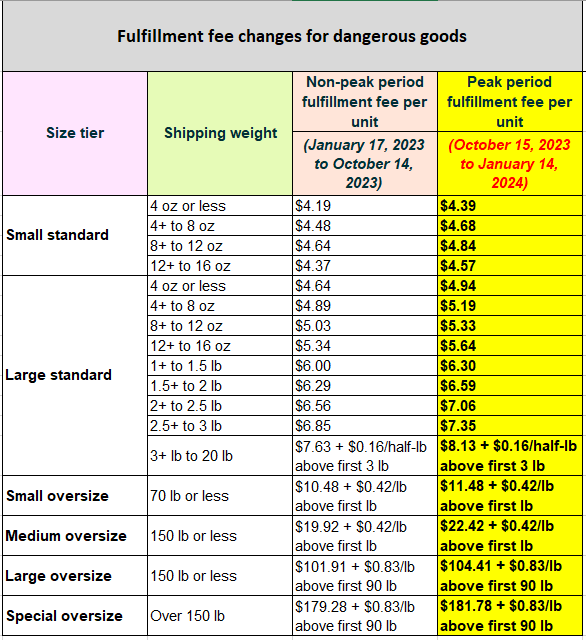 For small standard, there will be an increase of 0.20 cents compared to the usual period of the year; for large standard, the increase will be 0.30 cents. Products weighing more than 2 pounds will have an increase of 0.50 cents, and Small Oversize items (weighing 70 pounds or less) will increase of 1 dollar. Medium oversize items, large and Special Oversize have will increase of 2.5 dollars.
Why Amazon Increased its FBA Fees During the Holiday Season?
With the Small and light cancellation program last August and the uptick of Amazon FBA Fees this year, we know how sellers have felt about the last FBA fees increase announcement for the busiest period of the year. Indeed, the increase of FBA shipping fees during the holiday season has undoubtedly caused considerable frustration among sellers. As we mentioned before, Amazon has updated its FBA fees due to inflation in 2023. This time Amazon justified its decision by the increase of the demand during the holiday season and claims it is less expensive than other carriers in the US at that period of the year. On Amazon Sellers forum, many sellers deplored the high cost of FBA fees and explained that this increase impacted their profitability. This has led sellers to seek out alternatives, opting to use prep centers instead of Amazon's services. In addition, some sellers have pointed the Amazon's delivery service quality and the lack of control over the process, as a major weak spot for them when relying on the platform to deliver their products.
As one seller wrote:
"I cannot believe I spend more on fees than getting any profit. Amazon fees are too expensive. Temu is the great competition for lower prices. Amazon need to care about their sellers since we are all dropping due to losing instead of creating a real business."
Another one points the unjustified rise of shipping cost:
"The issue is the same. 10 years ago, first class mail packages did cost 1.50 or so. Now it is up to 4.50. Inflation was like 40%, including the 3 years insane inflation. What's the justified reason for raising the shipping fee by 300%? Back in 2015 or so they said it's because of the gas prices, they'll rise much temporarily. Well, they never dropped the shipping fees back to normal. It didn't and it doesn't matter if the gas cost is high or drops too low. They raise the shipping fees anyway… (Oh, not to mention the new zoning fee and this holiday fee…) "
Finally, one seller is questioning the truth of the data provided by Amazon:
"Amazon's average fulfillment fees continue to be 30% less expensive than slower standard shipping me.

Please can you provide any data for this?"
With the numerous fee changes for Amazon FBA services this year, it can be easy to get confused. Remember the peak holiday fee changes will start on October 15th, 2023, and go all the way until January 14th, 2024. Let's plan ahead to avoid a Q4 surprise you didn't bargain for and end up paying unexpected fees.