//php the_post_thumbnail( 'post-thumbnail' ); ?>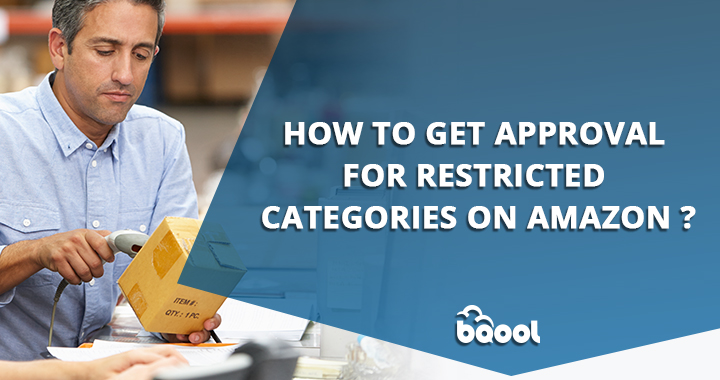 If you are a newbie seller who is deciding what product to sell on Amazon, you need to be noted that some product categories require approval before you start conducting product research and sourcing the product you wish to sell.
What are Amazon category restrictions?
For Amazon to maintain control of product quality, consumer shopping experience, and enhance buyer confidence, it has placed restrictions on certain categories that 3rd party sellers can sell. When buying on Amazon, general consumers are unable to distinguish the merchant they're buying from, so ultimately the shopping experience is linked back to Amazon, and it is Amazon's reputation on the line. 
If you are considering selling in any of the restricted categories on Amazon, make sure to check Amazon's list of Categories and Products Requiring Approval, or you can directly click on each category name below for more information.
What are the requirements for selling restricted categories?
While each category has its own set of requirements, below are some of the common requirements that every seller should meet:
1. Be a professional seller
The Professional plan costs $39.99 per month, no matter how many items you sell.
2. Have good performance metrics
A successful seller should always maintain good seller metrics but some categories will have specific performance targets. Here is an example of seller performance requirements for the Health & Personal Care category:
Order defect rate: < 1%

Pre-fulfillment cancel rate: < 2.5%

Late shipment rate: < 4%
3. Follow category-specific conditions
Some categories only allow products in new condition or require special approval for refurbished or Collectible conditions. For example, Collectible Coins will need special requirements, including professionally graded grading/authentication of coins only accepted from the Numismatic Guaranty Corporation (NGC) or Professional Coin Grading Service (PCGS).
4. Comply with the relevant style guide
Amazon has already provided templates for specific categories that illustrate the style requirements for those categories. Some of the requirements include image requirements, safety information, directions, packaging, and variation relationships. You have to comply with the relevant style guide for the product you are listing.
5. Product identifier number
Most categories need a Global Trade Identification Number (GTIN), such as a UPC, EAN, JAN or ISBN to identify the product, but if your product is not already listed on Amazon or does not have a GTIN, you can apply for GTIN exemption.
How to get Amazon categories approved?
If you want to apply to list existing products that require approval, you can follow these steps:
Log in to your Seller Central account.

Click on

Catalog

menu and select

Add a Product

. 

Search for the item you want to sell.

In the search results, click the

Show limitation

next to the item.

Click the

Apply to sell

button to begin the application process.
If you have been selling on Amazon for a while and have a good reputation, you may be automatically approved after you send an approval request.
But if your approval is not accepted or you want to add a new product to Amazon's catalog in one of the categories with restrictions, Amazon will ask you to provide additional documents. Here's the example for requesting approval to sell in the Grocery & Gourmet Foods category.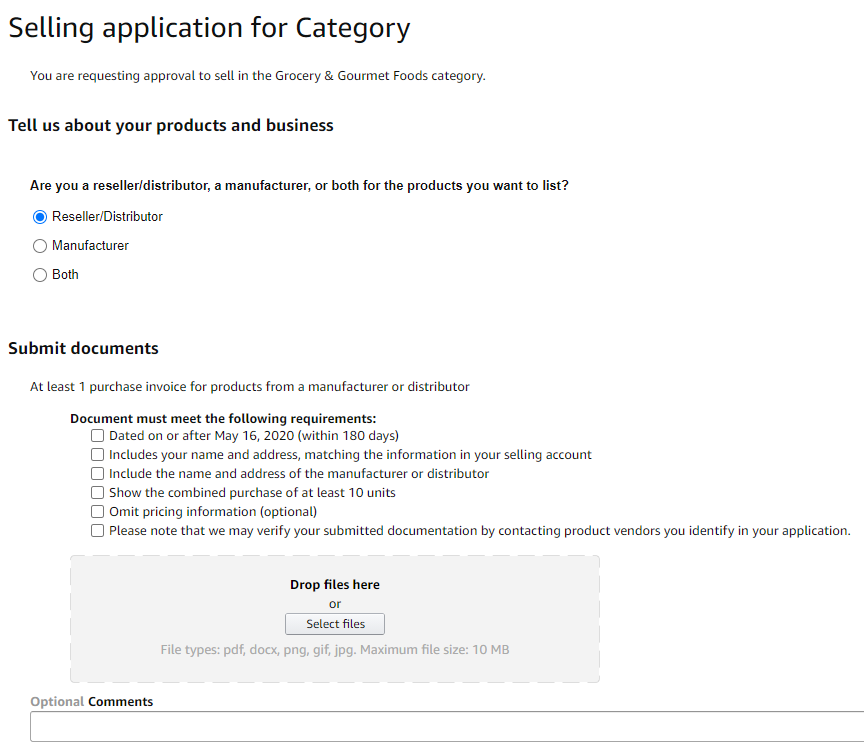 You will need to submit at least 1 commercial invoice dated within 180 days includes:
The supplier's details with name, address, phone number, and website

The company information that you registered in your Amazon seller account and the address you have on file

Purchased product unites at least 10 units
Having the invoice from a reputable or acceptable supplier or wholesaler is the key to obtaining Amazon approval. If the invoice is from a supplier that Amazon has already recognized or approved before, then it will help speed up the Amazon representative's decision.
Depending on your previous selling history with Amazon, it may be easier for you to get approval in related categories. For example, if you are already approved for "Clothing & Accessories", it will be easier for you to get approved for the Shoes, Handbags & Sunglasses category faster because you already have invoices from Amazon approved suppliers.
Moreover, Amazon says that "You are not required to have your own company website, but if you have one it will be helpful to us to review it during the application process". Also for some categories, there will be specific requirements, such as refund policy, packaging, material or ingredients, shelf life, and industry regulations.
Additional information about Amazon restricted categories:
The Toys & Games category is gated during the holiday selling season.
Holiday Selling Guidelines in Toys & Games is a category with special requirements. Other than good seller metrics, sellers are eligible to sell toys and games during the holiday season if they meet the time and order volume (seller must have shipped 25 orders between August 15, 2020, through October 14, 2020) criteria. As long as sellers meet the above criteria, they are not required to submit a request for approval. Please refer to this page for the latest update.
What's the difference between restricted categories, brands, and products?
Due to the complex Amazon seller policies and regulations, many sellers are confused about the different types of restrictions. Here's the simple definition:
Restricted categories are entire categories of products, such as Grocery & Gourmet Food, and sellers need approval to sell any product that falls into that category.

Restricted brands are brands that make or manufacture products, such as Nike. Third-party sellers are restricted from selling these brands on Amazon.

Restricted products

are specific product types, such as Alcohol, that Amazon requires sellers to follow additional policies for approval to sell.
What about the professional ungating services?
There are service providers on the market that specialize in helping sellers get ungated on Amazon. Most of the professional ungating service providers claim Beauty, Health & Personal Care, and Grocery is the three hardest categories to get approved for. It is mostly due to the additional documents required to ensure safety and meet industry regulations.
What we recommend is that if you have already found a well-established supplier or manufacturing partner who is experienced with preparing documents to pass the regulations, then try to submit the approval request on your own. Many professional Amazon Sellers who have been successfully approved have shared a tip on how to get approved – keep trying and never take the first NO from Amazon.
However, when you find yourself busy with other aspects of business such as logistics, finance, or marketing, it would be wise to hire a professional service, so you can focus your time and energy on other matters. After all, some of these ungating services offer a money-back guarantee.
Summary
Although these category restrictions may be a headache for sellers, and may also dampen many sellers' desires in selling these products within the categories. Meanwhile, you might find that several restricted products have less competition. Whether you decide to put your efforts into these restricted categories or not, you will need to do proper Amazon product research before diving into it. You can start a profitable business by identifying the perfect product to sell with BQool BigCentral.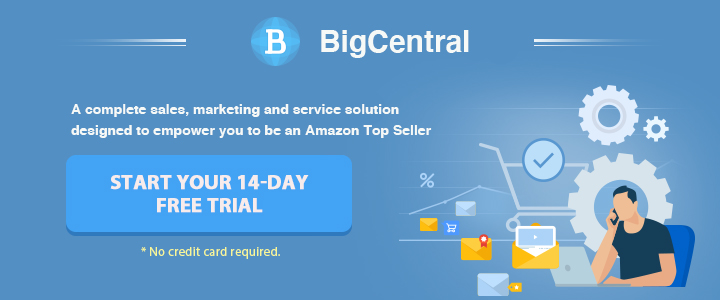 This blog post was originally published in February 2017 and was updated in Novenber 2020 due to product updates or Amazon policy changes.