//php the_post_thumbnail( 'post-thumbnail' ); ?>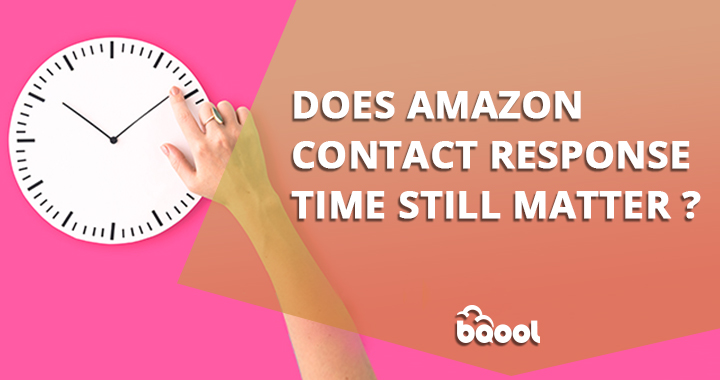 Customer service plays a major role in every online or offline business. When customers shopping in offline stores, their communication and interaction with sellers are immediate and face-to-face. However, Amazon shoppers can only get in touch with online sellers by email. If the contact response time is slow, the buyers may become frustrated and that may lead to negative feedback.
Amazon has removed metrics like the Customer Service Dissatisfaction Rate, Contact Response Time, and Refund Rate on October 1, 2018. Although there is no publicly available data to show these metrics may be used as an assessment of your performance, Amazon may take these metrics into consideration when determining the buy box winner or eligibility. So if you want to keep positive customer satisfaction, you should still respond to buyers' messages within 24 hours.
Most importantly, Amazon has updated the A-to-Z guarantee claim policy to ensure sellers respond to return request faster and provide a return experience that increases customer satisfaction. Sellers who do not respond to return requests for eligible orders within 48 hours will be subject to an immediate debit if the buyer files an A-to-Z claim for resolution.
You must respond to a return request within 48 hours from the time of receiving the customer requests a return. You can see your outstanding return requests on the Manage Returns page in Seller Central, and you can find Late Response Rate in Account Health under Return Dissatisfaction rate, which is a metric for which you don't authorize the return, provide a refund, or close the request within 48 hours of receiving it.
To prevent A-to-z Guarantee claims, we highly recommend that you not only approve or close the request in the Manage Returns page of Seller Central, but also respond to the customer inquiry promptly by taking the following approaches:
How to reduce customer service response time? 
1. Implement customer service solution
If you still use a shared mailbox to manage customer service emails, there's no way to reduce your response time. The easiest way to improve the process of your customer service operation is to utilize customer service software. Implementing customer service software can keep the history of every single email conversation or interaction you've had with your customers. This means that you can backtrack and evaluate the old email conversation to understand the problems your customers may have.
2. Evaluate your agent's performance by the right metrics
Since customer service software enables you to centralize all the information about customers' orders and conversation history into one location, it can easily analyze customer data to provide valuable insights on a dashboard. 
Many performance indicators can also be given by the dashboard to allow Amazon sellers to evaluate their customer service performance data. 
You can check the Late Response metrics on the BigCentral dashboard to ensure your agents respond to the customer's request within 48 hours. It's important to provide instant communication with your customers and notify them once the issue is resolved.
3. Use pre-written email templates
You may receive many requests from buyers during your seller journey. You can eliminate a lot of frequently asked questions with pre-written email templates. Simply create a set of email templates for the most common questions so that your agents can respond to customer's enquires as quickly as possible. 
4. Categorize all buyers' requests
Another great way to speed up contact response time is to categorize and prioritize buyers' email requests you receive. You can assess an email based on its subject or type and assign it with a suitable label. Customer support requests usually have different levels of priority and difficulty, so you can even assign well-experienced agents to handle the most difficult or advanced problems. Categorizing buyers' email requests can let your agents reduce contact response time instead of jumping between multiple enquiries haphazardly.
5. Use email autoresponders
Research from Amazon has revealed that a response to a buyer's order question within 24 hours is 50% less likely to result in negative feedback, but sometimes you aren't able to respond within that time frame, especially when you receive a question over the weekend. Using an autoresponder is a great way to respond to your customers' emails and they know that their email has been received. You can send an auto reply regarding your customer support time. This will set a customer expectation for when they will hear back from you to reduce confusion and panic. You can even include FAQ in your email to help customers seek out the answer they need.
Final thoughts
Improving contact response time is key to customer service, and it certainly helps you protect your brand reputation. To put the above techniques into practice, you can choose the right tool like BigCentral to achieve greater results. BigCentral is an email automation tool with a helpdesk solution including all the essentials designed for one purpose – to focus on Amazon sellers and help them grow and succeed effectively.