//php the_post_thumbnail( 'post-thumbnail' ); ?>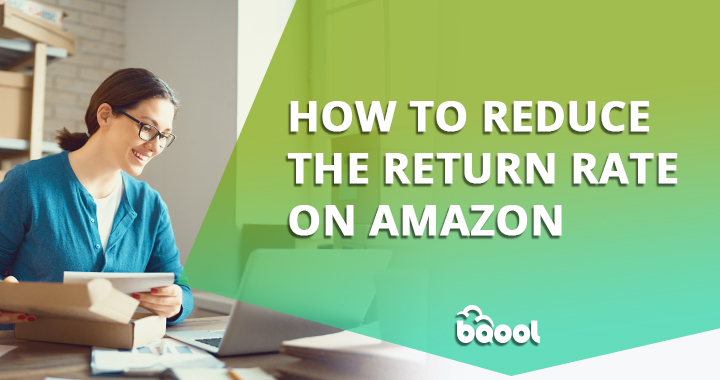 Amazon is one of the largest eCommerce companies in the world. Its success comes from its well-organized managing process and customer-driven strategies. One of the best features for Amazon buyers is the return and refund policy. Thanks to it, buyers are free to return any product if they're not satisfied with and get a refund. But, for Amazon sellers, this can be an issue.
If your product has a high return rate, you might be in trouble. Your reputation will be damaged. Amazon will lower your seller ranking position in the listing, and the worst thing is that your account will get banned for selling a specific product. To prevent this from happening, you need to know how to reduce the return rate.
Here's a step by step guide to help you reduce the return rate on Amazon and keep your reputation as a seller intact.
1. Actual Product Description
The number one thing you need to keep in mind when aiming for a reduced return rate on a certain product is the product description.
When describing a product, you must provide valuable, useful information. Don't praise a product unless it deserves it.
To put it simply, your product description needs to be:
accurately describe the actual product
less poetic and more technical
straight-forward
If your product description is properly written, your customers will know exactly what to expect. So, useless adjectives such as "perfect", "stunning", and "extraordinary". Instead, focus on realistic product descriptions.
Also, make sure your product descriptions are professionally written and 100 percent accurate. If you need help with writing, check out Studicus or Best Essay Education.
2. Product Images
It goes without saying that you have to provide images of the product that you're selling. But, you need to know exactly how to handle your Amazon product images.
Here's what you need to cover with your images:
high quality
every angle of the product
showcasing product size compared to a person
images of every part of the product
This way, your customers won't be confused. They'll be certain they know what they're buying.
This will prevent them from being disappointed and returning the product to you.
3. Product Videos
Apart from providing images, it's a great idea to provide a video.
Product videos are an additional great way to make things clear between you and your customer.
Create a video that will show:
how to put the product together
how to use the product
different possibilities the product provides
This will further clear out any potential misunderstandings and reduce the return rate significantly.
4. Functional Size Guide
When you're selling clothes or shoes, it's important that your customers choose the right size for the product. Without a proper sizing guide, your return rate will be high and you'll struggle with reducing it.
So, make sure that the size guide you're providing is:
suitable for the product you're selling
realistic
helpful
If you're using a unique size guide for all your products, this might be an issue.
There are specific products such as sportswear, bathing suits, or lingerie which need a more precise and adjusted size guide.
Help your customers choose the right size or you'll be stuck with returned products.
5. Get Feedback
As an Amazon seller, you never stop learning. Understanding your customers is crucial for the success of your business. This is why, if your customers keep returning the product, you need to know exactly why they're doing this. So, make sure you get the right feedback from your customers. If they don't leave you feedback on their own, you contact them and kindly ask for:
a reason why they returned the product
exactly what was wrong with it
what did they expect
This will help you have a more clear idea of what to improve and how to prevent more of this product being returned to you.
6. Provide Customer Service
If your customers aren't sure about buying a product, they could use a hand to help them make the decision.
They might have additional questions about the product, that are not covered in the product description.
If they buy the product while not having a clear idea of what to expect, they might return it easily. This is why you need customer service to provide:
answers to any questions
guidance about the product
help in choosing the right product for their needs
a positive impact on the customers
Make this correspondence light and friendly. You can even use emoji to make it more conversational.
If you help them make the best choice for themselves, you won't have to deal with a high return rate on the product. Providing stellar customer service can also turn negative customer experience into a positive one.
7. Check Product Quality
Before you send the product to FBA, you need to ensure the product is in great condition.
Don't blindly rely on your supplier to always send you an intact product. They might get damaged or the packaging might tear apart.
Don't let a damaged product get to your customers since this will leave you with more than a high return rate.
Before sending the product, you should:
check product condition
check packaging
check product quality
Focus on always sending an intact product of high quality, and your return rate will be less of a problem for you.
8. Customer Reviews
Finally, there's one last helpful thing you need to provide to your customers. Customer reviews of a certain product you're selling are one of the best ways to help them learn more about the product and decide whether or not they should buy it. So, make sure that you:
inspire previous customers to leave comments
to pin down most helpful ones
Your customers will understand the product better and will be able to make the right decision whether to buy it or not.
Final Thoughts
Reducing your return rate on Amazon is important. It has a huge impact on your sales and your reputation, so you need to invest the energy into solving or preventing this problem.
Use the advice above and start working on your strategy for reducing the return rate on Amazon. Follow our guidelines and soon you'll start feeling the changes for the better.
Author Bio
Nicole D.Garrison is a content strategist, writer, and contributor at a number of platforms for marketing specialists. She is a dedicated and experienced author who pays particular attention to quality research. In her free time, Nicole is a passionate runner and a curious beekeeper. Moreover, she runs her own blog LiveInspiredMagazine. She also works as an editor for Wow Grade.