//php the_post_thumbnail( 'post-thumbnail' ); ?>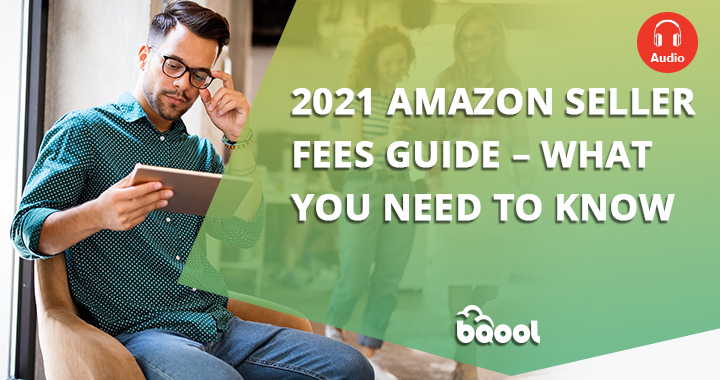 Amazon has updated its FBA fees for 2021, and these changes officially took effect on June 1, 2021. By knowing how much money it will take to sell on Amazon, sellers will learn how to spend their money wisely and make their Amazon business the most profitable it can be. 
In this post, BQool will explain the fee changes, break down the Amazon seller fees, and provide an infographic of the 2021 core Amazon Seller Fees at the end that sellers can easily understand and expect to pay in 2021 when selling on Amazon
Summary of Amazon Fees Change for 2021
The FBA fulfillment fee increase is about 2-3% on average.

Eliminate 4ounce packaging weight for standard size and 1 lb packaging weight for oversize items

No increase in the storage rates

Removal/disposal fee and manual processing fee have increased

No referral fee changes except for full-sized appliances, personal computers, and veterinary diet food

Reduce the returns processing fee for customer-returned products in the Apparel and Shoes categories; eliminate the returns processing fee for the Watches, Jewelry, Luggage, Handbags, and Sunglasses categories.

US Multi-Channel Fulfillment fee changes

FBA Small and Light program fee changes
How much does it cost to sell on Amazon in 2021? We'll explain how Amazon charges sellers and include the latest FBA fee updates in detail below:
Monthly Subscription Fees
First, sellers have to create an Amazon Seller account to sell on Amazon, and there are two types of seller accounts:
Individual selling plan:

this is suitable for people selling fewer than 40 items per month. It's free, but sellers will pay a $0.99 selling fee for every item sold. Individual sellers have to upload listings manually, not available for listing placement in the Buy Box, offering gift-wrapping, and also restricted to selling these categories: Automotive Parts & Accessories; B2B products; Collectibles Coins; Fashion Jewelry; Fine Jewelry; Fine Art; Grocery, Food & Gourmet; Industrial & Scientific; Professional Services; Sports Collectibles; Video, DVD, & Blu-ray; and Watches.

Professional selling plan:

this plan works best for sellers selling more than 40 items per month. Professional Sellers have access to selling to users outside the U.S., customize their shipping rates, bulk uploads, and more. The plan costs $39.99 per month.
Referral Fees
Amazon charges both Individual and Professional sellers referral fees for every item sold. Referral fees are either a percentage of the product's selling price, mostly ranging from 8% to 15% depending on the category, or a minimum referral fee of $0.30. Amazon will charge whichever of these two is greater.
This year referral fee changes will only apply to full-sized appliances, personal computers, and veterinary diet food. Here's the list of categories that will be affected, starting June 1, 2021. 
Full-Size Appliances
Amazon will split Appliances into Full-Size and Compact categories, and lower the fee for

Full-Size Appliances

to 8% while keeping the fee for the Compact category unchanged. 

Personal Computers
Amazon will raise the referral fee for the Personal Computers category from 6% to 8% to align with other electronic device categories.
Veterinary Diets
Amazon will implement a supplemental 7% fee increase in the new

Veterinary Diets

pet food category bringing the new referral fee to 22% for this subcategory of pet products. This fee increase covers the cost of maintaining the veterinarian confirmation process for Veterinary Diets, including the cost for a licensed veterinary service provider. The referral fee percentage will remain at 15% for all other pet products.
In addition, products sold within the Amazon Renewed program will be charged a Renewed program fee depending on category, effective July 15, 2021. Renewed cell phone devices and unlocked cell phones will be charged 2% on top of standard category referral fees. Other renewed products will be charged 1%.
Amazon FBA Fees 
Order fulfillment fees
Sellers can fulfill their orders, including shipping, handling, storage, customer service, and product returns by themselves (FBM). Or, they can pay Amazon for having it store their inventory in Amazon's fulfillment centers, fulfill their orders, handle customer service and returns (FBA).Amazon charges an order fulfillment fee per unit to fulfill items, and the fee varies depending on an item's category, size, and weight.Starting June 1, 2021, Amazon increased the FBA order fulfillment fee and eliminated 4ounce packaging weight for standard size and 1 lb packaging weight for oversize items. Here's the comparison of before and after the change based on the new size tiers.
Monthly inventory storage fees
Amazon charges sellers monthly storage fees for their inventory stored in Amazon's fulfillment warehouses. Monthly storage fees are calculated on daily average volume in cubic feet for standard-size and oversized items and typically incurred between the 7th and 15th day of the month.

Storage fees vary based on time of year because October to December is peak shopping seasons. The rate is also different if the inventory is classified as dangerous goods, see the rate cards below.
Long-term storage fees
Amazon performs inventory clean-ups on the 15th of each month. In addition to monthly storage fees, inventory that has been in a fulfillment center for more than 365 days will be charged a monthly long-term storage fee of $6.90 per cubic foot or $0.15 per unit, whichever is greater. Sellers might not see the actual charge in seller account until the 18th to 22nd.
Other Fees
Closing fees 
The closing fee is $1.80 per sold item under Media categories: Books, DVD, Music, Software & Computer/Video Games, Video Game Consoles, and Video Game Accessories. Amazon charges the fees when a customer order is shipped.
FBA returns processing fee
The FBA returns processing fee applies to customer-returned products sold on Amazon in certain categories for which Amazon offers free return shipping. The charge rate is based on the product size and shipping weight. This year, Amazon reduced returns processing fees for Apparel and Shoe categories and eliminated the fees for items returned in Watches, Jewelry, Luggage, Handbags & Sunglasses.
Refund administration fees
If sellers refund a customer order for which they have already been paid, Amazon will issue sellers the refund of the referral fee that paid for the items, minus the applicable refund administration fee. The fee is either $5.00 or 20% of the refunded charge, whichever is less, and shipping and gift wrap are included in the refund administration fee calculation. 

For example, if you refund a customer the $50.00 total sales price of an item in a category with a 15% referral fee, your refund administration fee will be $5.00 ($50.00 x 15% referral fee = $7.50) because the refund administration fee cannot be greater than $5.

FBA Small and Light program fee
Starting June 1, 2021, Amazon increased the weight limit for

FBA Small and Light

from 10 to 12 oz, the size limit of the longest side from 16 to 18 inches, the median side from 9 to 14 inches, and the shortest side from 4 to 8 inches. And Amazon continues charging $0.10 per unit for the optional

FBA Label Service

for Small and Light items.

US Multi-Channel Fulfillment fee
The multi-channel fulfillment feel is also affected as the FBA fulfillment fee increased. Sellers who use MCF can go to

2021 US Multi-Channel Fulfillment fee

changes for more information.

FBA Order Removal/disposal fees
Removal/disposal fees are charged per item when sellers request that Amazon remove or dispose of items in their FBA inventory stored at an Amazon fulfillment center. The adjusted removal and disposal fees shown below take effect on June 1, 2021.
FBA Manual processing fee
When creating a shipment to Amazon, if sellers choose not to provide box content information, Amazon will manually process your boxes at the fulfillment center and a fee will be applied to the shipment. Here's the 2021 manual processing fee.
How Are Amazon FBA Fees Calculated?
Amazon seller fees are confusing due to the complex fee structures, so sellers have to understand the fees associated with selling on Amazon to estimate the full cost and profit potential. Luckily, there are some calculators and tools that can make this easier for us. 
Fulfillment by Amazon Revenue Calculator 
The Revenue Calculator is a preview tool that allows sellers to compare revenue estimates for products based on the fulfillment channel used. Sellers can easily see which fees apply to each fulfillment option and enter sales volume estimates to calculate total proceeds, as well as per-unit sold estimates. Here's the

step-by-step guide

on how to use this tool. 

BQool Price Profit Calculator
BQool Price Profit Calculator is another great tool that is easier for repricing users to calculate straight out for all the costs included in the sales price to get a close estimation of potential profit and ROI. If you haven't tried it yet, check out our

Price Profit Calculator

, which is part of our AI-Powered Repricer.
Are Amazon FBA Fees Estimates Accurate?
Since the FBA fees update on June 1st, many Amazon sellers are reporting different FBA fees shown on Amazon Revenue Calculator and Seller Central FBA fees estimates. Because the FBA fees increase is a recent event, it is possible to believe that Amazon is still working on updating the fees estimates on the Amazon Revenue Calculator. Some sellers have also reported that some Third-Party Amazon seller tools like the inventory program are also reporting issues with FBA fees being incorrect. Please keep in mind that if you ever run into those issues, you need to ensure that you are using third-party software that is approved by Amazon and is a member of the Amazon MWS Developer Council, so your tool will not run into similar problems like incorrect FBA fees.
Amazon Overcharging FBA Fees? What Now?
Sellers may be overcharged for FBA fees because their products are wrongly measured by Amazon after sending their inventory to an FBA warehouse. In this case, here's the easiest way to report the problem:
Check

Manage Inventory

section in Seller Central

Find the product you think it's overcharged by Amazon and you will see the

Estimated fee per unit sold

column. Click the dropdown menu to see all the fees you're being charged.

To find out the dimensions and the sizing tier your product falls under, go to

Reports > Fulfillment

. On the left-hand side, go to the

Payments

section and then click on

Fee Preview

.

Click the

Request .csv Download

button for the report. In the spreadsheet, you will see the dimensions of your product, the sizing tier your product falls under, and the fees you are being charged.

Measure your product again and compare it to the dimensions that Amazon has listed. If the measurement is incorrect, you need to request a Cubiscan, which is a process that Amazon uses to re-check the dimensions and weight of an item. 
How to request Amazon to do a size check and reimburse for the extra fees?
Click on

Help

in the top right corner in Seller Central, and you will see

Need more help?

under the

Recommended for you

section

Click

Get Support

and then

Selling on Amazon

. Skip

Describe your issue

box but instead click on

Or, browse for your issue in the menu

.

Click

Fulfillment by Amazon

and then

Investigate Other FBA Issues

. You will then select

Confirm/Request Reimbursement for Product Weights and Dimensions

. 

Enter in your FNSKU or ASIN and select your issue

Request product re-measurement or order fees reimbursement

and click

Next

.

Then

request measurement

.
The re-measurement process may take a few days to do. Amazon may come back with your new FBA fees based on the result of re-measurement, which could be more or less. If it turns out that your product was mismeasured, Amazon will automatically reimburse you for the overcharges.
Conclusion
No one wants to see their business costs pile up with the increase of FBA fees. However, if you are using an Amazon-approved Repricer that is a member of the MWS developer council, you can secure the Amazon Buy Box with ease for more profits and maintain your account and personal security without any concerns of a data leak that may cost your business. Try BQool Repricer Now!

Share our infographic on your site!
<p><a href="https://blog.bqool.com/amazon-fba-fees-2021/"><img src="http://blog.bqool.com/wp-content/uploads/MicrosoftTeams-image-92.jpg" width="1200″ height="4001″ alt="2021 Amazon Seller Fees Infographic"/></a></p>