//php the_post_thumbnail( 'post-thumbnail' ); ?>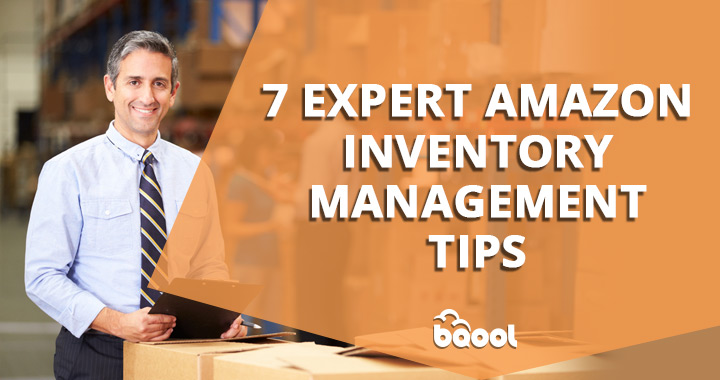 Ask any successful Amazon seller what the most important aspects of their business are, and you'll likely hear that it's fulfilling orders and having an effective inventory management process. This post will look at seven ways to improve inventory management for your Amazon business.
Why is Inventory Management Important for Amazon Sellers?
Inventory management is essential for all online sellers, but especially so for Amazon sellers as they have to satisfy two stakeholders – customers and Amazon. That can be a delicate balance that only a solid inventory management system can achieve.
Here's why: if you have too little stock and often run out of products, you're losing customers and sales. If you use Fulfilled by Amazon (FBA) as your fulfillment method and you have too much stock, you may run into long-term storage fees for the excess inventory.
Tips for Effective Amazon Inventory Management
The following are seven ways to improve your inventory management strategy on Amazon:
#1 – Know and Understand Your Inventory Turnover Rate
To avoid ordering too much or too little inventory, it's important to know and understand how fast your inventory sells on Amazon in a given timeframe. Calculating your inventory turnover rate gives you that information. Here is a quick example of how to calculate your rate:
Take the inventory sold (COGS dollar value) for a given period (let's say 90 days) and divide it by your leftover inventory (dollar value). That gives you your inventory turnover for the period (e.g. $250k ÷ $55k =4.55).
Now divide 1 by that number (e.g. 1 ÷ 4.55 =0.220).
Then, multiply by the time period – 90 days (0.220 x 90 days =19.8 days)
The final number indicates that you sell your entire inventory within that period. In the example above, it shows that all inventory is sold within 19.8 days.
Once you know the rate, you can more accurately estimate how much inventory you'll need to stock between inventory deliveries. Amazon expects sellers to turn over their inventory within three months.
#2 – Forecast Sales Accurately
Accurate forecasting let you know which products you need to reorder and when you need to have them. This can be tricky, but once you have a little bit of time under your Amazon business belt, you should be able to determine what your realistic average will be. To help, here are some of the factors you should consider when forecasting Amazon sales and inventory:
Previous sales numbers (sales at this time yesterday, last week, last month, and last year)
Market trends within your product niches
Your business' average growth rate (monthly and yearly)
Upcoming promotions
Upcoming marketing campaigns
Overall economy in the areas where you sell
#3 – Understand Your Lead Time
A supply chain is a process of moving inventory from initial sourcing to the arrival at your or a third-party's warehouse. It's important to know just how long that takes so you know what the lead time is when you order more stock.
You want to be able to place your orders in enough time that you don't run out of product while waiting for a shipment to arrive.
#4 – Have Plans for Dealing with Possible Problems
You'll soon find out that there will always be some problems that arise with your online business. It's the nature of retail.
That's why it's so important to create contingency plans for dealing with any possible inventory problems that may come up. Whether that is a manufacturer or supplier going out of business, or an inaccurate inventory audit that causes you to oversell. When you consider these possible scenarios and create a plan on how to respond to them, you'll recover faster when they happen.
#5 – Use Amazon FBA
One sure way to manage inventory more effectively is to use the FBA program. When you entrust Amazon to take care of the logistics of your day-to-day inventory and fulfillment, much of the work is taken off your plate.
You'll have to make sure that inventory replenishment is done in a timely manner, but Amazon handles rest. Of course, there are fees associated with their service, so make sure it is a profitable option for your business.
#6 – Optimize Your Pricing
Assigning the right prices to your products is an important part of an effective Amazon inventory management system. You must be competitive with pricing because there are likely several (or more) sellers offering the same product. Staying competitive is crucial for winning sales and the Buy Box.
If you set your prices too low, it will sell too fast and you may not be able to replenish your supply before it sells out. When products are priced too high, you could be left with stock that just doesn't sell at all.
One way to ensure that your products' prices are always optimized is to use an Amazon repricing software. This will help you stay competitive, keep your inventory in check, and benefit your business, all with very little work for you.
#7 – Use the Right Inventory Management Software
In any industry, the success of a business often relies on the strength of the tools that are used. Ecommerce is no different. Finding the right ecommerce inventory software will help with many of the above tips as well as others that aren't included here. The system you choose should provide you with the following:
Visibility – When you started your ecommerce business, you likely were able to walk into the area where you kept inventory to see exactly what you had. Now that your business has grown, the size of your inventory has increased. Your products may be located in multiple warehouses. You still need to know exactly how much inventory you have, and where it is, at a glance. Software that allows you to see those critical numbers quickly and accurately is vital.
Scalability – The scalability of your inventory management system is important as your business grows. You may start off selling only on Amazon, but then quickly find that you need a business website and a presence on eBay or another marketplace. Your system must be equipped to handle the growth of your business and inventory.
Integration Options – The software that you choose must be able to integrate with the other systems you currently use. The goal of using inventory management software is to make your business more efficient and save you time and money, so it must be able to work alongside your Amazon store and other platforms.
Final thoughts
Amazon makes it easy for online retailers to sell their products on the platform. However, becoming an Amazon seller with a good reputation takes time and effort. Don't risk losing your good reputation because your inventory management leaves you dealing with unnecessary headaches. Use the above tips to improve your inventory management strategy and keep your Amazon business growing.
About the Author: Ecomdash is an order and inventory management software for multichannel online retailers. They focus on providing small to medium-sized businesses with actionable tips and strategies for building a lucrative ecommerce business.