//php the_post_thumbnail( 'post-thumbnail' ); ?>

2018 is knocking on the door, in the meanwhile, the busiest season on Amazon is coming to an end. Many sellers have already begun their product research and amazon market trends analysis for the next big thing on Amazon.
As we all know, there are hundreds of millions of new products being added on Amazon every year, but the ugly truth is only a few of them can outperform and trump all other. So how can Amazon sellers reduce the risk of their new products failing on the market? One solution is simple yet effective, that is before you decide to launch a new product, you must first conduct research on the product itself. Whether you surf online to study reports related to a product or predict its Amazon market trends, all these are good ways to help you stay ahead of the Amazon sales battle.
Recently CNBC released the news that Amazon's echo dot was the top-selling product over the holiday weekend. In another word, echo dot accessories and the peripheral device will unsurprisingly be trendy from now. How can we identify a product that has the potential to be a rising star? Here are 2 ways as follows:
1. Data-driven product analysis: Nowadays most marketing activities rely on big data analysis to increase sales. Data drives the majority of marketing decisions in today's e-commerce world so you cannot solely trust your subjective opinion and gut feeling. If you are about to seek for your own product niche, remember to use the product research software, BigTracker, to conduct your product research efficiently and successfully.
2. Influencer Marketing: Blogger, vlogger, youtuber…etc, the leader of the community, I believe we don't need to explain the importance of influencer marketing. In 2018, with the rise of fake news and more sophisticated customers, it will be a challenge for online retailers to find trustworthy influencers. For private label sellers, you can refer to specific influencers' opinions before you decide to source. Furthermore, find the right influencers as your product spokesperson will also help increase your sales.
Echo dots, powered by Alexa, have been Amazon's own superstar products the past couple of months. The selling point of the product is that it can remote all your smart home device as your personal housekeeper. The second generation of echo dots are ready on the market, and many consumer electronics companies have also launched a variety of smart speakers. Since Echo dots are selling like hotcakes right now, how can you miss this great opportunity of selling echo dots peripherals that have good demands?
How to Analyze Amazon Market Trends?
Let's use BigTracker to monitor those peripheral device sales performances to verify echo dot Amazon market trends again. Here we take "smart plug for Alexa" as the example to see the sales ranking and est. sales curve. In the following screenshot, we can observe the curve is constantly soaring due to the holiday season, and we believe the market scale is also promising in 2018.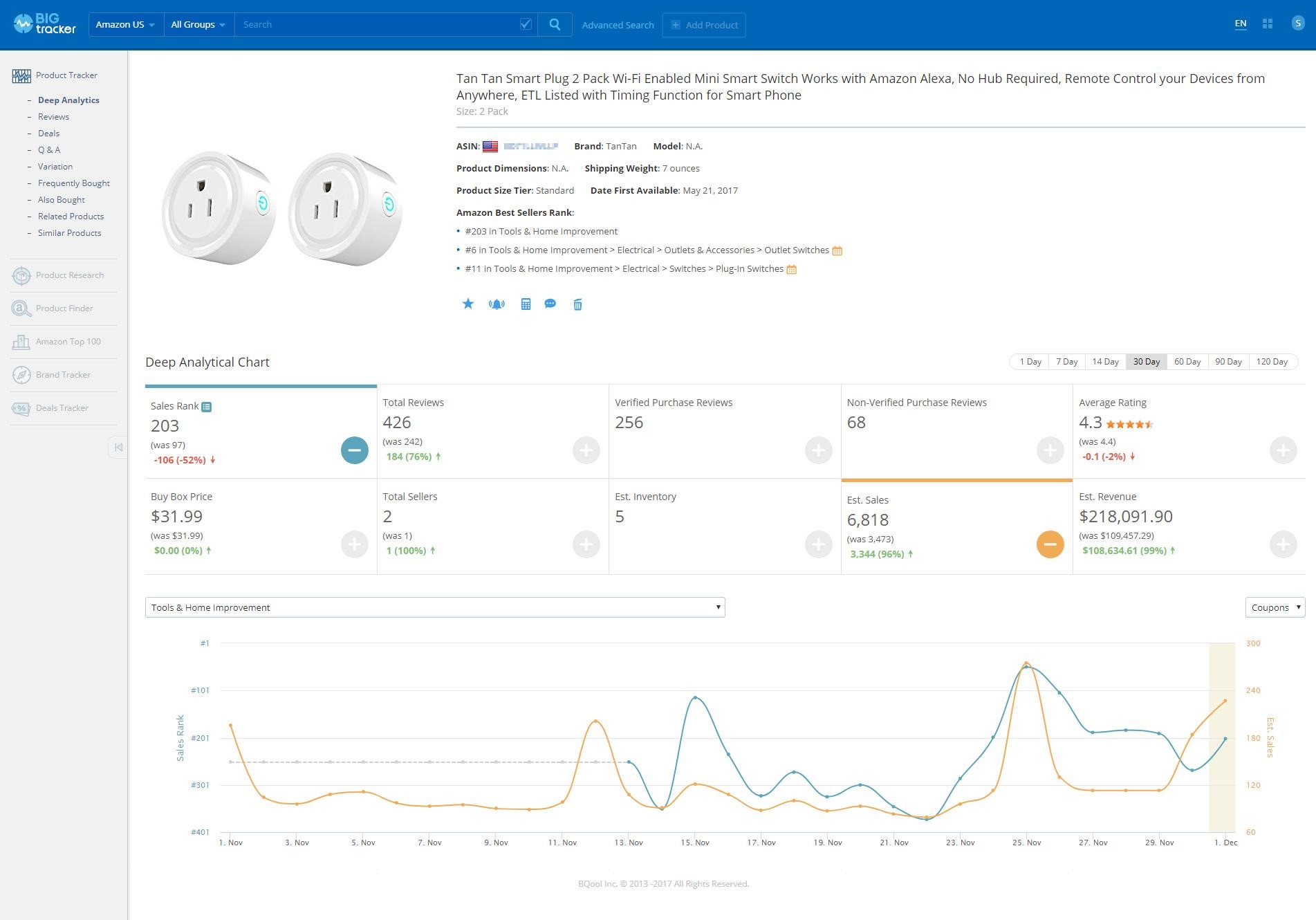 When tracking smart plug for Alexa, we can also discover other potential products via "also bought" in BigTracker. We can take "smart light bulb" as another example.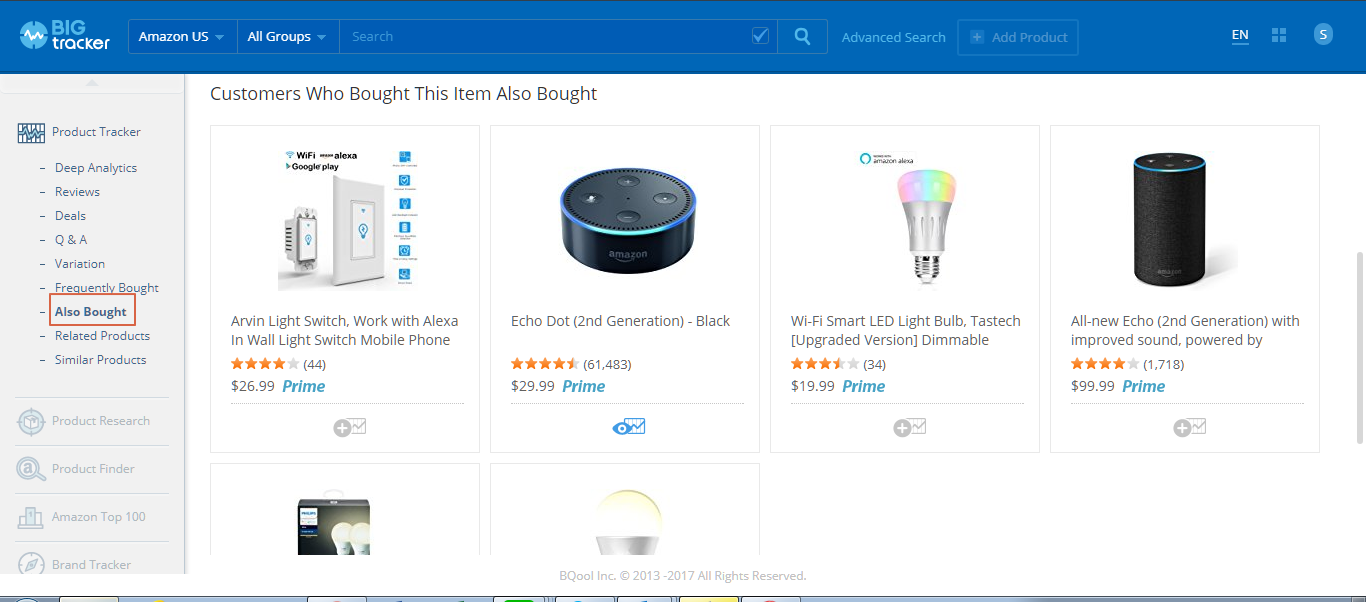 Let's check the "smart light bulb" sales performance to verify this trendy product. As we can see, the sales rank and estimated sales trends are both going up.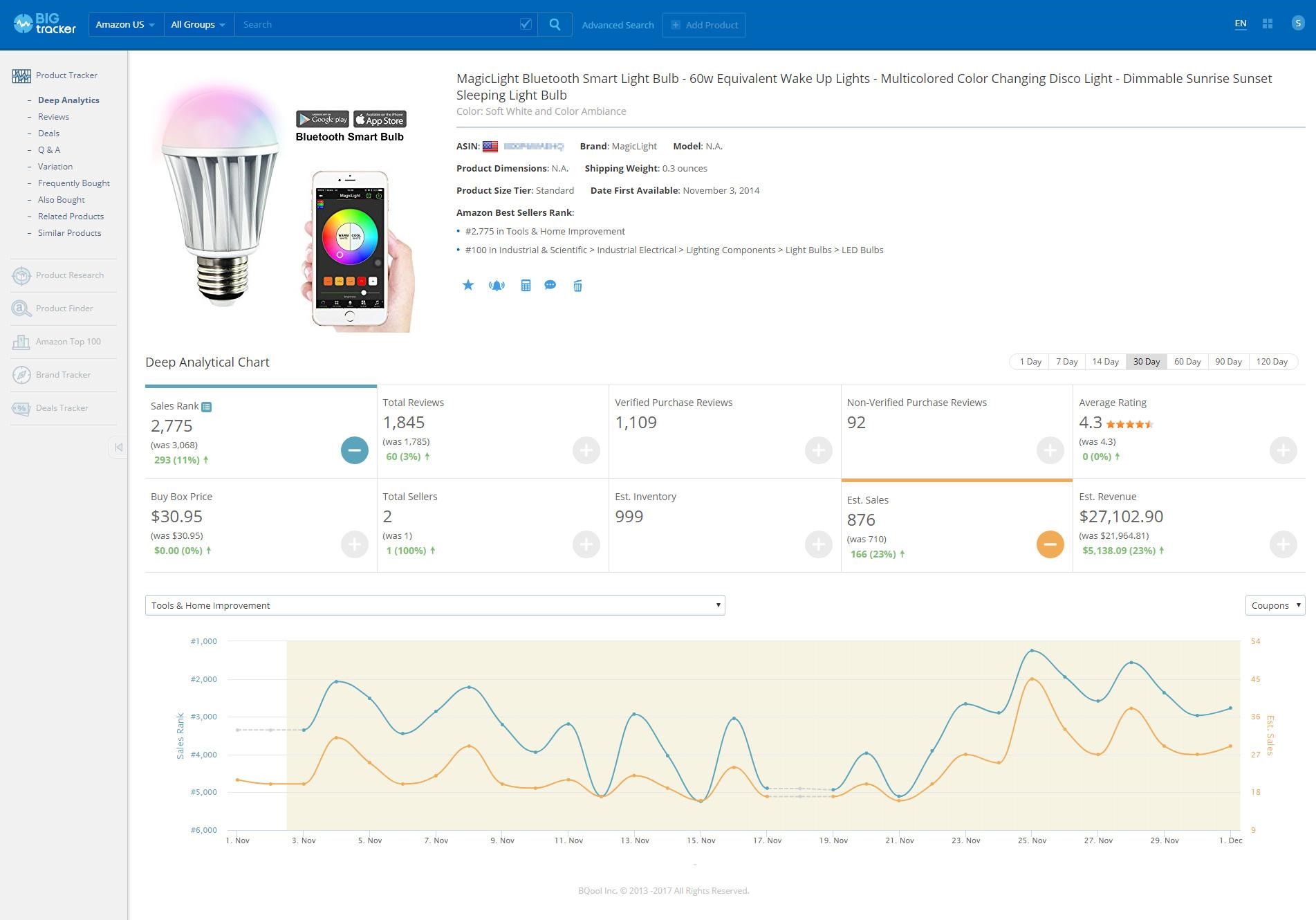 After discovering Amazon market trends, you are running a mile ahead of your competitors.
You can use the techniques we shared above to find your niche products and add them into product tracker as well. Product tracker has 3-tier group settings that will help you organize all tracked products. It also comes with a deep analytical comparison chart that can assist you to observe multiple product performances easily, and the most amazing thing is that you can directly use the profit calculator to reveal the est. profit and ROI for any ASIN right away.
More potential and trendy products are waiting for you to be discovered! Find your profitable niche with BigTracker & start your 14-day trial immediately to uncover more sales opportunities.
References:
Forbes-Top 10 Trends For Digital Transformation In 2018
CNBC: This Amazon device had another record run over the holiday weekend
You may also be interested in reading "How to find trending products to sell on Amazon in 2019".