//php the_post_thumbnail( 'post-thumbnail' ); ?>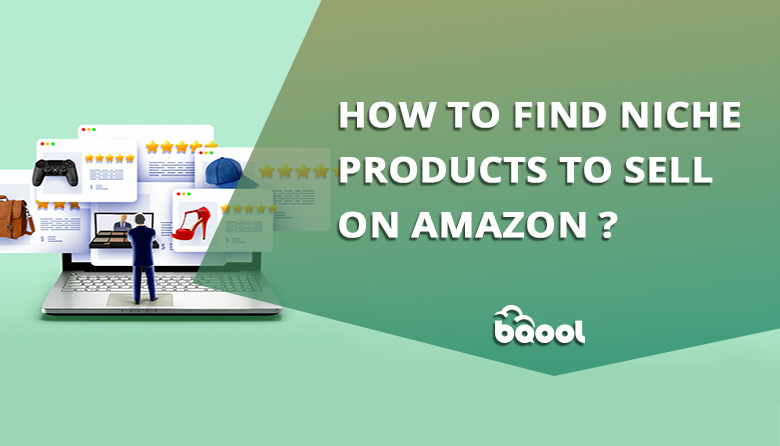 The busiest season on Amazon is coming – Q4. Many sellers have already begun their product research or amazon market trends analysis to discover the next big thing on Amazon.
As we all know, there are hundreds of millions of new products being added on Amazon every year, but the ugly truth is that only a few of them can outperform and trump all others. So how can Amazon sellers reduce the risk of their new products failing on the market? One simple yet effective solution is before you decide to launch a new product, you must first conduct research on the product itself. Whether you surf online to study reports related to a product or predict its market trends, all these are good ways to help you stay ahead of the Amazon sales battle.
How can we find a niche product that has the potential to be a rising star? Here are 3 ways as follows:
1. Use Google/Google Trends
81% of people search online for a product or service, and Google dominates search engine use with an average net market share of 73.34% on desktop. You can use Google search to see if there is a lot of information related to the keyword phrase you place. 
You may be wondering what keyword of the product idea you should place. When finding a niche product to sell on Amazon, we suggest you can pay attention to something surrounding you, your passions, or possible everyday problems. 
Since COVID-19 significantly changed the way we live, millions of people now stay inside and work at home much longer than before. Therefore, you may consider selling a product related to home workout or home office no matter what "the new home essentials" people need with this unprecedented lifestyle shift.
So let's take "home office" as an example, we get the information mostly about home office decoration and interior design. Before you perform further research on this category, you can check if most visited websites (get estimated traffic using SimilarWeb) are talking about this topic recently.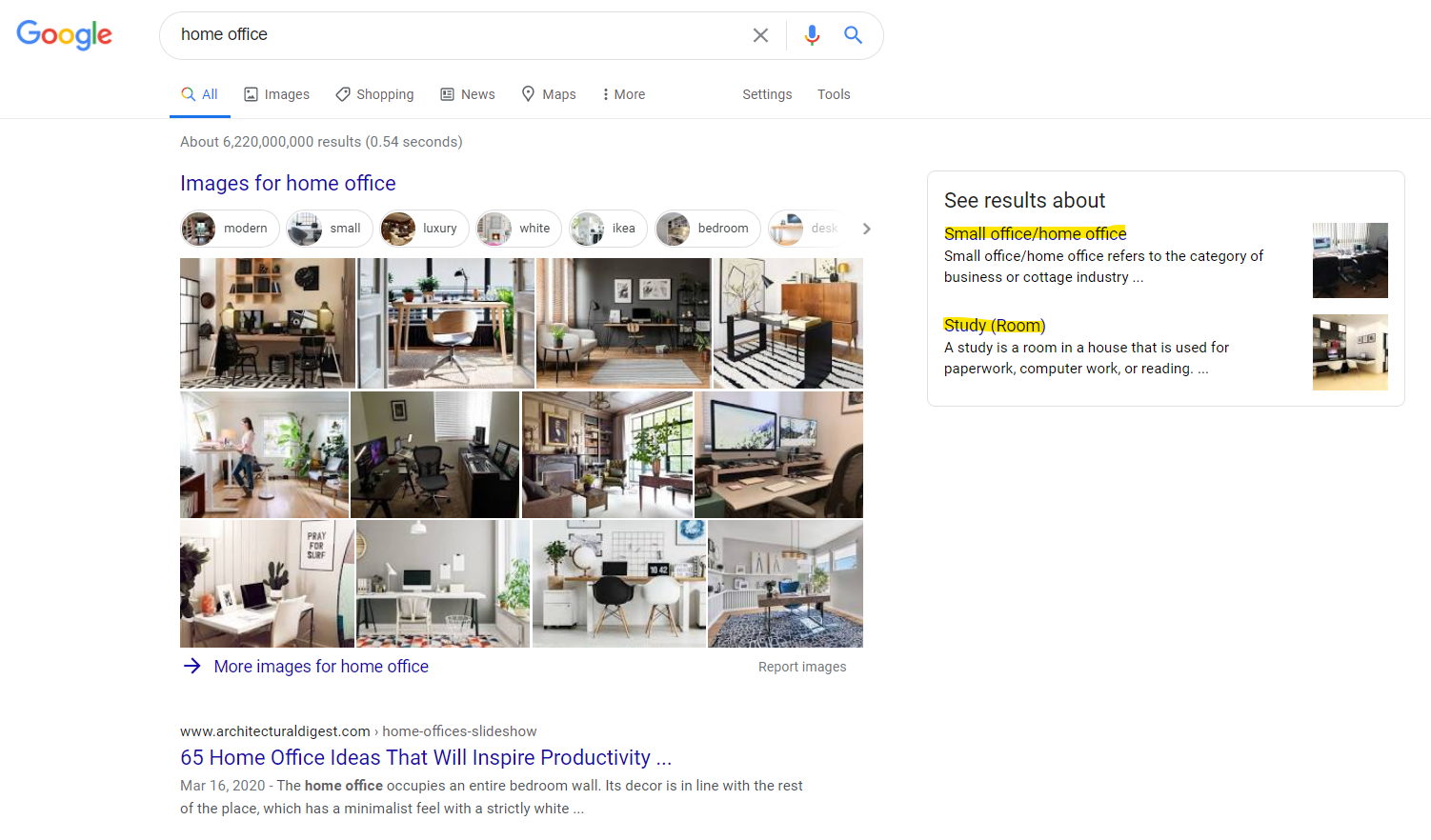 On the right of the below image, you can also see results related to the search keyword, "Small office", "Study (Room)". These similar search result keywords can give you some direction for finding the niche products, also could be useful keywords included in your product listings.
Once you scroll down the search result a little, you can dig deeper information from the "People also search for" section and "People also ask" section to form an idea of something.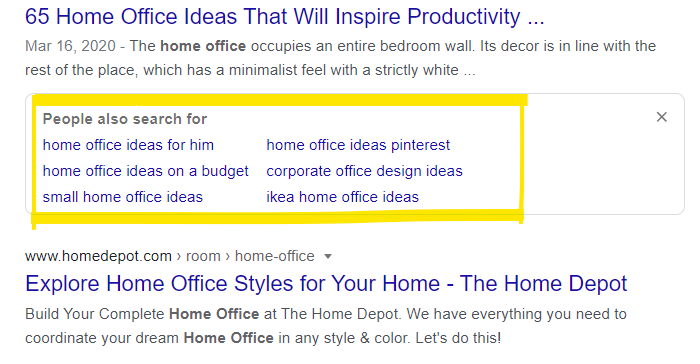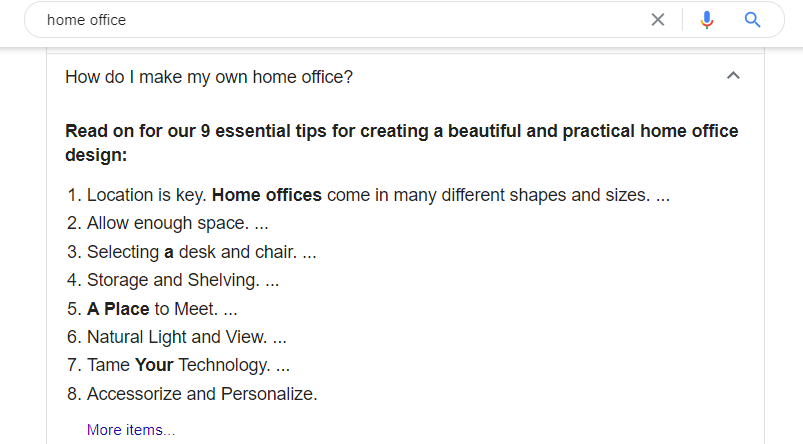 Furthermore, using Google Trends to see if the relative popularity of the topic shows steady growth.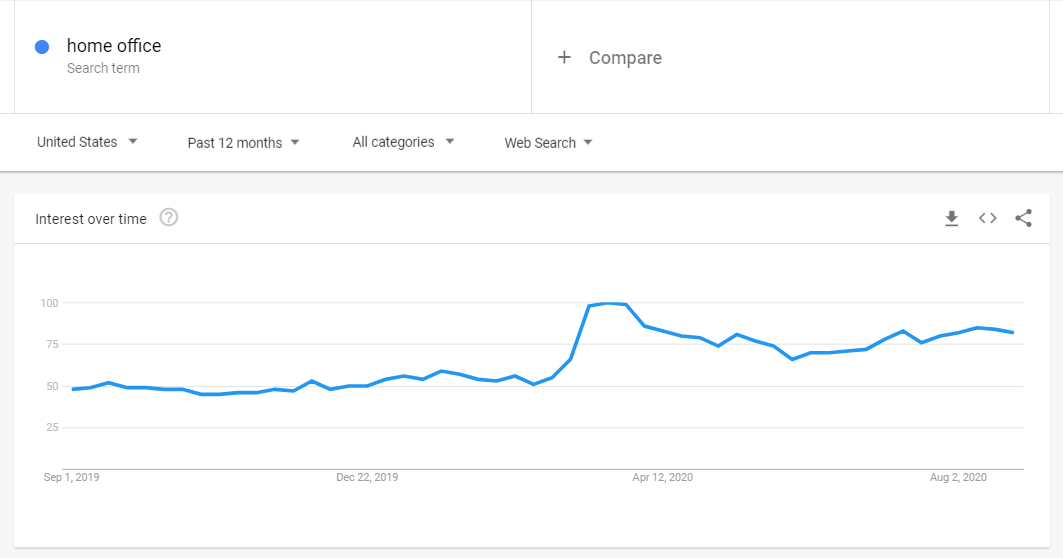 You can also compare the popularity of different search terms and narrow down your keywords according to categories in order to give more accurate data on your keywords.
2. Explore Online Communities
The next place you can explore is in the most popular online communities where you can get innovative niche ideas for your Amazon business. Here are some online communities you must check.
Facebook 
Facebook Pages and Groups allow people to communicate about shared interests, issues, or activities to share their opinions, discuss issues, post photos, and share related content. You can join the most popular groups and participate in their conversation to know what they are talking about and this may be a helpful resource to inspire you for some niche product ideas.
Instagram 
The visual content on Instagram is a powerful tool that attracts Gen-Z or millennials to research or buy products. By following popular hashtags around the trending topics, you'll see what people are shearing, as well as their happy moments and daily stories.

Reddit 
Reddit is an informative discussion forum where users can discuss certain topics and vote on content that other users have submitted. Take the time to read questions, comments, and discussions and make notes of any needs or any problems. It allows you to think carefully about what products can solve that and satisfy their needs.
Quora 
Quora is a question-and-answer website where users can ask questions about certain topics and get answered by other users. Quora is a good place that you cannot only see what people are talking about, their concerns and problems. If you plan to make a product, it also allows you to learn what people think about your product ideas by submitting your questions.
Social Media Influencers
Blogger, vlogger, YouTuber…etc, the leader of the community, I believe we don't need to explain the importance of influencer marketing. In 2020, with the rise of influencer marketing and more sophisticated customers, it will be a challenge for online retailers to find trustworthy influencers. For private label sellers, you can refer to specific influencers' opinions before you decide to source. Furthermore, find the right influencers as your product spokesperson will also help increase your sales.
3. BQool BigTracker Product Research Tool
Nowadays most marketing activities rely on big data analysis to increase sales. Data drives the majority of marketing decisions in today's e-commerce world so you cannot solely trust your subjective opinion and gut feeling. If you are about to seek your own product niche, remember to use the product research tool, BigTracker Extension, to conduct your product research efficiently and successfully.
How to Analyze Amazon Market Trends?
Before we move forward to a deeper niche product research, you need to figure out your monthly profit goal first. Let's say if your goal is to make $3,000 per month. To achieve that, you need to make $100 per day. Now a profit margin per item is $10, which means for every unit you sell, you can make a $10 profit. Daily profit margin $100 = $10*10 units. To achieve the monthly goal of $3,000, you have to sell 300 units per month. Your goal can be changed to fit your needs. For example, if the profit margin is $5 per unit, then you need to sell 20 units per day, which is 600 units per month. Or if you aim for a higher monthly goal of profit margin, you can change these numbers accordingly. So now you have a target number, you can use it as criteria when finding a potential niche product.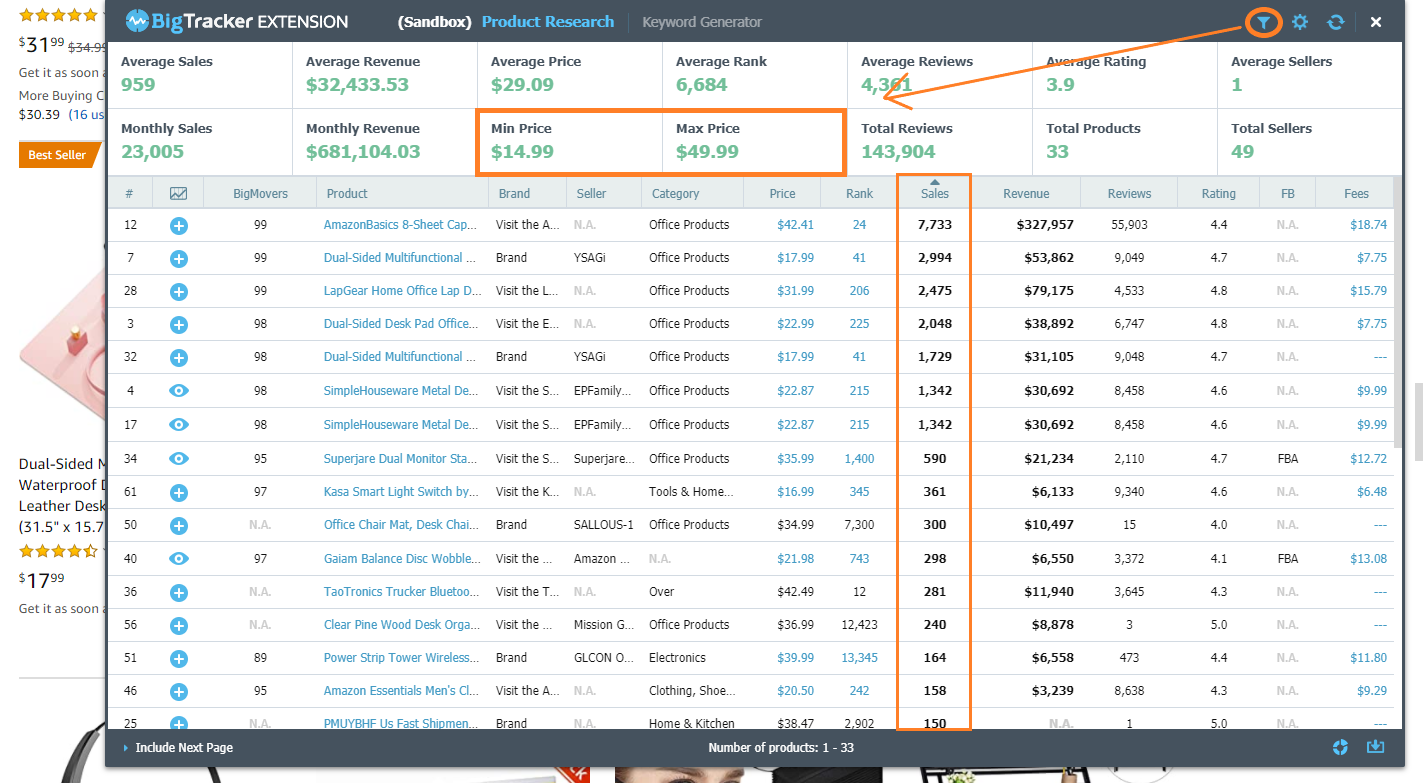 Let's use BigTracker Extension to find potential product ideas that meet your target and analyze the market trends on Amazon. Here we take "home office" as an example to instantly view insight on the sales performances of the products in this category. In the following screenshot, BigTracker Extension uncovered the key metrics, including the product's sales, rank, review, rating, and much more, so you can identify a product's demands and profit potential. You can use the filter and sorting to find specific products that match your specific search criteria:
5 of the top 10 products are sold at least 300 units per month

Min sales price is at least $15 (If the price point is too low, you will not get too much money left from your profit after the costs such as FBA fees, etc.)

The suggested max sales price is $50 (If your sales price is too high, it will not make shoppers impulse buy.)

Up to 100 reviews: Avoid the listings with high reviews because it might be very competitive.

Other criteria to meet your specific situation
Note that the more specific criteria you have, the fewer search results you can get. You can also use BigTracker's Keyword Generator to see the most popular keywords used, which gives you more product ideas and keyword ideas for your listings.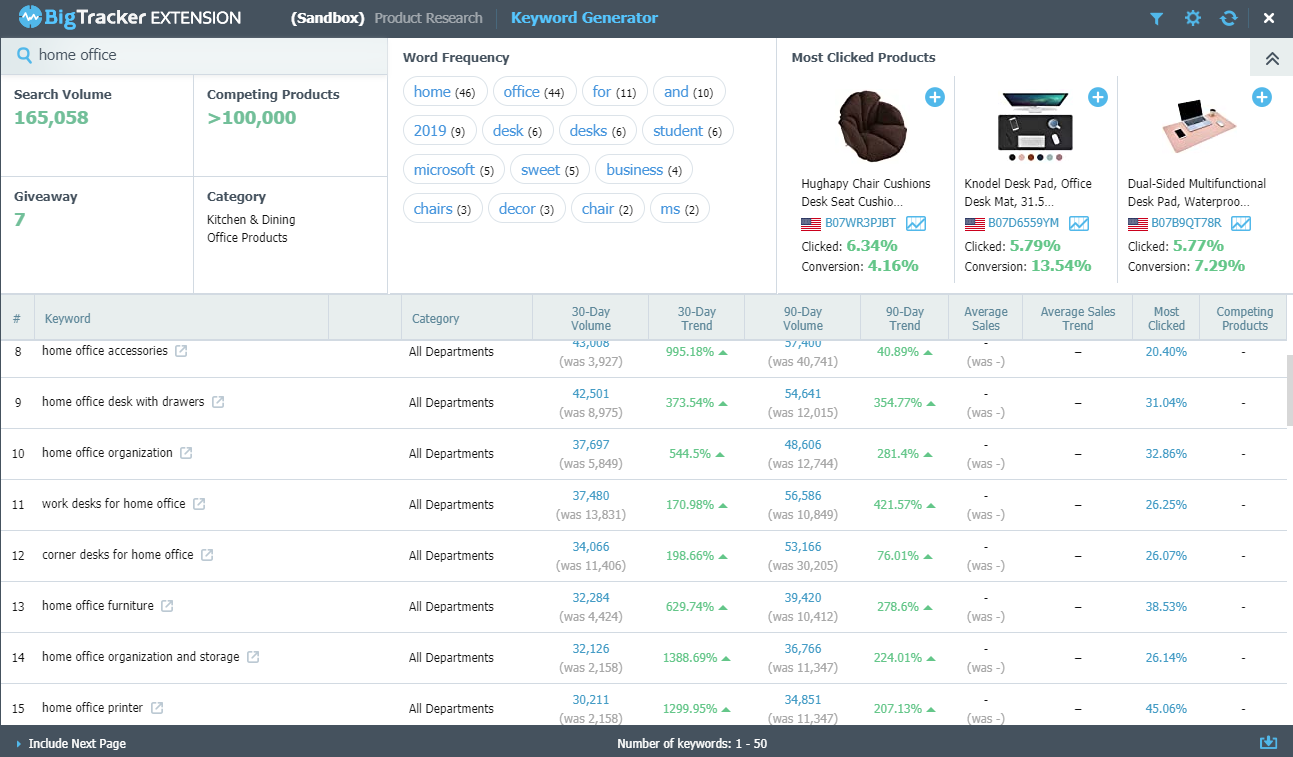 And the most amazing thing is that you can directly use the Profit Calculator to reveal all the costs included in the sales price to estimate your profit and ROI for any ASIN right away.
To go deeper in your search, use BigCentral's Product Tracker feature to add all these potential products to the list to track their movements through the quality data such as the daily price, sales rank, estimated sales & reviews over a period, and more. It also comes with a deep analytical comparison chart that can assist you to observe multiple product performances easily.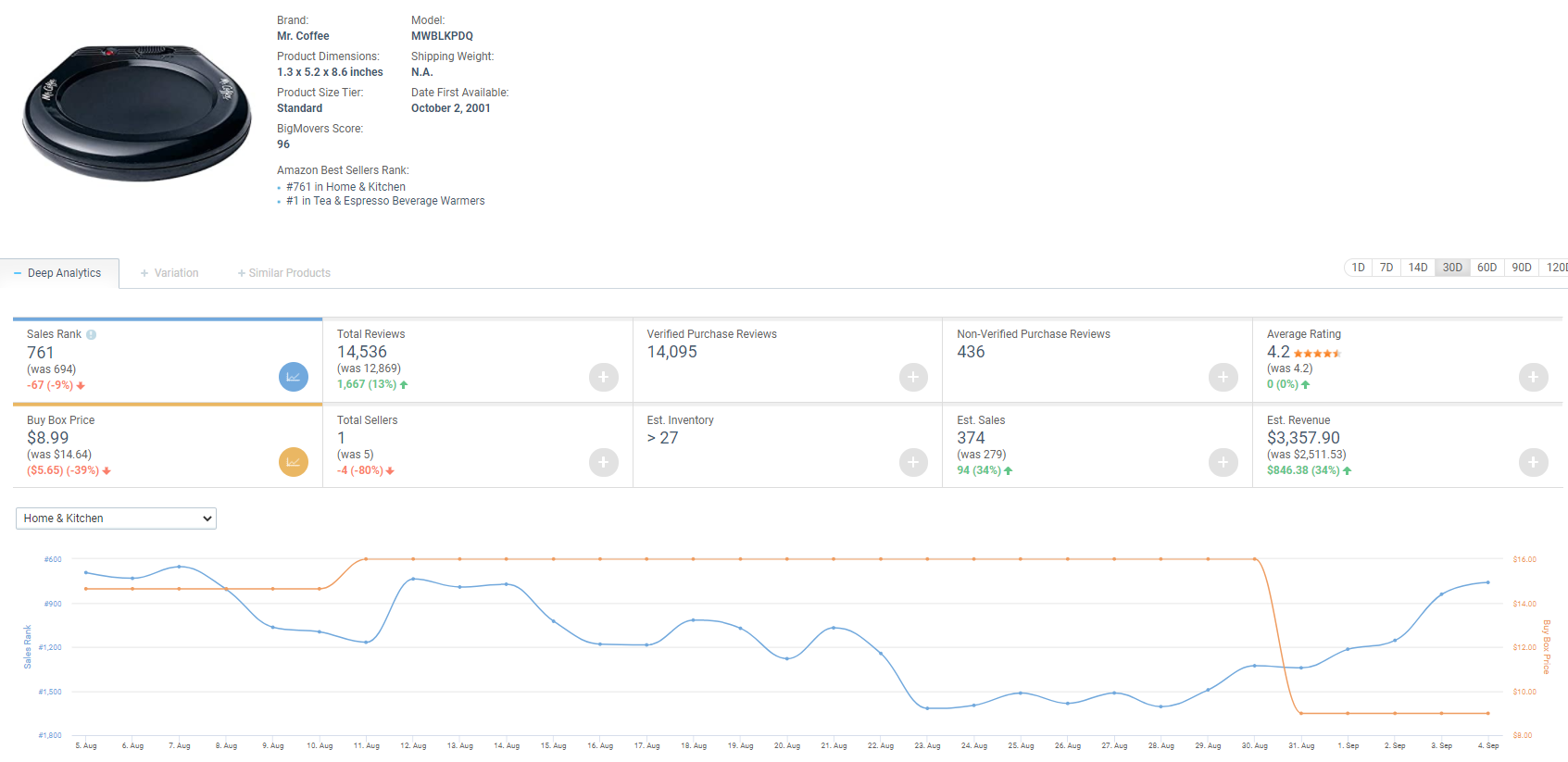 You can use the techniques we shared above to find your niche products. After discovering Amazon's market trends, you are running a mile ahead of your competitors.
Conclusion
More potential and trendy products are waiting for you to be discovered! Find your profitable niche with BigTracker Extension & BigCentratal's Product Research Tool to start your 14-day trial immediately to uncover more sales opportunities.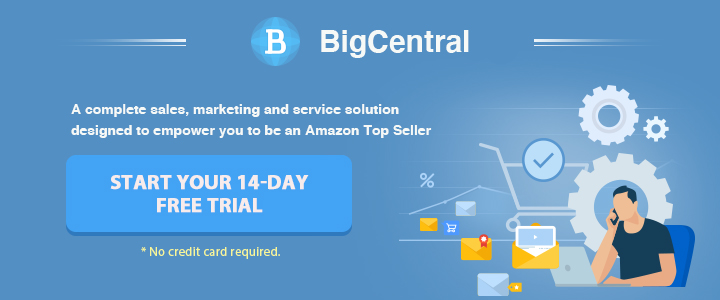 This blog post was originally published in December 2017 and was updated in September 2020 due to product updates or Amazon policy changes.