//php the_post_thumbnail( 'post-thumbnail' ); ?>

Good product selection is probably the most important factor for Private Label success. Which is why we are going to take a peek on how to find potential products and how to use BigTracker to estimate the market demand to find profitable products on Amazon.
No matter what kind of products you are seeking for or what categories you pick, here are 9 checklists to follow before finding your own product niche.


Price range: $19.95-50
$20-$50 is the ideal price range to start with because cheaper products reduce the initial investment risk for new private label sellers. Many products actually sell for a few cents below $20. Let's remember to start our search at $19.95, so we will not miss them.

Year-Round Product (Not seasonal)
Year-round products will give you a consistent cash flow so that you're not banking all your revenue on the holidays.

Weight: standard size tier
As everyone knows, heavier items have higher shipping, packaging and storage fees. Lighter items will help reduce those costs.

FBA
Look for products that are eligible for FBA. By opting for FBA, you can save money on warehouse rent. In addition, FBA can provide faster shipping that improves customer experience which makes scaling your business faster.

Skip gated categories & restricted products
Those are categories that sellers are required to obtain approval from Amazon, such as music, software, kindle, beauty, watches, jewelry and also other restricted product types.
BQool would like to give an honest suggestion for those private label newbies, we advice staying away from electronics category because there's a lot of competition and it would be hard to find a product niche that's not saturated.

Check Review, Q&A
We recommend products that have 150 reviews and less as these items may still be in the growth stage of its product cycle. You should also read through reviews and Q&A to find out what customers say about a product and gather product improvement ideas.

Monthly est. sales: around 300
Top-selling products may be too competitive. We should pick a level of sales volume that is easier for us to enter the market and beat the current competitors.

Sourceable
You can easily find reputable suppliers of some product from alibaba.com or in the state.

Define market demand
There is a Simple way to identify the market demand that is "low competition and high search volume". You can get a head start by analyzing marketing reports that are available on the web and utilize BigTracker to forecast total market demand.
Action steps by using BigTracker
Based on above checklists, you should always start searching products from the categories that you are already familiar with, and avoid categories and products we mentioned. Let's take "makeup mirror" as the example.
As we can clearly see from the number of Amazon search result for makeup mirror, there are countless related items saturating the market already. However, we could narrow down the search result by referring customer Q&A and reviews under product tracker. Here we include more conditions to omit some results, add these keywords of "LED light", "180", " travel", "touch screen" and click search again.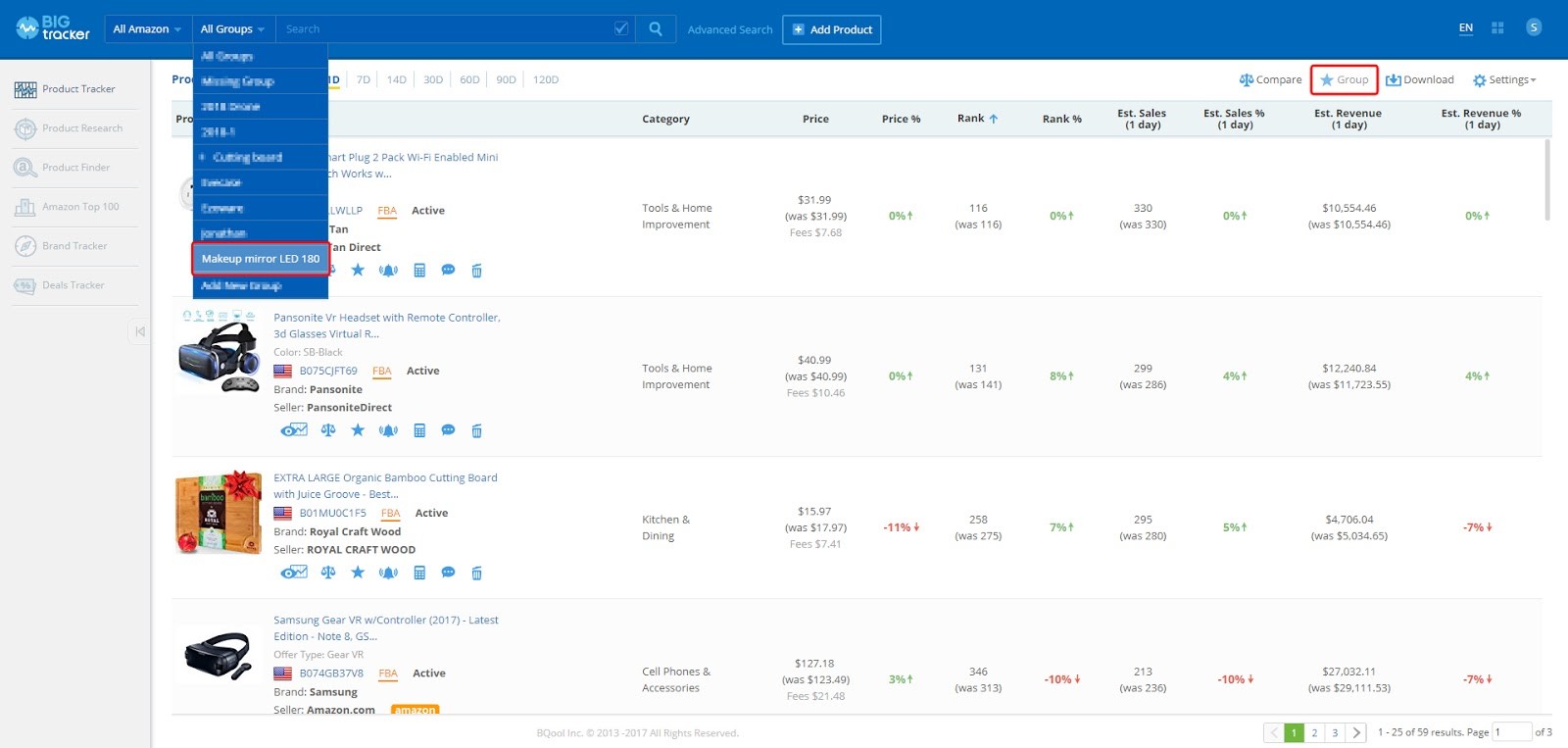 Let's find 3-5 similar products, create a group named "makeup mirror LED 180" and add products to product tracker under this group. Start to track these products for 3-4 weeks, monitor product performances by checking est. sales and est. revenue in the deep analytical chart and compare these products performance so that you will have a clear picture of the highest potential product. At this stage, you can start to source online to find credible suppliers, quote price, MOQ and evaluate the product margin.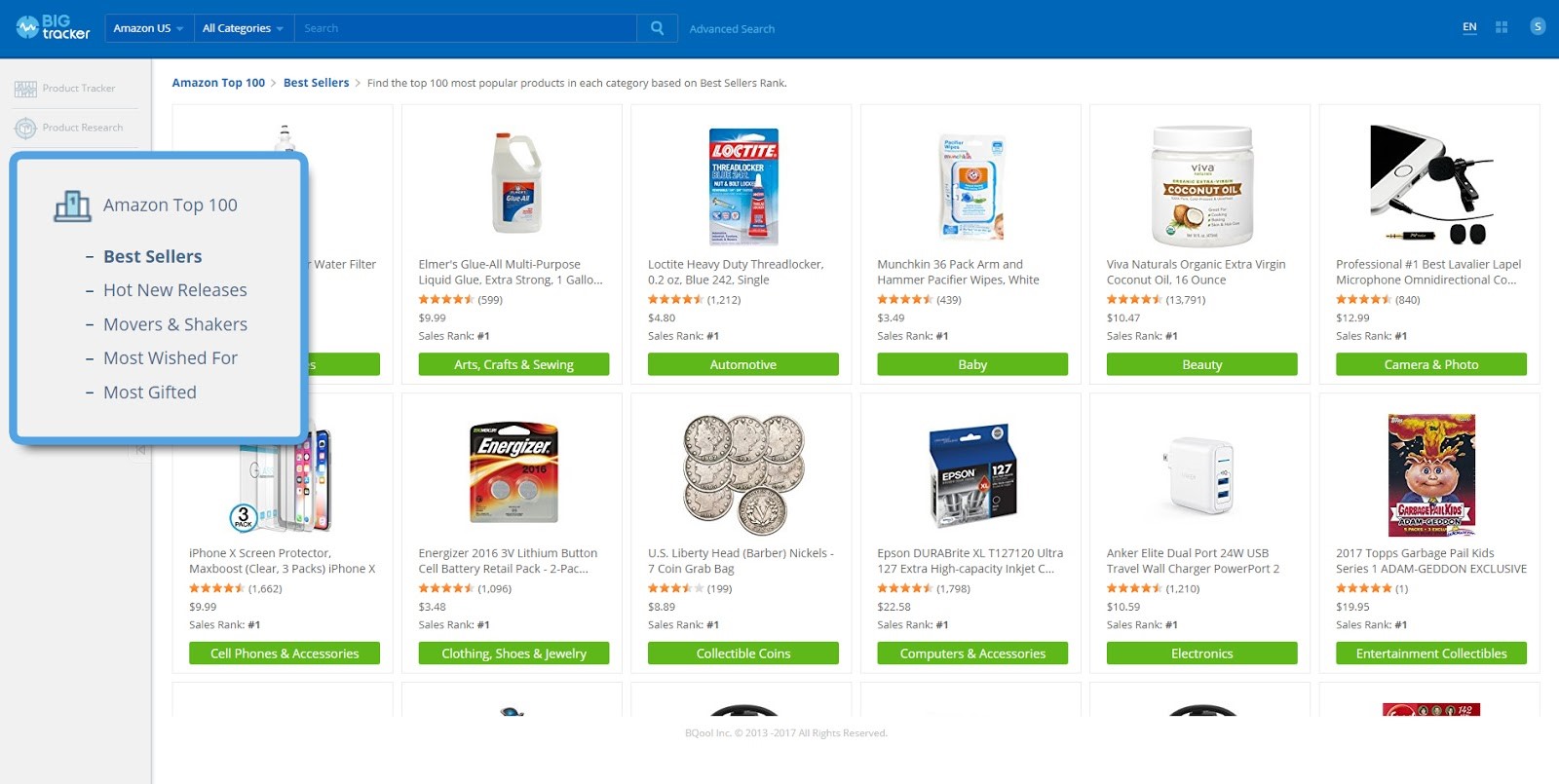 For beginners, if you don't have enough product selection experience or haven't the slightest clue where to begin, you can refer to Hot New Release and Mover & Shakers in Amazon top 100 which have some inspirational ideas for seeking brand-new products.
What are you waiting for? Join our 14-day trial journey to uncover more product niche and experience unparalleled BigTracker now!
Icons courtesy of Katie Westbrook