//php the_post_thumbnail( 'post-thumbnail' ); ?>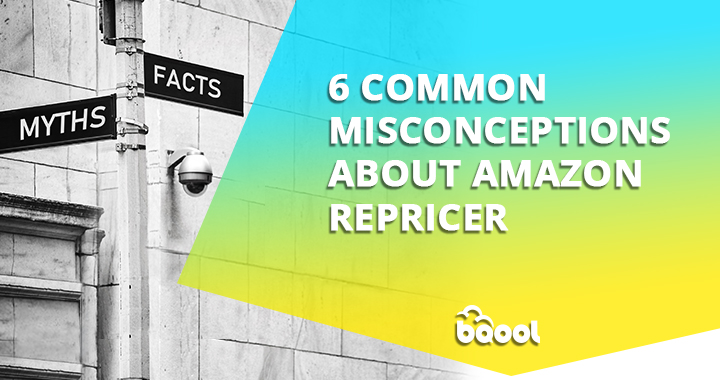 Getting Amazon's coveted Buy Box is becoming more and more difficult due to the rapid growth of third-party sellers. Since the competition is hard to follow only with manual work, repricing tools are increasingly becoming a must-have for Amazon Sellers. 
However, sellers that are considering switching from manual repricing to automated repricing might be pushed away by some myths that are easy to hear about repricers. 
Let's dwell into some of the most common Amazon repricer misconceptions to understand how many of them contain some truth. 
Amazon repricer misconceptions #1 – Repricing means racing to the bottom 
One of the common Amazon repricer misconceptions among sellers is to believe that repricers always start a race to the bottom in order to increase the chances of winning the Buy Box. Although it is true that winning the coveted Buy Box is usually the main goal of any repricer, it is important to understand that smart repricing tools can be set to exclude aggressive sellers or certain seller types that don't fit with your current target, for example, FBM sellers or Non-featured sellers. 
More importantly, some of the most advanced tools are also able to raise your price once competitors sell out, all in the name of maximizing your profit. 
Amazon repricer misconceptions #2 – It takes over your prices, making you lose control 
It is normal to be afraid of letting an automated software take control of your Amazon business. 
In reality, repricers only work within the parameters you have decided, so the human intervention is still necessary, especially during the initial setup. Advanced repricers also offer good analytical data that can be used to regularly check how the business is faring and to make the necessary adjustments to the repricing settings. 
Amazon repricer misconceptions #3 – It is not necessary if you are not a big seller with thousands of listings 
Yes, you can technically check your 20-50 active SKUs each day and manually change their prices. But even with only a few listings, you can still end up wasting a lot of your precious time that could be used on more important tasks. 
No matter how much time you dedicate on your business, you will never be able to monitor your listings 24/7 as a repricing software does. 
Additionally, a repricer can eliminate the chances of human errors caused by wrong calculations or by a lack of objectivity.  
Amazon repricer misconceptions #4 – You lose all the profit 
Selling on Amazon is a tricky business and sometimes it's hard to justify all the costs if there is not enough profit from our sales. No matter if you are manually repricing or using a repricer, the only way to make sure you are getting your profit is by considering all your costs and expenses when calculating the actual prices. 
It's better to let an advanced tool help you with that; some of the best repricers on the market offer very smart profit calculators that can collect your purchasing cost, shipping, and Amazon fees and calculate the perfect Minimum price, in order to prevent selling for a loss. 
Amazon repricer misconceptions #5 – No matter how fast a repricer is, the efficiency is limited by Amazon's API 
Let's get a bit more technical. 
It is one of the common Amazon Repricer misconceptions that Amazon's API is constantly limiting the frequency of repricing, making it impossible to have fast repricers. 
The pricing competition information from Amazon is only sent to the system if there is a change in prices or rank. Once a repricer receives the report, it decides to keep the existing price or change it, depending on the repricing rule. 
When the repricer sends the new price to Amazon, there is no speed's limitation in place for this operation. 
In other words, it is not important to have continuous repricing operations, but only to have a repricer that can react as fast as possible to price changes from competitors. 
Amazon repricer misconceptions #6 – Repricers are too expensive 
Since the scale of each seller's business is very different, it's hard to pinpoint an exact price below which the purchase of a repricer can be justified. 
But even smaller scale sellers can get several benefits from using a repricer, and when the tool is at its full potential, the spike in generated profit greatly justify the expenses. 
Additionally, even for as low as $25 a month, you can get a very powerful repricer that offers a wide range of advanced features. 
Conclusion 
There is some confusion about repricing tools and it is important to make some research to find the most suitable software for your business. However, using a repricer is fundamental in today's Amazon Sellers' market in order to scale your business and maximize your profit while saving time that can be spent on other important matters. 
Bqool's Repricing Central offers 5-min repricing speed, rules with a high level of customization, and an advanced Profit Calculator. You can sign up now and try the tool for free for 14 days during the trial.