//php the_post_thumbnail( 'post-thumbnail' ); ?>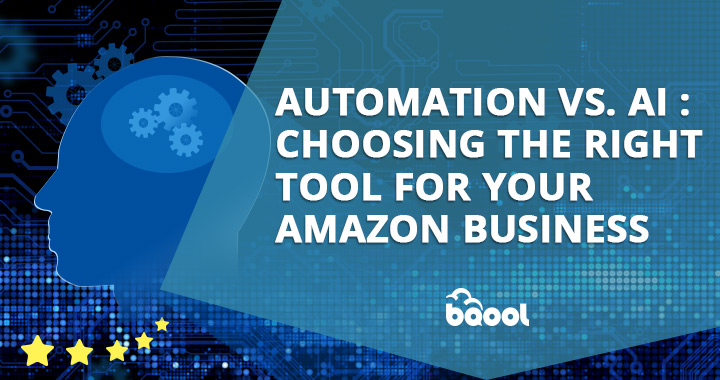 Running an Amazon business isn't a simple task and that's why you need Amazon seller tools to save your time and money by streamlining your online business. However, most existing Amazon seller tools on the market are not enough to fully automate your store.
Luckily, the demand for a more complete Amazon seller tool gave birth to a tool with revolutionary AI technology. Amazon sellers who have switched to a more advanced Amazon seller tool with artificial intelligence can easily edge out their competition.
So what is the difference between automation and AI?
You now might be confused about the differences between automation and artificial intelligence (AI)?

Automation is a system or software that follows logic or rules in order to accomplish a repetitive task. For example, when you are away for vacation, you will need to set up a vacation responder in Gmail to send an automated reply to incoming messages.

Artificial Intelligence is a machine or a computer that can work and react like humans. Gmail "Smart Reply" and "Smart Compose" are good examples of the increased use of AI and demonstrate how AI helps increase productivity.

So, the big difference between automation and AI is that automation is driven by manual configuration. You have to set up the rule so the machine or system can follow a specific pattern and make the action happen.

However, automation does not work as well as some might expect in a few areas. For example, when a seller is sending follow-up emails to request for reviews and feedback, many sellers rely on an automated email tool to schedule emails to their customers on a specific time after orders have been confirmed, shipped or delivered.
Amazon sellers are also required to conduct multiple A/B tests to compare the email open rate of different email subject lines and delivery time to achieve the best result. But if the sellers are using an Amazon email tool empowered by AI technology to send out emails. AB testing will become obsolete because AI knows the best time to deliver an email with the subject line that has the highest open rate. Machine learning is now the future and it gives any automated system an ability to think like humans when it comes to decision making.
Are you still comparing different Amazon seller tools? Consider choosing BQool Feedback Central.
With over 500 million products competing for billions of dollars, many sellers invest in Amazon seller tools that automatically perform tedious and manual tasks for them so they can save valuable time for other activities such as spending time with family and friends. Therefore, you'll need an Amazon feedback tool with an AI-Powered solution that can fully automate your emails to your buyers!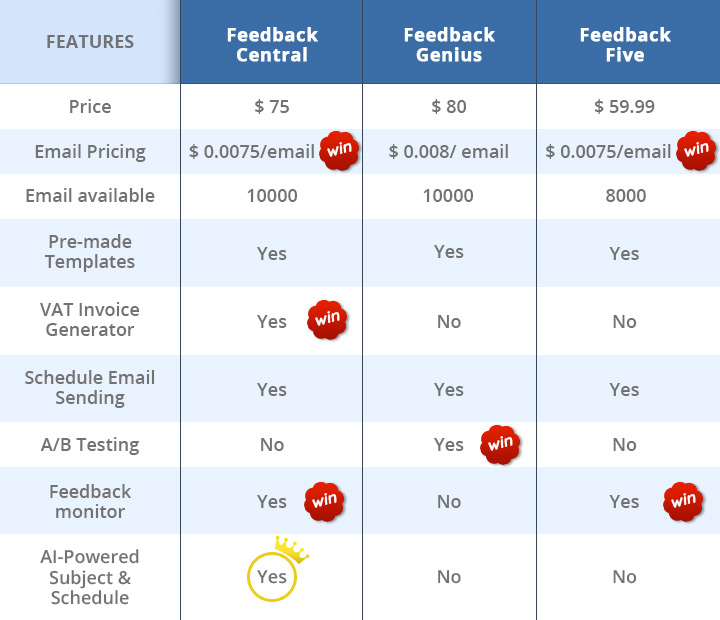 Armed with big data insights and AI technology, BQool can help to get more Amazon feedback and reviews efficiently and effectively. By automatically finding the optimal email subject and scheduling the ideal delivery time for each email, AI-Powered solution grants you high email open rate and more successful reviews and feedback requests.
BQool all-in-one solution also has a built-in VAT Invoice Generator that can quickly generate VAT invoices and automatically send them to your EU customers by fulfillment type. This feature dramatically alleviates time-consuming tasks, after all, time is money when selling on Amazon!
Final thoughts
Choosing the right Amazon seller tool is like hiring a good employee. The qualities of a good employee are dependable (intelligent automation system), efficient (default & customizable templates), and adaptable to changing circumstances and environments (AI-Powered Subject and Schedule feature). Plus, it's more cost-effective.

So what you are waiting for? Give BigCentral a try, it can do the work and deliver exceptional results for you!