//php the_post_thumbnail( 'post-thumbnail' ); ?>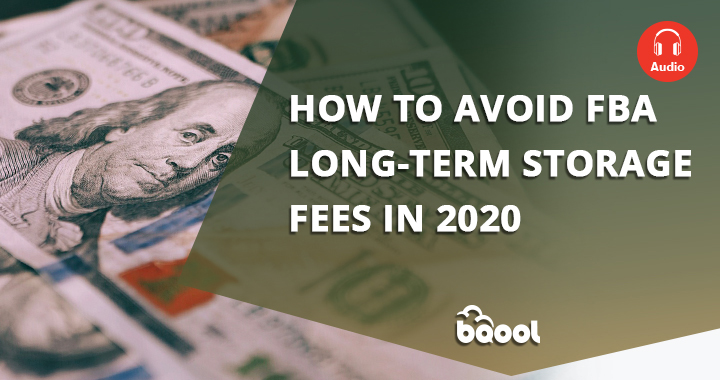 Would you rather listen to this blog instead of reading it? Just click play below. (Audio Recording by Marco Negri)

The Amazon FBA service (Fulfillment by Amazon) is a great method to sell on the biggest e-commerce platform without the hassle of handling shipment duties and warehouse issues.
But the comfort comes with a cost. Between the various fees that sellers need to pay to keep the benefits of the FBA running, the Long-Term Storage fees might be the most hurtful to their profit. 
In an attempt to discourage storing slow-selling merchandise in Amazon fulfillment centers, Amazon implemented a Long-Term Storage Fee that is now charged on a monthly basis. 
As stated in the official Seller Central page:
On the 15th of each month, Fulfillment by Amazon (FBA) conducts an inventory cleanup. On these dates, inventory that has been in US fulfillment centers for more than 365 days incurs a long-term storage fee (LTSF) of $6.90 per cubic foot or a $0.15 per-unit long-term storage fee, whichever is greater.
How is the inventory age calculated? 
Amazon employs a FIFO (First–In–First–Out) method, which considers the oldest remaining items to be sold first.  For example, 10 copies of the same book were sent in through FBA in February 2019, and 8 of them were bought within 3 months; so, you decide to re-stock 5 more copies in May 2019, which runs your total to 7 copies. However, once February 15th, 2020 comes along, you only pay for the two copies that were originally sent to the fulfillment center in February 2019, the fee for the other 5 new copies won't kick in until May 15th, 2020.
So, how do you identify your slow-moving stock?  
There is a fairly easy method you can use to find out which items will incur in the LTSF and which stock is not having good sales and could be considered at-risk. 
Amazon offers two reports that help identify products with old inventory, the "Inventory Age" and the "Inventory Health" reports, found under "Manage Inventory" in Seller Central.  
In these reports, you can see how many days the inventory has been at a fulfillment center and an estimation of the Long-Term Storage Fees you will pay. 
Which options do you have to avoid paying the fees?  
Naturally, the preferred way to avoid the fees is to sell the products. But how? A good pricing strategy can quickly turn the tide in your favor and add unexpected revenue on top of avoiding the fees. 
You can use the reports mentioned before to identify items with stock older than 6-8 months and lower their prices. You can even lower the price further after the 10-12 months threshold is reached. You can also use an Automated Repricer and set an aggressive repricing rule in order to be always the lowest price on those listings.
Try BQool's Repricer, it will save you much time to avoid long-term storage fees while also protecting your profit on other faster-selling items. Set your Minimum and Maximum prices and let the software find that sweet spot where you stay competitive while also making money. 
Another way to sell items fast is to run a strong promotion; a simple Money Off should do it. Alternatively, you can also opt for a BOGO promotion (Buy One, Get One) because it can help you sell two slow-moving items with one order.
There is also another way to spend your money in a smarter way than paying for storage fees: Amazon Sponsored Products. This Amazon advertising program can help you increase your products' visibility when buyers are browsing similar products. It works on a cost-per-click system, so you will only pay when a user clicks on your product page.
What if you really cannot sell the items? Should you just pay up? 
If repricing more competitively didn't do the trick and promotion or ads are not a viable option for you, you still have two final options before being resigned to pay the fees; you can choose to have the items destroyed or returned to you.
Starting from February 18, 2020, Amazon has changed removal and disposal order fees. Now, requesting Amazon to destroy items costs a minimum of $0.25 per standard–sized unit, with the cost going up depending on the Shipping weight. However, the main difference is that it now costs the same to have the items sent back to you. 
With the older system, as a rule of thumb, if the product had low margin and lower potential of sale, it made sense to request Amazon to destroy it given the lower cost involved.  Now, it might be wiser to request Amazon to send the order back to you, especially if you think the items can be re-sold in other channels or sometime in the future. 
So, to avoid the dilemma of choosing one of these unsatisfactory options when the Long-Term storage fees threat is approaching, make sure your products are always priced competitively and can sell quickly.
Try BQool's Repricing Central and watch your sales skyrocket and your old inventory finally leave Amazon's fulfillment center!