//php the_post_thumbnail( 'post-thumbnail' ); ?>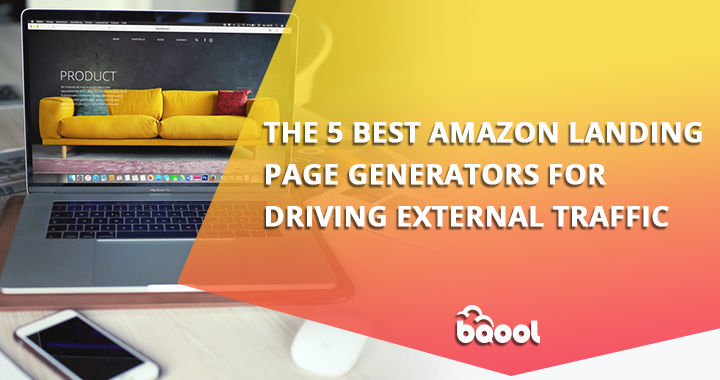 You've built your Amazon store, but you're not seeing as much traffic on the page as you'd like: that's where an Amazon landing page can come in. By building a great landing page that drives traffic from social media, you can get more views on your store and ultimately drive revenue up.
There are lots of landing stores to choose from – some offer advanced communication or marketing tools, others provide great design options for a stunning page. Read on to discover the five best Amazon landing page generators and find out what's right for you.
Why Should I Use an Amazon Page Landing Generator?
So first of all, why should you even use a page landing generator? What are the advantages of a tool like this, and why do so many people use it?
Well, using an Amazon page landing generator means that there is way less work you have to do. Simply type in your product's Amazon ASIN number and the rest of the fields are automatically filled in, without you having to lift a finger!
Another advantage of using the Amazon Page Landing generator is to gain access to metrics for things that allow you to enable to track traffic and the sources of the traffic.
Above all, you don't have to worry as much about targeting your customers with promotions. Instead, you can send your customers the coupon when they sign up through email on your landing page. Plus, after you attain their email, you can market to your customers in various new customized ways!
1. Amzlead
Amzlead is considered as one of the best landing page generators if your focus is on communication with your customers. Amzlead understands that traffic is only the first step to a successful Amazon store – you need to convert that traffic into paying customers, and Amzlead is one of the most functional tools for conversion.
The base features of Amzlead are focused on customer contact. You can set up automated emails to go out immediately to interested parties, and then ensure that no lead goes to waste with follow up emails. Discounts and coupons are easy to set up and distribute with Amzlead too – you can queue up coupons so that customers can sign up to waiting lists and receive coupons based on interest.
Amzlead's basic package starts at $25 a month – this might seem like a small price to pay when you watch your conversion numbers soaring with Amzlead's communication tools.
2. ZonPages
If your main purpose for seeking a landing page is to drive traffic to your store, and you want a visually stunning landing page that will immediately wow your customers, then ZonPages might be the perfect tool for you. With ZonPages you have a customizable design tool that allows you to add images, logos, watermarks, and even dynamic videos to your landing page.
This makes ZonPages a fantastic tool for ensuring more traffic is driven to your Amazon store. What's more, you don't need a coding or design background to create a beautiful landing page as their interface is easy and intuitive.
The basic ZonPages package starts at $19.99 a month and this includes additional tools such as coupon distribution and lead generation.
3. LandingCube
If you're not sure of the value of a landing page then you may want to try before you buy. LandingCube offers a 21-day free trial which means you can thoroughly explore their product before investing. LandCube is also one of the best value landing pages on offer, at $15/month if you subscribe for a year.
LandingCube's automated Amazon landing page generator makes it exceptionally quick and easy to launch – once you input your campaign name and URL you'll have a landing page in seconds. You can keep this or customize it until you're happy.
For those seeking a landing page without a big investment in time and money, LandingCube is a great option for testing the waters.
4. Landing Page Promoter
Landing Page Promoter is another Amazon landing page generator that's easy to use – if you're looking for a landing page you can build with minimum effort to start seeing more traffic in your Amazon store, this is a great option. Their free trial is 14 days, slightly less than LandingCube but enough for you to get to know the product well.
One of the things that make Landing Page Promoter stand out is that they've got really good hosting so you can be assured your landing page will be quick to load, no matter how stacked with images and videos you make it. Quick loading times are essential for your SEO as well as for keeping people's attention.
They also have plenty of other features you'd expect like coupon distribution and email capture. If you choose to pay annually the basic plan will set you back $19/month.
5. Mysellerpal
Mysellerpal has some great marketing tools incorporated into its plans, so if you're running out of ideas for how to boost your Amazon store then they're surely worth a look. As well as simplifying the process for offering discounts and coupons, this tool streamlines the process for customer reviews meaning you'll get more good feedback. You can also gather a great deal of customer data giving you more analytics and better marketing structures.
A seven-day free trial gives you a glimpse of all these features. Their basic plan starts at $20/month.
Take Off and Landing
All of these Amazon landing page generators offer great features and will help drive external traffic to your Amazon store. Whether you're looking for a quick and easy setup or a range of analytic and marketing tools, these landing pages have you covered. But the next thing is to turn these visitors into real customers. You can offer a competitive price to boost the conversion rate. Therefore, you need BQool's Repricing Central to automate your pricing against your competitors and take your Amazon store to the next level.
Author Bio:
Katherine Rundell is an editor at State Of Writing and runs her digital marketing consultancy. She lives with her husband, two children and three cats.