//php the_post_thumbnail( 'post-thumbnail' ); ?>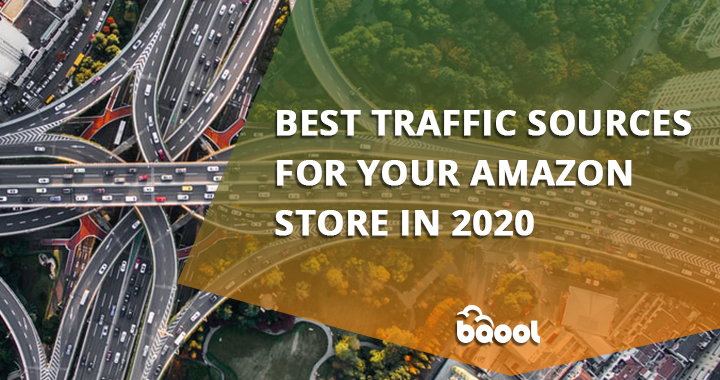 Due to Amazon's strict policy, there is an imposed restriction on sellers contacting customers directly, and any activities and actions of direct marketing on Amazon are prohibited. Because of this,  driving traffic to the storefront and growing sales has become a challenge for many Amazon sellers.
However, sellers still can send external traffic to their Amazon listings. For example, Google Ads are economically effective and allow you to present your ads in the right place and at the right time to the right people. Nowadays, many Amazon top sellers are driving traffic to their stores on Amazon. So, let us go over some of the Best Amazon seller traffic sources that you can try yourself too.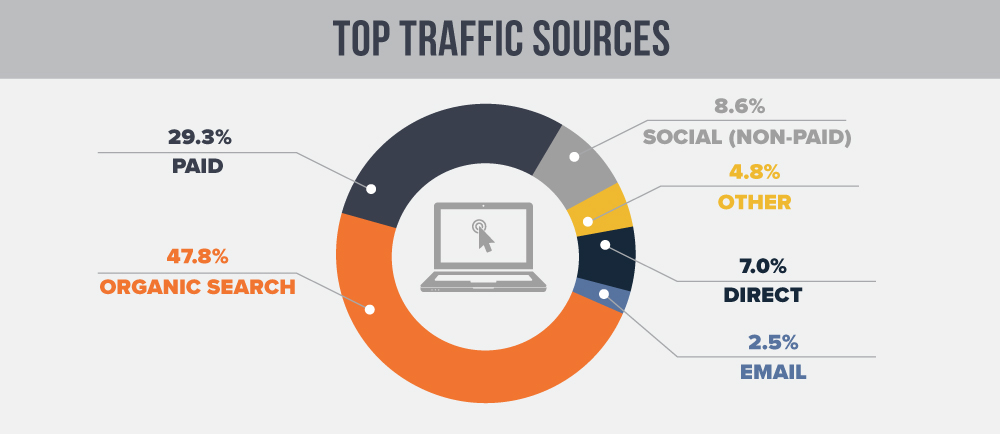 Best eCommerce Traffic Sources
1.  Organic Search 
Organic search is important to all e-commerce sellers regardless of their business scales. Nowadays, nearly 89 percent of customers search for the products they want to purchase on Google. Organic search traffic is free and robust, and it also makes your advertisement cost-effective. To get a buyer to visit your Amazon store and buy your products, you have to make sure your store is visible in Google search results. This is why Search Engine Optimization (SEO) matters. SEO plays an important role in how your store can be ranked organically on Google or other search engines.
Many Amazon sellers also sell on other e-commerce platforms such as eBay, or Shopify to increase organic traffic and brand awareness. The platforms outside of Amazon are seen as easier to do SEO. If you have a Shopify store, you can check the tips on how to optimize your listing so you can get high volume quality traffic without paying any money.
2. Paid Ads
Pay per click model remains a profitable and effective marketing strategy for online merchants seeking to deliver high-quality traffic to their e-commerce offerings. It is also worth noting that paid search has a long history with big brand names such as Google, Bing, Facebook, Instagram, and Twitter, and ads running on those platforms are widely perceived to be reputable products in the eyes of prospective customers.
Google Ads
Google's advertisements assist with revenue, exposure, and promotion. Google ads have been strongly associated with e-commerce retailers' targets, and customers consider the google advertisement among the most effective performing in terms of impressions, conversions, and click-through rates. Google helps you to attract users who are shopping for items that are available with Amazon or visiting Amazon's affiliate site network.
Facebook Ads
Facebook advertising is one of the most common sources of traffic, thanks to Facebook's large user base and the advanced resources available to advertisers. But it may be costly.
Instagram Ads
With the precise platforms for targeting customers and the opportunity to monitor every aspect of your marketing goals, it is no wonder that social media has long become one of the most common promotional networks for online retailers. Instagram is an impressive stream of traffic, with Facebook positioned pretty much at the end.
3. Social Media
Online marketers have lots of opportunities to work on any level of the selling process starting from brand advertising and promotions to interacting with customers with website material, leading to initiatives or promotions that boost results to their web pages. Selecting the different formats allows you more versatility and authority of the strategies, including multi-product advertisements, banner ads, and interactive ads. If you choose to do anything new to attract your customer's attention, you should dive into Instagram stories or commercial collections to highlight fresh and creative items. And that's not everything, you can also sell directly through shopping advertising that allows you to reach up to 400 million active daily users. Provided you have high-quality photos of your company and the products. You will also come to know that Pinterest is a gold mine for online retailers.
Facebook
The selling value of the relationship will not stop with a pledge of its own. Facebook provides a share-based activism benefit. Every optimistic news that your clients will communicate with their friends and relatives about you is much more important than something you would tell yourself. According to Nielsen's Global Confidence in Advertisement survey, "Recommendations from People I Know" is the most respected marketing message in the world.
Instagram
It's not about the engagement of visitors on the website that matters. Latest Instagram Advertisement Analytics shows that a social media networking undertaking is double as likely to transform as a website visit! The more violent the reaction, the higher the conversion rate.
YouTube
YouTube is one of the perfect traffic sources because it generates higher transactions and it also helps you to concentrate on customer activity to further improve the interest and produce further sales. Making creative and meaningful ads on YouTube can also let buyers visit the site and become a buyer for a lifetime.
4. Display Ads
Markets have been over-saturated with online competition. Trying to place among top commercial keywords is almost too challenging to do, as consumers have already grown accustomed to making a multitude of options at their fingertips. It is no wonder that marketers are actively searching for and exploring new approaches for paid search advertising that might push direct traffic to their website. A couple of the tactics to look at are Commodity Listing Advertisements and Display Advertisement.
5. Referral Sources
Referral traffic is the third most significant source, carrying 8.3 percent of overall traffic to the leading sellers' websites. Four internet stores generate slightly more referral traffic than others: Amazon, Apple, Walmart, and Void. Live.com is the main source of referral that brings nearly 3% of traffic to such pages. Referral traffic consists of users that locate websites via external connections to other domains. To improve the traffic on the website, further links need to be created or put on content websites that lead to the website.
Influencer marketing
Influencer marketing is set to become one of the fastest-growing ways to reach and attract new customers to your offer, so make sure to act fast if you want to snag the perfect brand advocate before someone else gets them first.
Conclusion
It is a dangerous strategy to focus too much on one source of traffic. A single platform or technique may be great for producing traffic today, but it doesn't guarantee it's going to remain the same tomorrow. Some sites were missing after Penguin began penalizing certain SEO-linking practices. Others were missed when Facebook wanted to dramatically restrict organic scope. If your store depends entirely on a single source of traffic, then improvements to the google shopping algorithm may cause some serious problems for you. So be mindful of the value of diversification and be conscious of the solutions accessible from various sources of traffic. Therefore, we have listed out some of the best traffic sources and you should try out these traffic sources for your Amazon seller business and let us know which one works best for you!