//php the_post_thumbnail( 'post-thumbnail' ); ?>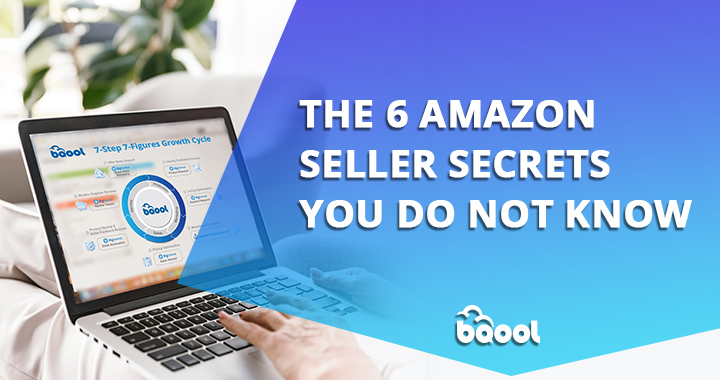 There are a ton of people making seven figures or more by selling on Amazon, but it's not as easy as it seems. 
To help you become a successful 7-figure Amazon seller, we now uncover the 6 Amazon seller secrets that 7-figure sellers do not share with you.
Here are the 6 Amazon Seller Secrets to help you kick-start your journey of creating a path to success in the Amazon business.
Amazon Seller Secrets 1. Identify Profitable Products 
You need to have a private label product that people love and sell well on Amazon. When deciding what to sell on Amazon, many sellers have a lack of product ideas. With a step-by-step guide to conducting effective product research, you can identify profitable products to sell on Amazon. The guide will walk you through the following steps:
Generate Amazon product ideas

Identify the right product

Spot a gap in the market

Find in-demand and low competition products

Track and monitor products to discover their sales potential
Use a tool like BigCentral to make the product research process quicker and easier
Amazon Seller Secrets 2. Listing Optimization with High-Converting Keywords
Once you have sent your inventory to Amazon's fulfillment center, you can create listings fulfilled by Amazon. Your product description should be as high-quality and appealing as your products are, which can help you to drive traffic and sales. 
Sellers should always optimize product titles and descriptions for a better product search ranking on Amazon. Amazon's A9 search algorithm relies on keywords. These are the words and phrases buyers use when they're looking for products. They're also the words and phrases that describe the products you sell. Ideally, those will match up. That's why it's so important to use keywords in your product titles and descriptions. The keyword research tool can help you to generate numerous relevant Amazon keywords and their associated ranking, search volume, trends, and much more. You can also use the tool to spy what keywords your competitors are using to determine the keywords to bid on via PPC.
Amazon Seller Secrets 3. Marketing Requires Both Internal and External Promotion
Marketing is very important because it helps you sell your products or services. Your marketing strategies and plans can be flexible and creative based on your needs. Attracting potential customers to your Amazon product listings and converting them to buyers would require both internal and external promotion.
Here are the internal promotions you can do:
Amazon Advertising: Advertising is a faster way to reach potential customers and improve the visibility of your products. Amazon Advertising has a few ways to showcase your products by Sponsored Product ads, Sponsored Brands, Amazon Store, etc. 

Amazon Seller Central Promotion: Sellers can find this feature under the "Advertising" tab in Seller Central. You can offer Free Shipping, a Percentage Off promotion, or Buy One Get One free to boost sales.

Amazon A+ Content: As a private label seller, you should increase your brand awareness and make your products stand out from the competition.

Amazon A+ Content

is a free program that sellers can present their brands with more visually appealing images and enhanced interactive experiences.
External promotion for Amazon listings is to send outside traffic to your listings. Whether the external traffic is paid or free, this approach can boost traffic, drive sales, and improve your search ranking. Generally, external traffic sources include social media such as Facebook, Instagram, YoutTube, paid ads, blog marketing, and influencer marketing, etc.
Amazon Seller Secrets 4. Request Product Review & Seller Feedback Intelligently
As an Earth's most customer-centric company, customer feedback is important on Amazon. A growing company knows how product reviews and customer feedback matters to the business as they are good indicators for buyers to consider if they should purchase products from a seller.
Feedback and reviews also play a key role in how the Amazon algorithm calculates product rankings and displays product listings to consumers. 
However, most shoppers don't leave reviews and those with negative experiences are more likely to write a review than those who had a positive experience.
To encourage your customers to leave feedback and reviews, you can use an email automation tool to save your time from sending emails manually to your buyers so you can put more effort in creating engaging email content. If you are using a feedback tool with AI-solution that can automatically find an optimal email subject and schedule the ideal delivery time for each email, you can effectively increase email open rate and your chance of soliciting feedback.
Amazon Seller Secrets 5. Track and Monitor Negative Reviews
Sellers mitigate the chances of getting negative reviews by providing quality products and outstanding services, but there's no way to 100% prevent customers from leaving negative reviews. The best way you can do is to handle negative reviews properly and protect your brand reputation by managing your reviews effectively through a review tracker. 
BigCentral's Review Tracker can monitor, track, notify, and analyze all your product reviews. It's built to track your product reviews as speedy as every hour to keep you informed by sending an email notification. So when you receive a negative review, or the original review is changed by a customer, you can promptly resolve the buyer's concern with the chance of improving their review rating.
Amazon Seller Secrets 6. Simplify After-Sales Support with Auto-Responder
Once customers begin to recognize your brands and buy your products, you can leverage the power of after-sales support to keep them coming back. When it comes to creating a successful private label brand, after-sales support is often the last and most-ignored piece of the puzzle. After-sales support is not only about solving customers' issues but it can also improve customer experience. 
Most Amazon sellers provide after-sales support and communicate with buyers using Amazon Buyer-Seller Messaging Service, but the messaging interface and functions can be a hassle for sellers to get used to. Sellers who want to check messages on their multiple Amazon accounts would need to constantly sign in and out of their accounts just to answer customer emails coming from different marketplaces. BigCentral's Buyer-Seller Messaging feature is an alternative solution to message all your buyers in one central location. Sellers can also significantly reduce response time using its built-in autoresponder to reply to customers automatically.
Conclusion
To become a 7-figure private label seller is not a pipe dream as long as you implement the tips mentioned in this article and use the right tool. 
BQool's one-stop solution – BigCentral gives you a set of powerful tools to simplify every aspect of your Amazon business and grow your customer base. Building a profitable Amazon business starts today!