//php the_post_thumbnail( 'post-thumbnail' ); ?>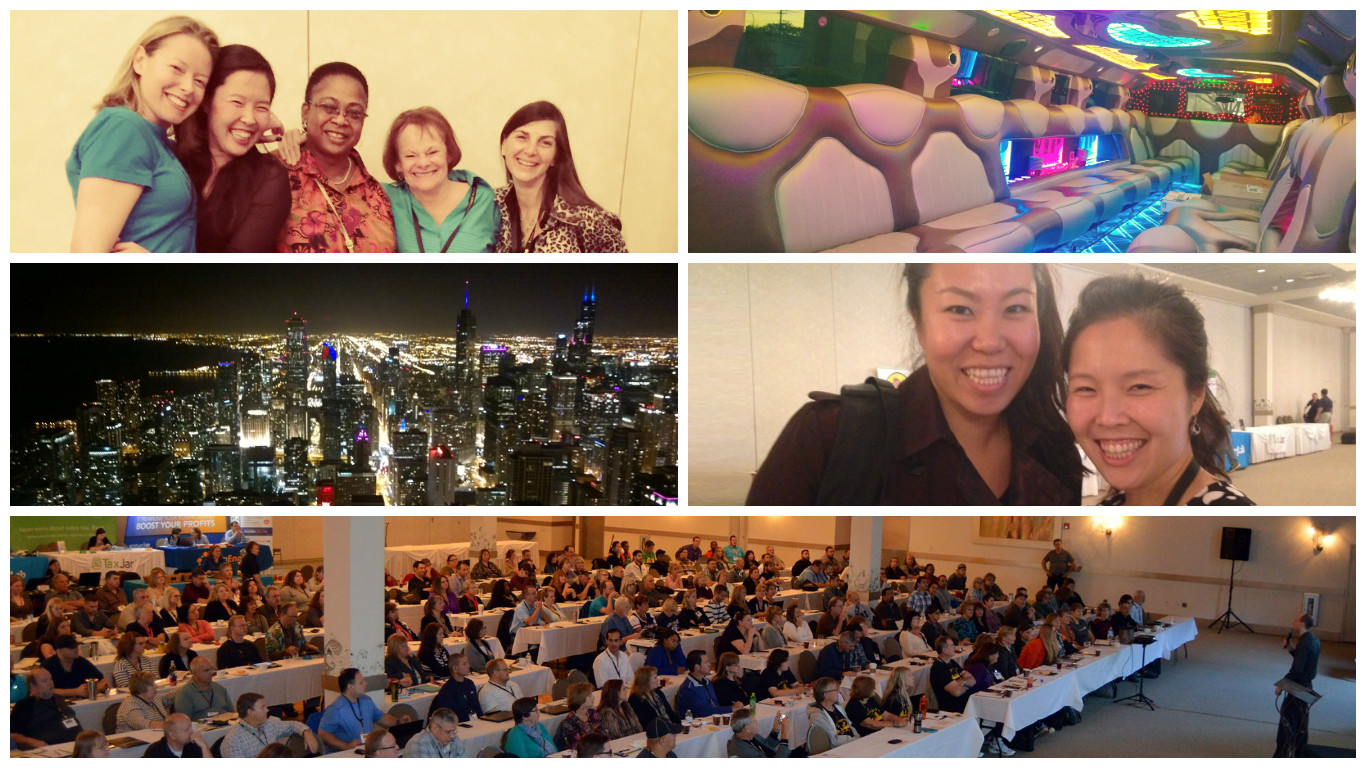 Hi, this is Peiya at BQool and I've been attending trade shows since I was twelve. My parents ran an successful import and packaging supply company in New Zealand and my brother and I grew up working for them. Business has always been a big part of my life. In the beginning, we helped to unload goods or bring lunch to the sales team. As we got older, we got involved with build-ups and break-downs; arranging the displays; and exploring the exhibitions halls in the evenings when other exhibitors were done with their stands. My parents didn't lay out pens and flyers and call it a day; they worked late into the evening cramming our small booth with the entirety of their business and brought 'the shop' to the shoppers.  I loved that it was packed full of people. I loved all the gadgets and goods. I loved everything about it.
Fast-forward to 2016, the ECom Chicago conference at the Belvedere in Elk Grove Village, Illinois. It's my first show in over a decade and the first-time representing my company, BQool. Long before ECom Chicago became established as the premier event for online sellers in Chicago, its humble origin took root in 2006 with the Chicagoland Area eBay & eCommerce Sellers Meetup Group. I spoke to co-chair Mark Le Vine, owner of Bubblefast (packaging goods for online sellers), in early June. Mark expressed that the lack of growth in sales on Ebay was discouraging, and as the trend pointed to Amazon, an increasing number of sellers have turned to selling on Amazon due to its popularity with online shoppers. In 2014, ECom Chicago's inaugural event attracted over a hundred attendees; this year, the event sold-out with well over 250 in attendance.
If your main focus is selling on Amazon, the stellar line-up of speakers to pay heed to include: Chris Green "For the foreseeable future, Amazon is the number one place to make money online, because Amazon is where the customers are"; John Lawson, author of Kick Ass Social Commerce for E-Preneurs; Eddie Levine "A network should always be a two-way street. You cannot put a price tag on knowledge."; Dan Meadors and Eric Lambert (ranked among the top 200 US Amazon FBA Sellers and creators of The Wholesale Formula); and finally, but just as note-worthy, Cynthia Stine and Peter Kearns of eGrowth Partners (assisting with Amazon reinstatement and suspension prevention). While I would love to dish on the wonderful selling tips these thought-leaders shared, I had my own agenda, to mingle with BQool customers and provide demos to anyone interested in what our company has to offer *nod*. Short and sweet, best-value-management-suite-for-Amazon-sellers-come-see-me-during-the-break-if-you-wanna-know-more-have-a-ginger-snap-they're-really-good.
There's a lot they don't tell you when it comes to eCommerce sellers when attending conferences:  they love to learn, they love to talk shop, and boy, do they love to party. I hardly saw anyone at my booth unless it was during a scheduled break, the speakers were that good. And if the attendees weren't inside soaking up the knowledge, they were in the foyer discussing pesky customers, nasty Amazon ("they don't care about the seller, just the customer") and sharing past sales triumphs and commiserations. The thing I liked most about this event was the generosity. Not just the open and informed knowledge the speakers imparted; nor the organizers packing those swag bags and sharing pizzas and donuts with everyone working hard late-Thursday night; t'was the openness and willingness of the attendees to help each other and share their experiences that widened my eyes.
FYI, these thrifty shoppers/sellers raised $3000 for the National Breast Cancer Foundation thanks to the efforts of Jay and Nay (check out their youtube show, Thrifty Business With Jay & Nay). Another highlight and shout-out of well appreciated generosity goes to Scanner Monkey, for sponsoring and extending the karaoke party Thursday evening. Without which, I would not have been able to declare my love for ECom Chicago and how it stole…nay, Eclipsed my Heart.