//php the_post_thumbnail( 'post-thumbnail' ); ?>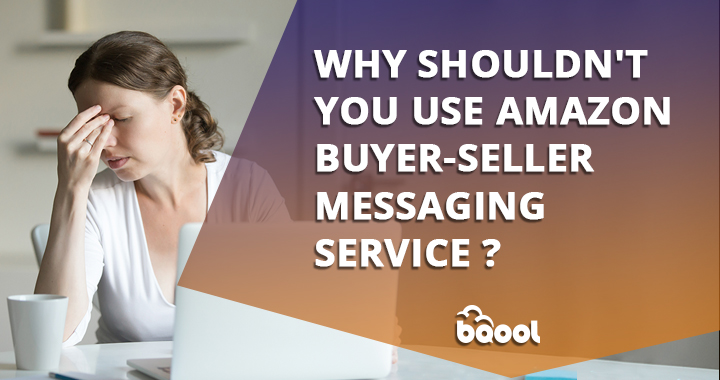 Before the boom of e-commerce, business owners only had to serve customers who physically entered their stores from 9 am – 5 pm during business hours.
Nowadays, an online store can open 24/7 to customers around the world. Unlike any brick and mortar store, having a store on Amazon doesn't need you to hang a closed sign if you are away because Amazon will take care of the order, transaction, and fulfillment for FBA sellers.
However, Amazon doesn't provide customer support for all customers. Sometimes you still need to manage your customer relationship and provide them a good shopping experience by responding to customer enquiries or solving their order issues on Buyer-Seller Messaging Service in your seller central account.
What is customer support?
Many sellers may think customer support is merely about answering buyers' questions before or after sales. But in reality, customer support is your best strategy to build a positive relationship with your buyers. Good customer service will encourage shoppers to revisit your stores to make new purchases, it can also maintain customer satisfaction and develop brand loyalty among customers.
How to provide customer support on Amazon?
Traditionally, sellers mostly provide after-sale support through phone call or email. But these contact methods are not allowed. Sellers can only communicate with buyers using Amazon Buyer-Seller Messaging Service. This messaging service encrypts the email addresses of both the buyer and the seller, so neither can obtain the actual email addresses to contact the buyer or seller in private.
Although Buyer-Seller Messaging service increases the security of buyer and seller communication, it doesn't satisfy sellers' needs when they are dealing with tough customer service situations.
Amazon sellers' challenges with Buyer-Seller Messaging Service:
Sellers need to constantly logging in and out of multiple accounts to check and answer customer emails coming from different marketplaces.
Sellers spend too much time on searching buyers' information and history to provide solutions to customer's questions because the interface of Buyer-Seller Messaging Service is clunky and user-unfriendly and there is no feature that can sort and organize email messages with folders.
Sellers cannot personalize their messages to buyers efficiently due to the limitation of Buyer-Seller Messaging Service.
Sellers are not able to assign a message to an agent who has no access to seller central.
If you are experiencing one of the above difficulties, you are going to need a third-party Amazon helpdesk tool help you overcome the challenge
BigCentral is the latest Amazon helpdesk and one of the most popular customer service software available, it's also the most affordable Amazon helpdesk tool that offers features that can help sellers to provide faster and better support for their customers.
Boost customer satisfaction with Amazon helpdesk's ticket management system
Manage all your customer service email with ease
Juggling several marketplaces to respond to all customer enquiries can be a hassle. Luckily, you can view and send emails to all your Amazon buyers from BigCentral. Moreover, if you have customers contacting your company email, you can integrate your Gmail, Outlook, and Yahoo into BigCentral. This way you can organize all the customer questions coming from different channels in one place.
Reduce customer service response time
How quickly do you respond to your customers? A customer usually sends an email to seek help on an order issue. Research from Amazon reveals that a response to a buyer's question within 24 hours is 50% less likely to result in negative feedback. A great way to achieve this is to utilize email autoresponders. BigCentral lets you set different automated replies to different types of customer enquiries. You can also customize your own auto-reply templates and set a schedule to start auto-reply during off-work hours.
Build and maintain long-lasting customer relationship
Having repeat customers will increase your business profits. In order to get a customer to shop at your store again, you have to deliver an outstanding shopping experience by identifying your customers' needs quickly to ensure the provision of quality service. BigCentral has a comprehensive view of each customer when you receive emails from a customer. The critical information such as contact details, order record, refund history, and feedback history are shown on their customer profile so you are better equipped to provide accurate solutions to their questions or problems.
Collaborate with different teams to improve customer service
Your sales, marketing, and support teams are cross-functional, working hand in hand to achieve a common goal. You can have several roles to cover for a flexible set of functions and assign tickets to the agents, for example, more experienced agents to deal with high-level work or share information by leaving a note on any issue. Thus, contributing to business growth and improving customer support function. More importantly, the helpdesk metric including ticket type analytics, channel analytics, and agent analytics give you a better understanding of your customer experience and support productivity.  You can use those business insights to improve your business, measure and optimize the team performance.
Increase the likelihood of getting feedback or a review
You can automate your Amazon Buyer-Seller messages and follow-up emails to your buyers to free up your time from manually sending emails to your buyers. With the help of AI-Powered solution, BigCentral can assign the most optimal email subject to review request emails to increase your email open rate and the chance of getting more positive reviews.
Link to your Amazon help desk
Don't settle for less that stops you to scale up your business. BigCentral makes integrating Amazon messages easy so you can have the eCommerce helpdesk your business needs. Start your free trial now and see what a difference it makes.