//php the_post_thumbnail( 'post-thumbnail' ); ?>
Do a little searching on Google, you will easily find tons of complaints from Amazon sellers about listings being removed, closed or suspended and some of them even don't know why.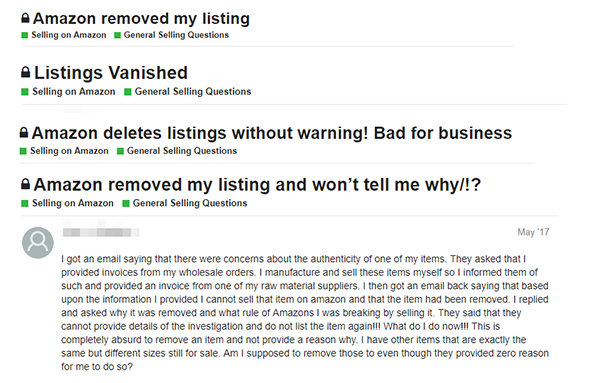 In this article, we will present a detailed analysis on why Amazon close or delete your listings, how to fix it and what precautions can be taken to avoid it.
Amazon Blocked My Listings, for What Reasons?
It's acknowledged by all that Amazon cares about customers. It has to ensure listings that don't match their quality expectations are not shown in the marketplace, just to make sure customers enjoy the best buying experience.
Here are several most common circumstances that can trigger the removal of a listing and how to prevent them.
Violating Amazon Listing Title Rules
It's highly likely that your listing got suspended if you breach any one of the following Amazon's listing rules.
The title is too long or promotional;
Missing key information like the UPC, Bullet Points, Description and Brand Name;
Including false or irrelevant information about pricing, freight and logistics costs, manufacturer.
IP infringement: copying a patented product, appropriating another company's slogan or taking a well-known logo for your own use will all be judged as IP infringement by Amazon and risk your listing being removed.
Restricted items: not all items are allowed to be sold on Amazon. Sometimes products authorized by a government are not approved to sell on Amazon platform. Check Restricted Product Pages here.
Review manipulation: don't invite your friends or lure buyers to leave positive reviews to get a better rating in an illegitimate way, or you will get nothing but a warning email from Amazon to suspend your listing.
Feedback on poor services will directly result in your listing being reviewed or even removed, in most cases, it's about bad customer service, delay in delivery or wrong delivery, etc.
Usually, buyers will leave negative feedback about poor services when their emails or messages were not handled in time; a disagreement occurred between the customer service and the buyer or what's even worse, an argument.
Reduce conflicts with buyers, nevertheless the issue, and try to engage with them as fast as possible anytime they have a concern.
With regards to the shipping time, later than three working days will be deemed as a delayed order. Amazon caps delay rate at 4 percent, if exceeded, you may get a warning message from Amazon and lose your listings.
In fact, the top 1 threat of getting your listing closed is a string of negative feedback on product quality, which generally includes complaints like counterfeit, inauthentic, used sold as new, expired, safety incident or material difference.
To avoid this type of problem, there is only one thing you need to remember: Nothing matters more than strict and comprehensive quality control!
*one small tip: for items with potential safety hazards like a sharp end, it is strongly recommended to attach a card of clear instructions on how to properly and safely use it, just to minimize the possibility of being accused of safety issues.
How to act if your listing got closed by Amazon?
Act promptly by writing an appeal to Amazon which includes your Plans of Action to solve the problems, try to be as sincere and detailed as possible;
Make changes asap to ensure that the errors stop;
Issue prompt refunds to the buyer if needed;
Remove the item from your sales inventory if necessary to prevent it from jeopardizing your account.
General practices to avoid above-mentioned problems
If you appealed successfully and got all your seller privileges reinstated, you need guidelines on how to avoid the nightmare from arising again. Here are a few tips that may help.
avoid risky keywords and pick safe products in the early stage by adopting SellerMotor newly-developed risk assessment tool: Keyword Security Assessment. Generate a detailed risk evaluation report in seconds containing risk level, numbers, and proportion of deleted listings associated with certain keywords, saving your hours reviewing hundreds of pages of Amazon's product rules before adding new items.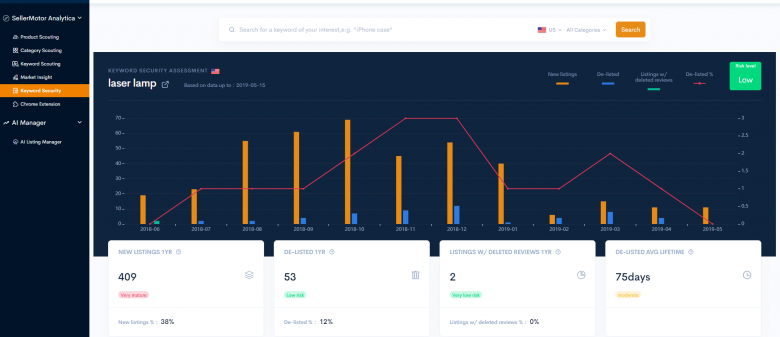 Download Amazon Seller app to address the after-sales problems in the first place.
Double check your listing descriptions, make sure you are describing your items accurately without false and irrelevant information.
Check your inventory on a regular basis.
Author Bio:
SellerMotor is the first software to offer a fully automated solution to Amazon Sponsored Ads(PPC). Answer 4 simple questions and everything will be created and managed automatically by SellerMotor's proprietary "SmartPPC" technology.