//php the_post_thumbnail( 'post-thumbnail' ); ?>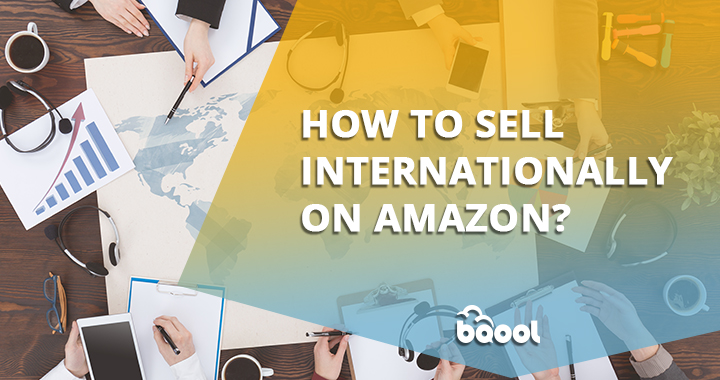 Do you desire to expand your business internationally? When your Amazon store has developed steadily on your local Amazon marketplace, you may wonder if it's time to scale your business globally even though the risks of selling internationally on Amazon can be intimidating.
Amazon is rapidly expanding its international market. It's a great opportunity to take your Amazon business to the next level – from a small business owner to an entrepreneur. Aided with Amazon Global Selling, the entire process actually can be easier than you think.
Three advantages of Selling Internationally on Amazon:
Expand cross-border brand presence
Amazon is the largest online marketplace in the world if you have already established your merchant reputation on your original marketplace. Amazon makes selling internationally really easy for you and you don't have to spend a lot of money and effort in building brand presence when you are entering a new market.
Reach a wider customer base


Amazon Global Selling

can help your business reach more potential buyers across the world and grow your business.
Take advantage of FBA
Amazon has 175+ fulfillment centers around the world to help Amazon sellers simplify their international shipping. Also, FBA provides customer service to Amazon shoppers on behalf of sellers. Amazon currently has 14 marketplaces, and they are the United States, Canada, Mexico, Brazil, United Kingdom, Germany, France, Italy, Spain, Japan, China, India, Australia, and the United Arab Emirates. Some marketplaces require Amazon sellers to register a new Amazon seller account to be eligible for selling on the marketplace. For example, if you sell in the United States and you want to sell in Japan, you need to create a new Amazon seller account for Amazon.co.jp.However, if you already sell on Amazon.co.uk, and want to sell on another Amazon European marketplace such as Amazon.de. You can enable your current seller account to sell across any of the EU marketplaces. Amazon EU seller account is a Unified Account: Europe (UK, France, Germany, Spain, and Italy). Amazon sellers selling in North America (Canada, Mexico, and the U.S.) also have a Unified Account, you can switch between one marketplace to another that are included in the Unified Account.
There are both pros and cons to consider when selling internationally on Amazon. Here are the key factors that should be considered.
1. Language and culture differences
Language and culture differences can be one of the biggest hurdles for Amazon sellers expanding into foreign markets, but it's the one they'll need to overcome on the way to gain new business opportunities.
74% of consumers are more likely to buy a product if the product information is presented in their own language. Having your product page to display the target audience language will help your product listing rank well on Amazon and ensure that the local customers can find and buy your products.
If you do not have the skill to localize your product page in more languages, here are some options you can follow:
Hire a translator to help translate your product listings.

Sign up for Amazon FBA and they will take care of your delivery-related customer service enquiries.

Take advantage of

Amazon's product listing translation too

l.
2. Shipping
Fulfilling international orders is different than sending parcels domestically. You may want to find a cost-effective solution that provides door to door shipping service such as FBA. You have to remember the volumetric weights and monitor your inventory lead time and delivery time when shipping internationally.
You also have to allow buffer time for any unforeseen circumstances such as bad weather conditions and labor strikes.
If you fulfill international orders by yourself, you have to be fully responsible for meeting buyers' shipping expectations, returns, and etc.
3. Payment
You can receive payments from international orders using the following methods:
Set up an online payment account or third party currency conversion service to avoid marketplace exchange rates.

Choose a deposit account that you can easily withdraw your earnings from a local ATM.

Select a foreign exchange service that provides the best rate.
4. Customer support service
Due to different time zones, your international buyers may ask you questions while you are sleeping. Therefore it's necessary to display your available customer service hours in your local time to prevent customer dissatisfaction due to slow responses. If you strive for providing a better customer experience, you should consider using the all-in-one Amazon solution system. You can assign appropriate auto-reply messages to any buyer questions.
Offering after-sales support is also an important factor for the growth of a business, and it opens up many opportunities for Amazon sellers to send follow-up emails to get more reviews and feedback. Personalizing your email campaigns and automate your emails with an email automation tool to show that you care about buyers and their shopping experience at your store. You can ensure that you're not missing any opportunity to get product reviews.
5. Returns
If you are not using FBA, you have to handle returns by yourself, and here is something you should know if you are an FBM seller
Amazon requires a return address for the marketplace you sell in, (you can hire local fulfillment services or PO boxes to handle returns to reduce costs)

Amazon requires sellers to accept returns and take responsibility for the cost of shipping for all returned items.

When customers receive damaged items and ask for a return, you can consider offering a full refund without asking the buyer to return the item if its cost of the product is lower than the shipping fee. You could also provide a prepaid return label to simplify the return process.
6. Custom & Duties
Before you sell in a specific marketplace, you should make sure you are 100% in compliance with Amazon policies and the local laws. Each country has its own policies for custom & duties and the restrictions placed on importing goods, so you should find out the taxes which your products are subjected to in a country. If you are considering selling on Amazon EU marketplaces, paying for VAT is required.
Each EU country has different VAT rates on goods. The all-in-one Amazon solution system can assist you to calculate VAT and generate VAT invoice with its EU VAT Invoice Generator, which dramatically saves your time from looking up VAT rules for different countries and calculating VAT manually.
7. Product demands in a different country
Does your existing product fit in a new market? If not, you may have to consider selling new products that meet the demands of the local market. For example, if you want to sell an electric appliance in the UK, you need to sell an appliance that is compatible with 230 volts.
You also need to conduct market and product research to analyze your customers and competitors. This will help you evaluate whether there is enough demand for your product.
Product research will be conducted on multiple levels of analysis – gathering information about any product from a category will take significant time, effort, and expertise, but a product research tool can give you a helpful leg up.
BQool can assist you in selling internationally on Amazon 
BQool's BigCentral make every part of your plan selling internationally more efficient and successful. Start and try BQool software for free now!