//php the_post_thumbnail( 'post-thumbnail' ); ?>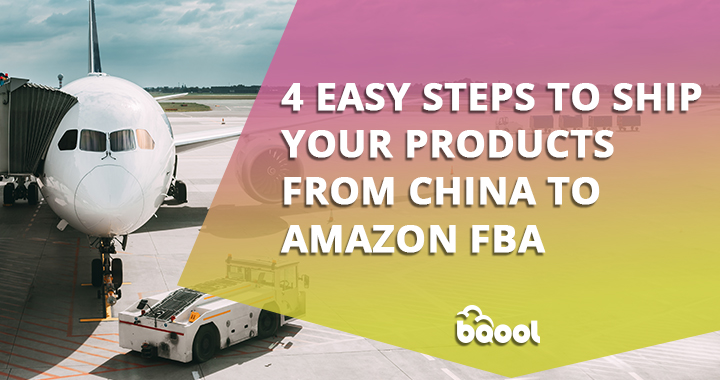 This article is going to guide you with 4 essential steps on how to ship your products from China to Amazon, you will know all the processes of arranging shipment to Amazon from China and conditions on how to choose the best way for shipping.
Many Amazon sellers appear to have the trouble on shipping products from China, especially for small or medium sellers. There happens to have the parcels lost, bad packing, difficult labeling and suppliers problems on the shipment from China to Amazon. How to change this situation? Let's find step by step from below:
Step 1: Ship directly or by intermediaries?
While shipping products from China to Amazon warehouses isn't incredibly difficult, it's also slightly more complex than asking your supplier to stick a UPS label on a product and send it to a single Amazon warehouse. Normally, based on different types of importers, there are 3 ways to choose:
Ship direct to Amazon FBA by yourself
This way means you have China warehouse to collect your parcels and you have cooperated carriers. If in this way, the biggest advantage of shipping from China to Amazon directly is that it is much quicker and cheaper. You will normally save 1-2 weeks in transit time if shipping directly from China. If your own have rich China importing experience, you can ship directly to Amazon FBA. You need to pay more attention to parcel's packages and labeling, check them carefully ensure all the goods can be sent out smoothly. This is more demanding for individuals.
Ship from China suppliers to Amazon FBA
You can also ask your supplier to ship the goods directly from China to Amazon. That's also quicker and cheaper work than shipping agent. However, you can't inspect order domestically before it gets to Amazon and can't use partnered carriers. And if you first time cooperates with this supplier, there is a high risk of disclosing your personal or shipping information. If you aren't good at it but you have lengthy experience with your supplier who is trusted. You can ship from China suppliers to Amazon FBA. When the supplier arrange the shipment on your behalf, please ask yourself 3 questions: Will the supplier disclose your information? Are the products packed well? Will the quality be promised? if yes, go ahead with this supplier.
Ship from the middlemen like sourcing agent to Amazon FBA
If you're shipping via a middleman, you can have one consolidated shipment from China broken into smaller packages, quality inspected and prepped for FBA. Using a middleman will cost more money though and time is lower. If you are new sellers or too busy to process everything, you can find a sourcing agent for help. With their help, you will be avoided making any errors resulting in your shipment that may lead to being rejected. Importantly, your sourcing agent will help you consolidate all your goods then ship out together to help you save cost. And warehouse storage is for free.
Step 2: Create a shipping plan on Amazon
After judged your own situation and selected the best way to ship your products from China to Amazon, you should create a shipping plan on Amazon.
Enter the " "Seller Central" on Amazon platform to get the correct information, ensure Amazon knows about your inventory and there are no setbacks in getting the inventory into Amazon warehouse. This increases the likelihood of you being able to ship to a California FC, which is the most efficient distance wise from China (Amazon does not care what address you put here as you cannot use partnered carriers).
Later you need to ask your supplier or agent who helps you packing & arrange shipment to apply the unit labels (FNSKU) at their factory and you generate the Amazon FBA carton labels in Amazon Seller Central. Please show these labels to your suppliers ensure all the private label can be stuck on box well before shipment.
Precautions:
Avoid combining oversize and standard size items
Be sure to put all SKUs into one shipment plan
Turn inventory placement on
Have your supplier do all the packaging prep work
Step 3: Prepare Packages before shipment
Now the shipping plan was made and we move forward to arrange shipment. Before shipment, here are some tips you should keep in mind to prepare:
Check packages
Make sure your goods are wrapped or sturdily contained, ensure the wrapped units are positioned in the master carton to minimize empty space. Seal the cartons well so units will not shift out. And what's more, you should make sure your master carton is structurally sound to support any extra weight and to protect it against mishandling
Stick Label
Ask your supplier to apply the unit labels (FNSKU) at their factory, and your supplier or yourself or the shipping agent should attach the Amazon FBA carton labels from Amazon Seller Central to the packages in the right position. If you're using UPS or FedEx, each carton should also have a UPS/FedEx label, which is generated in Amazon Seller Central.
Make documents
You should prepare the needed documents including Bill of lading, commercial invoice and packing list before shipment. And the telex release is also sometimes necessary to be prepared if without presentation of the original bill of lading. If you shipped the goods by sea, there are some other files such as CO that your supplier and freight forwarder can help you make.
Step 4: Choose the best shipping methods
There are normally 3 methods to ship products from China to Amazon FBA, which are by express, by air, and by sea. Each shipping method has its pros and cons, below you can find them:
By Express
Pros: Express is suitable for small volume, it could be used for sending products from 5 – 500 kilograms. Shipping time is 3-7 days. If your parcels are urgent and in a lightweight, Express is the best choice. The benefit of using Express is that you do not need to worry about any related customs issues, all you are needed to do is track your cargo info online.Cons: The cost is much expensive if your parcels are in high weight or large volume. Products shipped by Express shouldn't be flammable or explosive items such as batteries, liquid, and powder.If you are Amazon sellers, we recommend you using FedEx and UPS. Even some others express will give you a much cheaper price, but FedEx and UPS they are very good at customs clearance will help you arrange everything.
By Air
Pros: If the weight of your parcel over 500KG, air freight is cheaper than Express all the way. If your parcels are in large quantities and urgent, air freight is the best choice, and be sure to get them all included price from suppliers or shipping agent before sending. The air freight price will also likely include:Cons: The air shipping process is much complicated same like sea shipping, you may need a shipping agent to help with document making. Also, the shipping cost by air is very complex including fuel surcharges, security surcharges, container freight station/terminal handling charges, airport transfers. You should investigate the import and export tariff yourself to avoid any scams.If you want to ship goods less than 1,000lb, then you could choose to express instead of air freight. When you need to ship goods more than 1,000lb, then choose air freight will cost you less, but it won't be too much. So you could use FedEx freight for reference when you want to calculate the costs of air freight.
By Sea
Pros: Sea shipping will be a cheap way for large quantities orders over 2 CBM. The whole process will be operated by one freight forwarder in China and another in America, since they are working together to handle the import or export process and also handle the shipping by sea and land.Cons: It's a long time way for not urgent products, the shipment process can be complicated with many documents making. You should know basic international shipping terms if by sea.If your parcels need to be shipped by sea, you should find a forwarder who can quote you all included price from the factory to Amazon warehouse. This way you will get the guarantee on products safety and time promise. About 30-40 days for shipping.
Conclusion
We hope these 4 steps will help you with better shipment from China to Amazon. You can find a shipping agent to help you choose and handle the shipment, advantageous in almost every way except time and money.
Now we have a cheap and efficient sourcing agent to help you with shipment from China to Amazon FBA, which is Runsourcing, the most professional China sourcing agent. We offer one-stop service and very cheap service fee on sourcing and shipping arrangement. Just come and get your personal China sourcing agent!
Author Bio:
Anna, the founder of RunSourcing, works on Alibaba operation for 5 years and purchasing for 15 years. She is an expert on helping China foreign traders to gain maximum profit in international business. With a comprehensive knowledge of trading and marketing, she often shares her experiences to help more traders win business.