//php the_post_thumbnail( 'post-thumbnail' ); ?>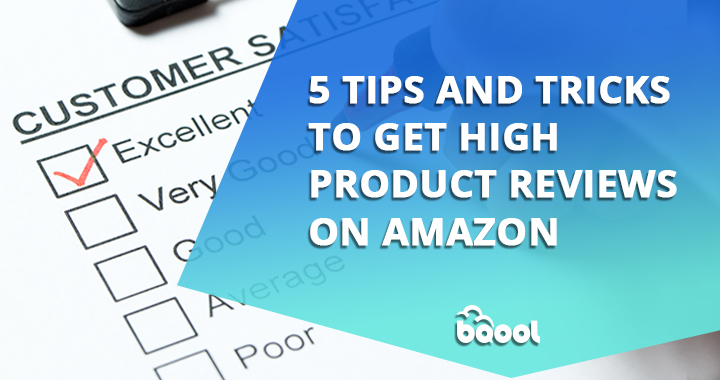 When you're selling on Amazon product reviews are vital to your continued success. If your products aren't getting great reviews you're going to see a drop in your profits, sometimes rather quickly. Getting high product reviews helps potential new customers gain confidence in you and your products, and that can mean the difference between making a sale or losing out on one.
You can use tools like FBA calculators to look at seller ratings and gain information about recent ratings and how those are affecting both your own sales and your current competitor's sales. They can even compare things like ratings versus product pricing which can help you find a good mix of information for both pricing and review goals.
Here are five of those tips and tricks to get high product reviews on Amazon.
1. You Have To Ask For Product Reviews
Customers are busy people just like you are. They may forget they purchased your product as soon as they start using it, or get too busy to remember to leave a review for you. Following up with your customers to ask them to review your product by emailing a reminder can be a great way to increase the number of reviews you get.
You can also use things like social media to reach your customers and make sure they're leaving reviews if they're loving your product. Chances are if they're following you on social media already it's because they had a great experience and enjoy what you are selling. Ask fans to go back and leave reviews on Amazon about their positive experiences with you.
This tip comes down to spending some time doing follow up with your customers. Remember to ask for those reviews. You don't have to demand them, but you don't have to just sit there and hope they happen either. A quick email asking if they are enjoying their purchase and asking for a review if they are is a common thing for Amazon sellers to do, so don't miss out on this tip.
2. Handle Negative Product Reviews Tactfully
It's natural to feel defensive when a customer reviews your product or their experience with you negatively. Most Amazon sellers take a lot of pride in their listings and how they interact with their customers so it's important to react to a negative review with thought and tact. When you first see a negative review, take a day or even several to calm down. Don't respond out of anger.
After you've had some time to cool down go back and look at what the customer had to say. Is the review of a product issue? Is there something you can fix? Amazon does allow customers to change or remove product reviews so all is not lost yet. If you can offer a refund or send them a replacement to fix the issue reach out to them and offer to do that.
If the review is about something you've done to upset the customer, consider what they're saying and move forward with what that in mind. If they said their frustration was that you didn't respond to questions quickly enough, that's something you can change in the future.
One thing you don't want to do is fuel a fire, so even if the review really is upsetting, resist the urge to respond publicly. Don't ask them to remove the review, or respond with something petty. If the review contains vulgar comments you can ask Amazon to review and remove it for the language used, but those cases are pretty rare.
Remember, calmly figure out the best course of action and then move forward. If a review is truly baseless and petty potential customers will be able to see that and won't place much value in what's being said. Focus on gaining more positive reviews and let the negative one slide if there's nothing you can do to fix the problem.
3. Use A Review Analyzer Tool
This is building on how to handle negative reviews. Often times a reviewer may not use the same name for the order they placed and the name shown on their review. This can be a stumbling block in your plan to assist in fixing any issues the customer may have had.
A review analyzer tool can help you match up negative reviews to order numbers so you can have the correct information to contact the customer. There are several options out there to test a few out and see which one works best for you. Again make sure you are focusing on resolving their problem, not a confrontational message demanding they remove or change their review.
4. Amazon Vine Can Be Helpful
Amazon Vine is a program Amazon itself uses to moderate reviews. You are not allowed to solicit reviews on Amazon yourself but Vine Voices (aka Amazon Vine) is something different. Amazon Vine is an invitation-only program that is offered to reviewers who have a history of leaving high-quality reviews on the Amazon platform.
You will have to pay a fee to join the program as a seller. The fee varies based on your product, and you will also have to consider the cost of the products you are going to offer to the members of the Vine program. You will have to give away a certain amount of your product to the Vine reviewers.

This isn't the same as soliciting reviews, but it is a good way to get high-quality reviews for your products. Vine Voice members are never required to leave a review, so you may not get a 100% return on investment in terms of every item you give to a reviewer, but there's a good chance this program can help you boost your reviews in a meaningful way that isn't going to look like a desperate spam attempt to potential buyers.
5. Use Product Inserts
Product inserts are another way to ask for reviews, which you read about earlier in this article. Asking for reviews is still a good focus and you can do this directly with your product if you include an insert with it.
Your product insert can ask customers to leave a review (you should avoid asking for a 5-star specific review, instead focus on asking for an honest review) if they like the product. You can also use the insert as a tactic to prevent some negative reviews from ever going live.
If you make a note on the product insert that you would love the chance to handle any issues or complaints directly with the customer and give them the correct contact information, they may not ever resort to leaving a negative review in the first place. This is another strategy to handle negative product reviews. With this method, you can stop them before they happen.
Amazon reviews are a vital part of your business, so making the time to learn how to get the best product reviews possible is only going to benefit you. Make sure you're paying attention to what customers are saying and adjust anything that seems to be a weak point accordingly.
If you spend the time now to really learn the best way to get Amazon product reviews and how those reviews will work for you, your time invested is only going to get you positive results. Focus on these tips and put them into action, then enjoy your hard work paying off. Literally.
This is a Guest Post by Synccentric.