//php the_post_thumbnail( 'post-thumbnail' ); ?>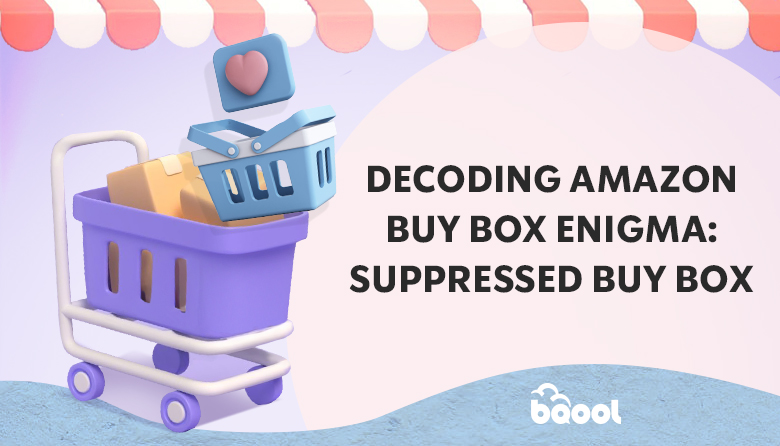 We all have experienced the crushing disappointment of losing the Amazon Buy Box. Whether you are a FBA or a FBM seller, the battle for the buy box can be intense and the "Buy Now" button is the leprechaun that every seller tries to capture. To have the best available price possible online for shoppers, Amazon treats the Buy Box like a reverse auction – it is all about whoever can provide the best offer to get the buy box. Since the introduction of the buy box, there are a bunch more types of Buy Box on Amazon, and sometimes, there may even be no buy box at all on your listing. Knowing the buy box mechanism is half the battle. So, to improve your chance of selling your items on Amazon, we will talk about the terrible Suppressed Buy Box, and how you can get back into the game with a few clever tweaks.
What is Suppressed Buy Box?
A suppressed Buy Box is when the buy box on the product detail page does not have any seller as a "Add to Cart" and "Buy Now" options that can be selected. The most common reason for Amazon taking away the buy box from a sellers' listing is because the product is offered somewhere else on the web outside of Amazon site at a lower price. Amazon will deem this non-competitive and decide not to give the buy box to anyone.
Suppressed Buy Box & Fair Pricing Policy
Amazon has always been a customer-centric company, its CEO Jeff Bezos has even expressed his obsession with customers several times in the many interviews he has been in.
"We're not competitor obsessed, we're customer obsessed. We start with what the customer needs and we work backwards."
Because of this customer first approach, Amazon has always been striving to provide shoppers with the largest selection, at the lowest price, and fastest delivery and they expect third party sellers like you to achieve that as well. And here comes the Amazon Marketplace Fair Pricing Policy to reinforce the notion that customers are Amazon's top priority.

It is because of this policy, Amazon regularly monitors the prices of items on their stores, including shipping costs, and compares them with other prices available on other eCommerce platforms to online shoppers. If they see pricing practices on a store offer that harms customer trust, Amazon can remove the Featured Offer which is also known as suppressed buy box.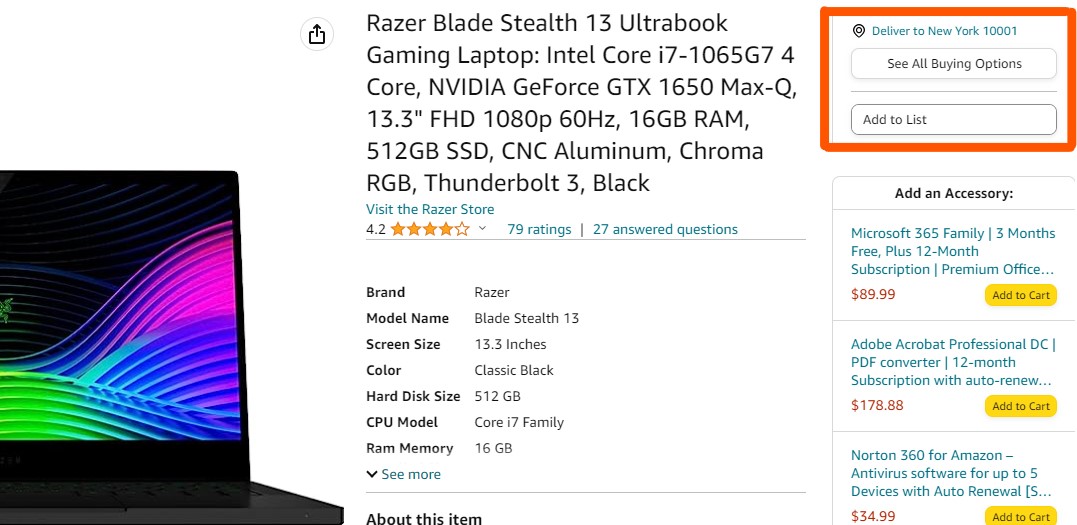 For worse offenders, Amazon may remove a seller's offer completely, usually this results in potential high pricing alert on the affected listing and becomes inactive with the ship option suspended on the seller's central account.

For sellers who have serious or repeated cases they may even face termination of their selling privileges.
What Causes Suppressed Buy Box?
If Amazon detects any pricing practices that would contradict its customer-centric value, it may decide to suppress buy box of that listing and these may include:
Setting a reference price on a product or service that misleads customers;
Setting a price on a product or service that is significantly higher than recent prices offered on or off Amazon;

Selling multiple units of a product for more per unit than that of a single unit of the same product;

Setting a shipping fee on a product that is excessive. Amazon considers current public carrier rates, reasonable handling charges, as well as buyer perception when determining whether a shipping price violated our fair pricing policy.
Should I Panic When I Face Suppressed Buy Box?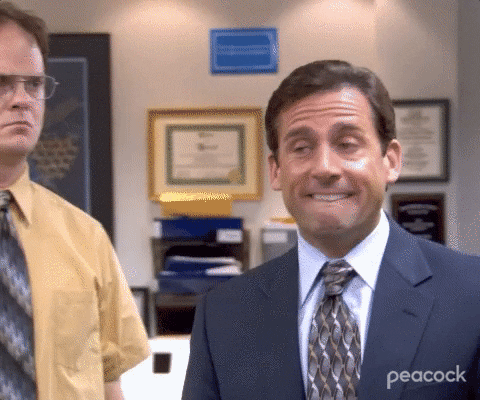 This situation can be daunting, but do not worry! Even when your buy box is suppressed, shoppers can still buy from that listing, and they are able to see all the offers available. So now, you are wondering how to get customers to buy from your offer without the buy box. We have some useful tips to help you compete against other sellers and make customers notice your offer. With our reliable repricing software, you will never have to panic again!

How to Configure BQool Repricer When the Buy Box is Suppressed?
BQool repricer is the best tool to combat suppressed buy box. If you are an FBA seller, you need to aim to compete against FBA offers because in the absence of the buy box, shoppers are willing to pay extra to buy from FBA sellers who are eligible for prime shipping. This is how you have to set up the repricer to deal with suppressed buy box.
Step 1: Target the Lowest FBA Offer in Rule-Based Mode
You need to set up this rule first and then include it in the conditional repricing strategy.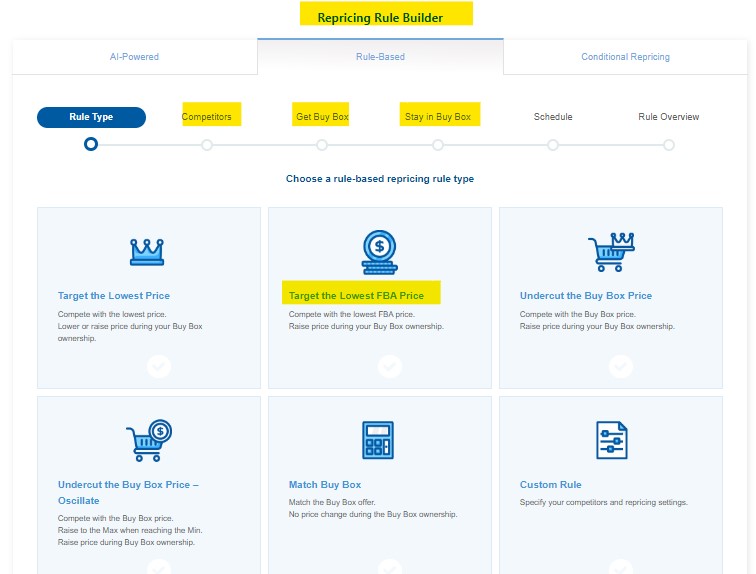 Step 2: Choose Your Competitors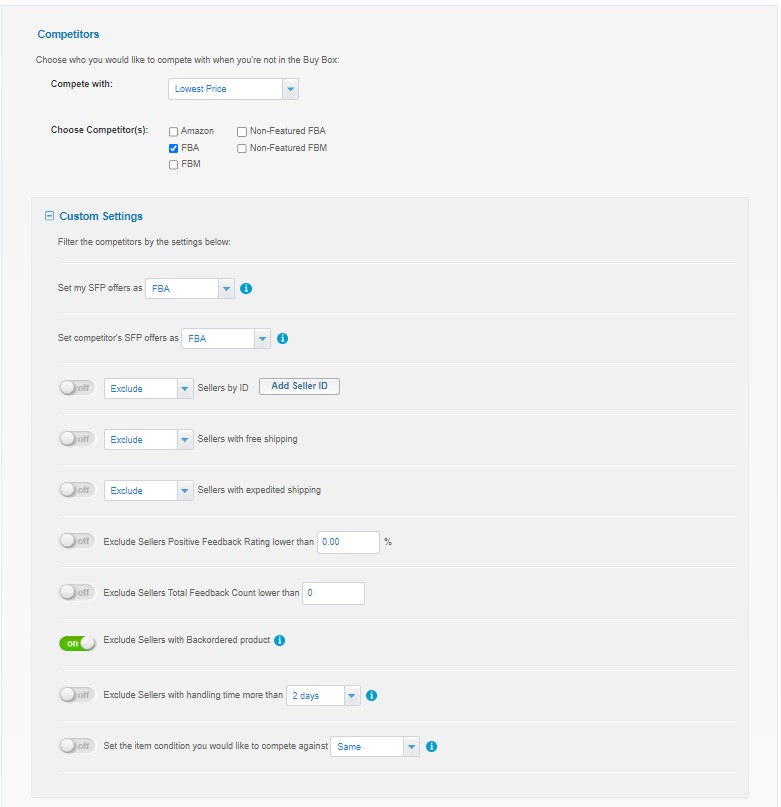 Step 3: Adjust "Get Buy Box Settings"
In this suppressed buy box scenario, you only need to care about the three first steps of "Get the Buy Box" settings: Competition found between Min & Max / Competition found outside Min & Max / Competition not found.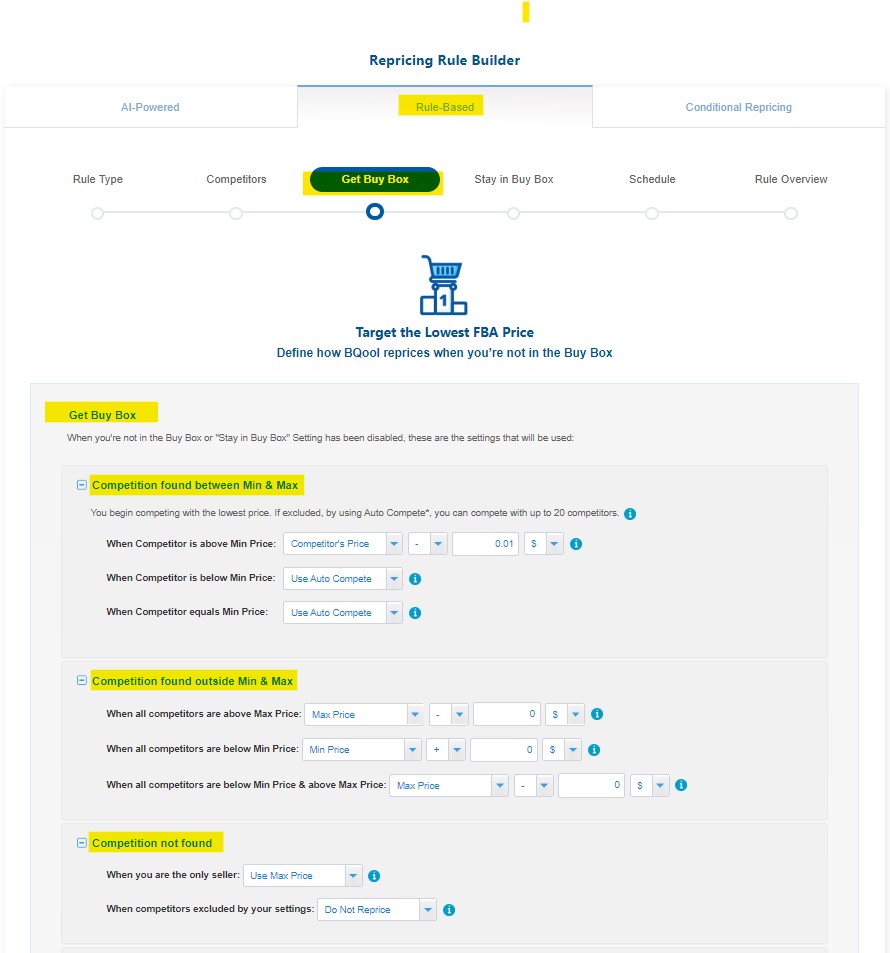 Step 4: Disable "Stay in Buy Box" Settings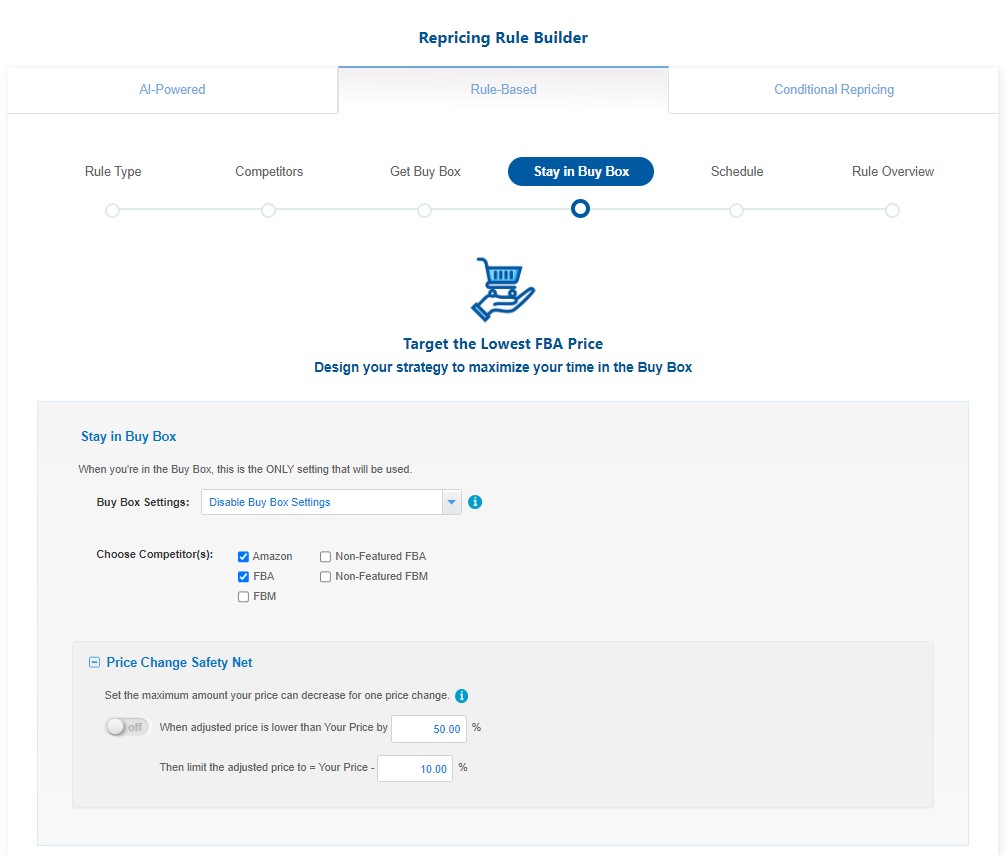 Step 5: Select FBA Advanced Conditions in Conditional Repricing Builder
What you need to do here is to get into the advanced settings of Conditional Repricer.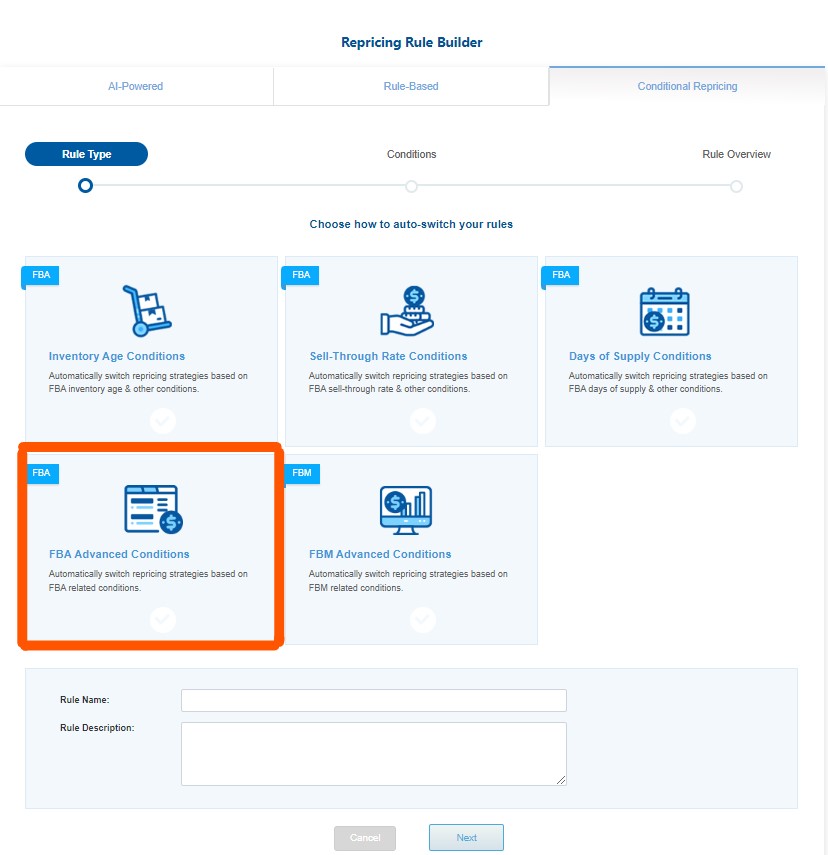 Step 6: Select the Condition "Buy Box" in the List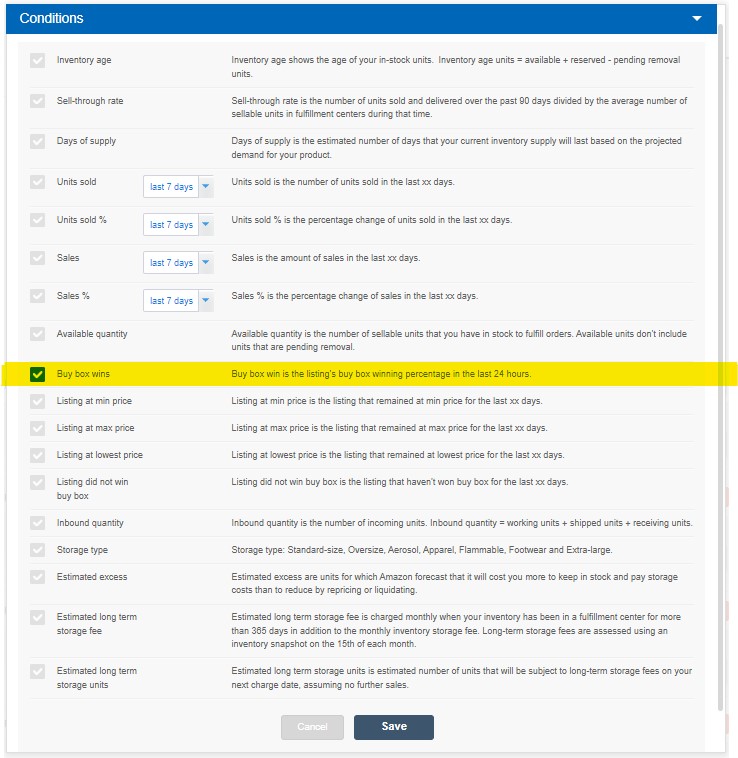 Step 7: Buy Box Condition and Rule Setup
Then you need to select the condition "Buy Box "as a trigger and then choose wins less than or equal to and input 0%.
Then, you can set up the rule "Target the lowest FBA Price" this is the best way to compete against the lowest FBA Price when you have suppressed buy box. You need to choose Buy Box condition as a trigger in this scenario because suppressed buy box has 0% Buy Box.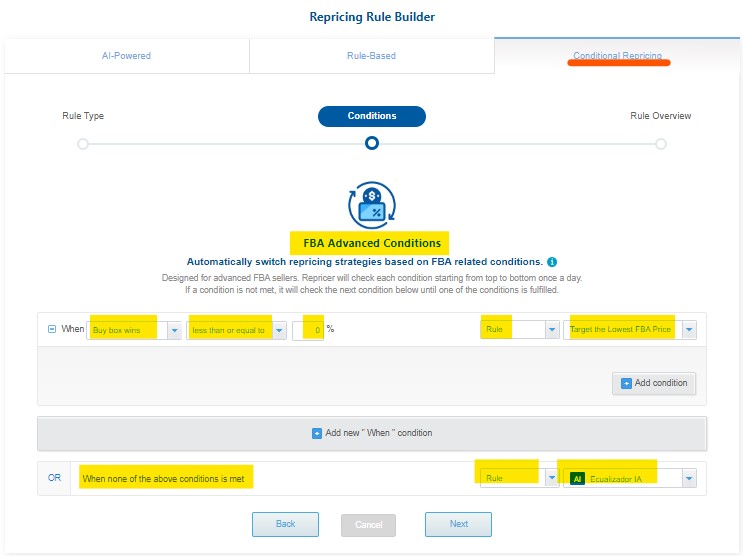 Next, you can add any rule that can compete against all the offers, in our example we select Rule AI Equalizer, when the buy box is no longer suppressed in the Conditional Repricer; this rule ensures that once you capture the buy box, the prices will not fluctuate too drastically and that will help you to stay in the buy box longer! Once you have regained the Buy Box, it is important to be cautious; a too aggressive rule could lead to rapid loss of the privilege, that is why we suggest you set up AI Equalizer, to secure the whole thing.
Finally, when you have completed the whole setting, you can assign the conditional repricing strategy to your listings that often have this issue.
Amazon has many different reasons for suppressing the Buy Box button and all these reasons are written in the fair pricing policy. When the Buy Box is suppressed, no seller has this listing as it indicates that the listing is not competitive enough. Amazon encourages sellers to drop their prices on a listing in order to make the Buy Box a return and for shoppers on Amazon to get the best prices available. When the Buy Box has been suppressed on your listing(s), it could be problematic for your business, especially if you make most of your sales through the buy box button. To avoid any negative consequences on your amazon store, make sure you have BQool repricer to help you reprice properly even when the buy box is suppressed. 
We will provide information about the double buy box button, in the next chapter of this serie, to help you understand the various states of the Buy Box and the solutions you can implement to your Amazon business.  
You don't want to miss our free tips on how to manage the Buy Box and its many problems!