//php the_post_thumbnail( 'post-thumbnail' ); ?>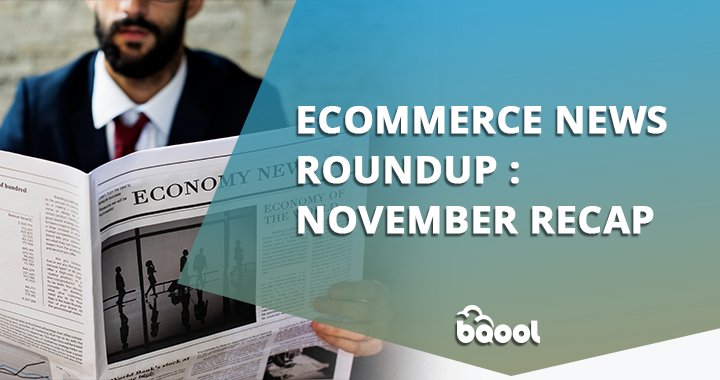 Amazon has rolled out many updates and changes to its policies, and some helpful practices for sellers to manage their accounts effectively during the busy holiday season. Here is an overview of the past month's top Amazon news stories.
Changes to Return and Refund Process for Seller Fulfilled Orders 
Effective November 15, 2019, sellers are fulfilling customer orders in the US from outside the US, must provide Amazon a valid US return address for items under $10. Amazon will use this address to generate prepaid return labels for customers on eligible return requests. If a US return address is not provided, Amazon will issue the customer a refund for eligible returns without requiring the item to be returned.
You can learn more about prepaid returns for seller fulfilled orders or returnless refunds.
If you don't have a local return address, you can find help from international returns providers with the Solution Provider Network. 
Seller's Response to Requests Required Within 48 hours 
Amazon has updated the A-to-Z guarantee claim policy to improve the customer experience: sellers must respond to customer inquiries with 48 hours.
To avoid any potential or unnecessary A-to-z Guarantee claims, Amazon ensures that customers first submit a return request in the Online Return Center and wait 48 hours for sellers' response prior to being eligible to file a claim. Sellers are required to provide a response to this return request.
Sellers can see their outstanding return requests on the Manage Returns page in Seller Central. In the event that a customer files a claim and you have not provided any response to the return request within 48 hours, Amazon will grant the claim and debit the sellers' account for the claim amount. If sellers believe Amazon took that action in error, they can submit an appeal here https://sellercentral.amazon.com/gp/help/G202041210.
How Will Amazon Use Your Settings to Calculate Tax? 
Amazon will use your jurisdiction settings + product tax code assignment, Amazon's Tax Methodology, and the order destination to determine the most appropriate tax calculation for products on an order.
Amazon Tax Calculation Methodology considers many order details when making a tax calculation. Those details can include the order's origin (ship-from), destination (ship-to), and acceptance location (location of the server where tax calculation occurs). These factors can determine the jurisdiction(s) to be calculated and if a sales tax rate or a use tax rate will be calculated for the particular jurisdiction.
Review Amazon's Tax Methodology to learn more about how tax will be calculated on your orders
Policy Reminder: Product Packaging and Inserts 
Customer reviews help customers make informed purchase decisions and are a great source of suggestions about how to improve your products. Authentic customer reviews help new customers find and evaluate your products before purchasing.
Amazon has sent an email to remind sellers that Amazon policies prohibit box inserts and product packaging that direct customers to write a positive review, even if no incentive is offered for the review. Similarly, directing customers to contact you instead of leaving a negative review on Amazon is also prohibited. Please ensure your product packaging and box inserts are compliant with these policies before shipping your products to a fulfillment center or to customers. If you have products that are already in fulfillment centers and are in violation of Amazon's policies, you can create a removal order to proactively remove your inventory.
Review customer review policies on Seller Central
Amazon Introducing New, Simplified Inventory Reporting 
Amazon has announced the launch of a new, simplified inventory reporting experience. The enhancements to the Inventory Adjustments report are designed to give sellers a more precise view of adjustments to their inventory levels, such as when items are deemed to be misplaced or damaged at an Amazon fulfillment center.
Inventory adjustments will still be downloadable and available online. Two enhancements added to the report:
Online method: Misplaced, warehouse damaged, and found inventory adjustments will provide links to the reconciliation adjustment in the Inventory Adjustment report or the reimbursement transaction in the Reimbursement report.

Downloadable method: Misplaced, warehouse damaged, and found inventory adjustments will provide "reconciled" and "unreconciled" quantity columns. For example, when an inventory adjustment is reimbursed or reconciled, sellers will see unreconciled quantity decrease and reconciled quantity increase.
For all unreconciled inventory adjustments dated after November 15, 2019, sellers will be able to file a claim with Amazon immediately versus having to wait 30 days. Learn more about the new simplified inventory reporting
New lithium Battery Requirement for FBA Sellers 
Effective January 1, 2020, battery manufacturers and distributors must provide a lithium battery test summary, per a United Nations standard known as UN 38.3. This new global requirement applies to lithium batteries and products containing lithium batteries
FBA sellers are responsible for obtaining this test summary for any ASIN that they sell. Failure to provide this summary may prevent sellers from selling the product on Amazon. In addition, any units of this ASIN in our fulfillment centers may be disposed of at sellers' expense.
Upload the test summary at Upload required lithium battery test summary, which also provides further information.
UPS Has Decreased Rates on UPS® Shipping Services 
Now for the good news. UPS has decreased rates on UPS® shipping services for sellers who purchase and pay for UPS shipping labels on Amazon's Buy Shipping platform. Avail reduced UPS 2nd Day Air rates to increase your Prime shipping coverage and utilize UPS Ground rates for regional Prime and standard orders.
Coming Soon: Long-term Storage Fee Inventory Cleanup 
December 15, 2019 is Fulfillment by Amazon's next scheduled long-term storage fee inventory cleanup. For details, see FBA long-term storage fees.
Tips from Amazon to Improve Your Account Health During the Holiday Season 
With the holiday season in full swing, Amazon shared a few helpful practices for all sellers to keep account health and performance metrics afloat:
Set a calendar reminder to proactively check your

Account Health page

in Seller Central regularly and monitor your account's performance while you're on the go using the

Amazon Seller mobile app

. We are continuously improving the Account Health experience by making it easier for you to view and address all policy violations and defects affecting your account health in one place. Please take a moment to view your Account Health and address policy violations in a timely manner.

Update your email client settings to ensure emails with "@amazon" in the

From

address are routing to your inbox. You don't want to miss Amazon's notifications because they ended up in your spam folder.

Ensure the emergency contact number you have on file is accurate. Amazon uses your emergency contact phone number if there is a critical issue concerning your account. You can check if the number we have on file is accurate by visiting Seller Central, navigating to Settings

, and selecting Notification Preferences. You will see your emergency notification number listed under

Emergency Notifications

on this page. This number will not be visible to buyers and can be different from other phone numbers on file. We recommend a contact who is knowledgeable about your Amazon account and the products you sell.

Review your emergency contact details in Notification Preferences
Get the latest eCommerce news and Amazon seller tips at blog.bqool.com. Subscribe for updates!