//php the_post_thumbnail( 'post-thumbnail' ); ?>
Interpreting Product Sales Data and Halloween Product Recommendations
In our last blog post, we've learned about how to utilize BigTracker, a must-have product research tool for Amazon sellers, to conduct Halloween product research and track promising products. Since then, during the past 7 days, we have been tracking the sales performance of several Halloween related products that we think will do well during the upcoming holiday season. The results are now in, and we are surprised how these products have performed according to BigTracker's analytical dashboard. Let's evaluate the products that we tracked, based on their past 7 days estimated sales performance and find out which products have the greatest sales potential.
What's the story behind your data?
The BigTracker dashboard can visualize your product data so you can observe product sales trends and other important sales indicators to accurately measure product performance in order to help you to make smart product investment decisions.
The four key sales indicators shown on the dashboard would provide users with an in-depth analysis of the market demand for a product.
Price – The product's current Buy Box price.
Sellers – The number of sellers currently selling the product.
Est. Sales – This is a historical sales estimate. Select a different time period to further analyze the data.
Est. Revenue – This is the estimated total revenue of the product for the selected date range.
Case Study – Pet Costumes – Product Research
Amongst several Halloween costume categories, it should be noted that pet costumes have become more and more popular. Compared to 16% last year, 4% more shoppers are likely to dress their pets up in costumes this year (according to the National Retail Federation's annual survey). Therefore, we have included a few listings from the pet costume category in our product tracker. Now, let's analyze how well these costumes have performed during the past 7 days.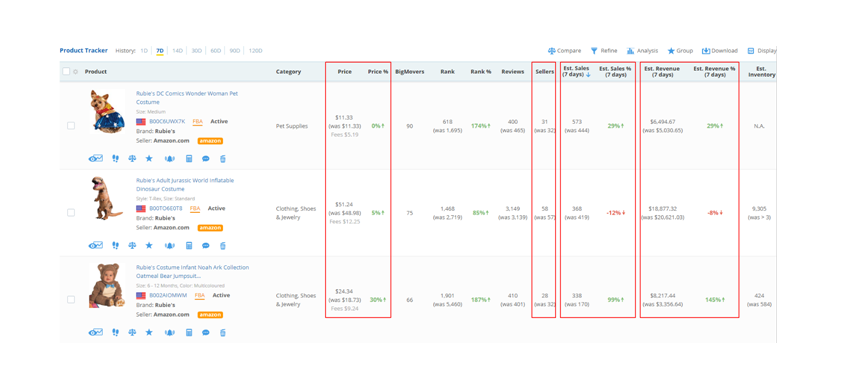 In the above image, both the dinosaur costume and the oatmeal bear jumpsuit had price increases during the last 7 days. However, the est. sales and est. revenue of the dinosaur costume had dropped, because the new price of the product may have quelled its demand. On the other hand, the oatmeal bear jumpsuit performed very well in est. sales and est. revenue. Its rank on Amazon's Best Sellers has grown drastically by 187%. Compared to the number of sellers for the dinosaur costume, Rubie's Costume Infant Noah Ark Collection Oatmeal Bear Jumpsuit has less competition and is a more viable option for sellers to sell.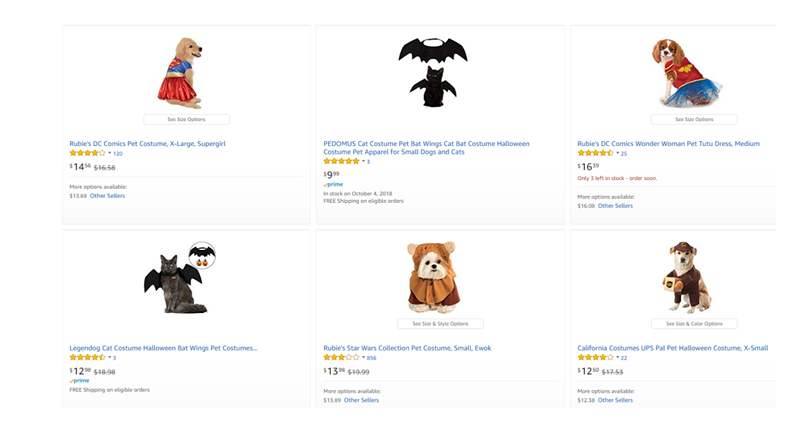 Let's dive into the BigTracker a little bit deeper for examples of this Rubie's DC Comics Wonder Woman Pet Costume. Its sales rank in the category of pet supplies on Amazon has gone up by 174% in the past 7 days. The Buy Box price has kept steady, which means that this item is not likely to be very competitive due to the low number of sellers. In the line graph, you can see that both the est. sales and est. revenue has climbed gradually since October 2nd.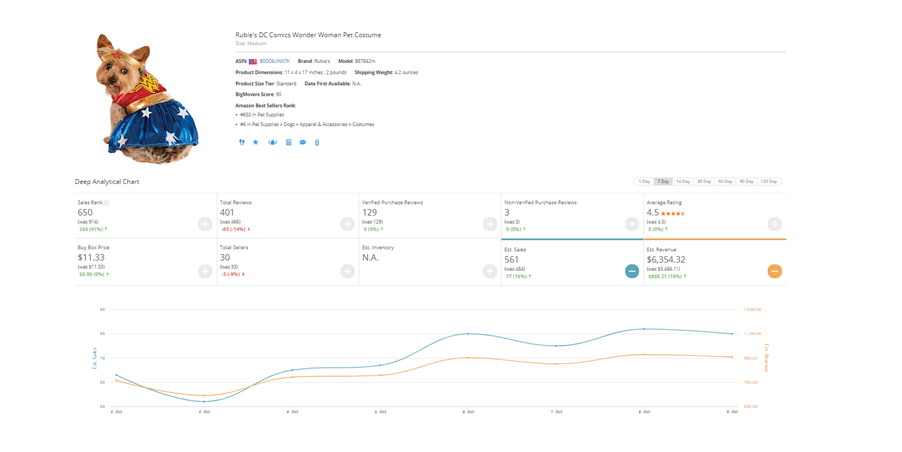 What do Amazon Customers want this Halloween?
We have also discovered the following products that should perform well during Halloween because their sales and rank have been growing gradually for the past week.
Halloween product recommendations: Fun World Super Stretch Spider Web for Halloween Indoor/Outdoor Decoration – ASIN: B00FQBLOVW

Halloween product recommendations: Funny Halloween Time Ghost Pumpkin Halloween Things Waterproof Polyester Fabric Shower Curtain – ASIN: B00MTDW02C

Halloween product recommendations: Amscan Halloween Cemetery Scene Setters – ASIN: B00CTA40A0

Halloween product recommendations: 7 Color Professional Makeup Kit Reel F/X Halloween Costume Makeup – ASIN: B002QKHPHS

Conclusion
We've noticed quite a few of products that should perform well during this Halloween, and we've uncovered some great hot product opportunities for Halloween. However, the sales process is far from over. For the next post of this Halloween series, we're going to discuss how to price your items competitively to win the Amazon Buy Box and to get an even better understanding of this Halloween's business potential and the steps to take to ensure your profitability during the shopping season.