//php the_post_thumbnail( 'post-thumbnail' ); ?>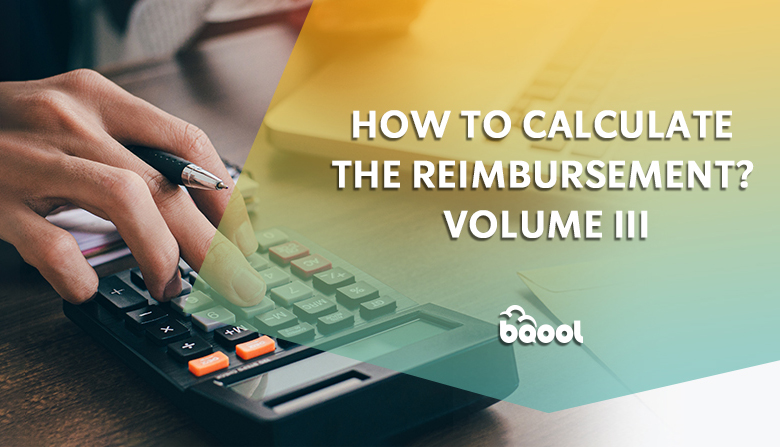 When you are a FBA seller, Amazon is responsible of handling your stock and ship what your customers buy from you. FBA program is very convenient when you are a seller, and it is usually recommended if you are a third-party seller so that you are not required to handle your stock and take care of the shipment process.
However, Amazon needs to deal with a flood of items in its fulfilment centers, incidents can happen, and you can end up with damaged items, destroyed stock, overcharged fees etc. Of course, if this kind of mistakes happen Amazon should reimburse you.
Reimbursement occurs when Amazon causes the loss of your products or overcharging you fees in the fulfilment process.
First, we would like to explain to you in details how reimbursement works and how to calculate it. Then we will explain to you how to discover the missing reimbursements and what are the solution to make sure Amazon doesn't owe you more money.
Reimbursement Criteria
As we mentioned previously the reimbursement occurs in special situations:
The item has been damaged during handling and/or while the delivery occurred (warehouse, transportation)
The item(s) has been lost
Your stock has been accidently destroyed
You have been overcharged by Amazon
You need a valid reason for Amazon to reimburse you or to replace the damaged item(s), however if the item(s) have been lost and Amazon had already reimbursed you before the item has been found, in this case, Amazon can request to give the money back. (Reverse reimbursement)
There are also times when Amazon may just let you keep the money because they can sell the returned, warehouse damaged, used, or refurbished products under the Amazon Warehouse deal. Usually, these items are heavily discounted and consist of open-box items like TVs, laptops, tablets, home audio, kitchen & dining, home goods, outdoors, and more.
We suggest you keep an eye on your inventory, if you notice irregularities from your side, you can file a claim with a specific form. You have 18 months to contest any reimbursement decision.
Fulfillment Center Operations
Finally, keep in mind that each situation is unique, and Amazon treats all requests case-by-case.
For more information, we invite you to read Amazon reimbursement policy.
What is Included in The Reimbursement Calculation?
We calculated the reimbursement as followed:

The formula for the total reimbursement is:
Reversal Reimbursement + Free Replacement Refund Items + Warehouse Damage + Warehouse Lost + Compensated Clawback + Missing from Inbound + Incorrect Fees+ Incorrect Fees (Non-Itemized)
Reversal Reimbursement: The amount of reimbursement from a Customer Return.
Free Replacement Refund Items: The amount of reimbursement from Amazon Customer Service Issue.
Warehouse Damage: The amount of reimbursement from FBA Warehouse Damage.
We calculated as followed: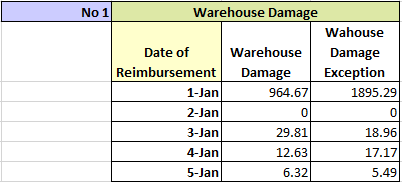 The formula used here is: (WAREHOUSE_DAMAGE) + (WAREHOUSE_DAMAGE_EXCEPTION)
Warehouse Lost: The amount of reimbursement from FBA Warehouse Lost.

Calculated as: WAREHOUSE_LOST + WAREHOUSE_LOST_MANUAL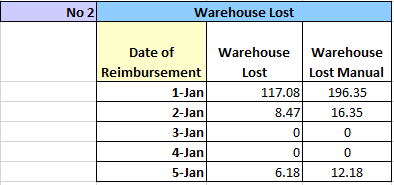 Compensated Clawback: An Amazon reimbursement clawback from a seller's account, this occurs when a prior reimbursement is reversed.
Missing from Inbound: The amount of a reimbursement that is issued due to units missing in the inbound delivery process.
Calculated as: MISSING_FROM_INBOUND + MISSING_FROM_INBOUND_CLAWBACK
Incorrect Fees: Amazon adjustments for incorrect fees.
Incorrect Fees (Non-Itemized): Amazon adjustments for incorrect fees (non-Itemized)

BigCentral
Our software BigCentral can help you to identify the reimbursement that appears in the profit and loss statement.
We recommend you keep track of your products and further investigate with our software to see which products have been reimbursed the most in detailed an overview.
Check the Inventory Adjustments Section
If you want to handle reimbursement audit by yourself, you can check the adjustments section on your seller central account.
We suggest you check this section to have a better overview concerning your items status. The Inventory Adjustments shows the history of adjustments to your inventory in response to issues such as disposition changes, misplaced inventory, found inventory, and ownership corrections.
Audit Experts
Last solution, you can look for a service provider specialized in conducting audit of account reimbursement to help you to track and recover the money that Amazon potentially owes you.
We recommend you pay attention to the reimbursement on your Seller Central because you will never know if Amazon owes you a large sum of money from the damaged or lost items or other reasons that may cause in your loss of profit due to Amazon's mishap since Amazon handles billions of items in their fulfilment centers and it might be possible that some mistakes haven't been rectified or acknowledged.
If you would like to know more on how you can claim back missing reimbursement, you can check our previously written post on this subject: Don't Let Amazon Owe You Money! FBA Reimbursement Guide