//php the_post_thumbnail( 'post-thumbnail' ); ?>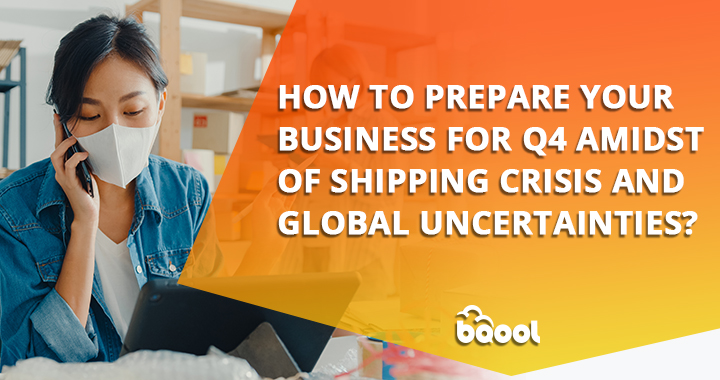 Get ready to finish the year on a high note and stay focused on your objectives because it is the final push of 2021.The last quarter (Q4) is the busiest one and you must be ready to respond to the high demand during this decisive period of the year. However, these 2 last year have been special to everyone due to the pandemic of covid 19 that has seriously compromised the international financial environment and forced people to stay indoors. Although the outbreak fragilizes traditional businesses, it also opens new perspectives in the eCommerce sector. The online selling has been very lucrative during the pandemic, for safety reasons and for respecting the social distancing recommended by the authority so nowadays a lot of people choose to buy online. Moreover, the ecommerce offers a lot of flexible options such as easy returns policy that is very appealing for most customers. The online marketplace is in perpetual expansion and give us an insight of the future way of consumption and business selling operation.
Even though Covid 19 is spreading like wildfire and affecting the whole world, many eCommerce sellers such as yourself have already learnt the importance of establishing a course of actions that allow your business to stay afloat. Maybe you consider joining Amazon or you have already joined because you heard about its advantages. Indeed, selling online on a platform such as Amazon is an alluring opportunity that can help you to deal with the financial restrictions imposed by the government during the pandemic.
But is it really?
The global pandemic is wreaking havoc on the international logistics and causing problems for merchants replenishing their inventories, the competition is more severe on Amazon with its marketplaces being in a perpetual volatility. If your business orbits around exportation and importation operations, you know how the logistic part could be crucial to determine the success of your business for the last quarter of the year. Even if you are not, you would still acknowledge the vital aspects of having actual products to put onto your shelf for sales.
Contrary to popular belief, the pandemic has increased the demand of consumer products and ramped up the production of manufacturing goods shipped by cargo containers such as electronics, clothes etc. Under these circumstances, the current global logistic is ill-equipped to handle the ever-increasing demand of products and the shortage of cargo containers. The situation is further exacerbated by the extortionate shipping cost caused by the pandemic. Some businesses would not be able to meet the end consumer's needs due to the inability to restock.
In addition, the incident of the megaship that blocked Suez Canal in March triggered the freight spot rates. Even Air freight is impacted by the pandemic, cancelation and serious backlogs affect the airport warehouse capacity and force carriers' companies to review the logistics strategy especially for perishable products. Finally, the governments want to guarantee the safety of all the workers and limit the spread of the virus everywhere, put in place restrictions that impacted the whole chain. Labor and equipment shortages have also complicated the already strained global logistics and contributed to the significant delays in the shipping process.
Now you may ask: BQool, how should we prepare for Q4 in 2021 then?
Indeed, the logistics has suffered greatly over the past months and as our smart readers may already know Black Friday is right around the corner, so to answer the question, we would recommend sellers to maximize the profits of every individual item, and ensure your listings are fully stocked instead of being sold out before Black Friday. Here is how to prepare your business to win Q4 despite the product shortages.
BQool suggests Amazon sellers to use an Amazon repricer to maximize profit and minimize potential sales loss. BQool Repricing Central is the ideal software with AI Machine Learning technology to determine the most profitable price to win the Buy Box. It will choose the most optimal pricing strategy that your business needs and keep your online store competitive (For more details about Repricing Central, see this article). You can rely on BQool Repricer to adjust your product prices automatically based on your product and operation costs to increase profit and build a considerable lead over your competitors.
Using an advanced AI repricer with machine learning to sell online is not the only option, there are other alternatives as well. If you are a private label seller, advertising on social media channel is also a viable option. You may know the day to day use of social media platform, but you should start taking the social commerce seriously as well.
Social commerce has matured over the years, and it is a popular way for sellers to use social media platforms to sell products online. Customers can directly visit your product listings within their chosen social platform by clicking on an ads banner. It is clearly a promising marketing tool that can be utilized to funnel traffic to your Amazon store. This kind of method is suitable for small sellers because it is mostly free. Although it is simple to use a social media platform, it requires some adjustments to setup your account and create a listing of your product, and it is a good opportunity to start capitalizing on the social channels and combine them with your Amazon store to makes shopping experience easier for consumers. It is a dynamic alternative that offers a lot of possibilities to reach potential clients and make profit.
This is the list of the most popular social media platforms:
Instagram
Facebook
Pinterest
Tik Tok
Snapchat
Nonetheless, you must be aware that on these platforms the competition is intense as well, so before you give it a try you need to do your homework so that you can take the full advantage of benefits these social media platforms offer. If you are thinking about quitting Amazon and just start selling on social eCommerce, we would recommend that as well due to the lower entry cost for a seller to kick start.
We are witnessing an important world altering event that undermines all industries on a global scale and no one has been spared so far. No one knows the long-term repercussions of the covid 19 exactly and when the world would return to its pre – covid 19 status quo. What we do know is that to make your mark on Amazon in the last quarter of 2021, it is important for you and your business to be prepared and take up the upcoming challenges with the right Amazon repricer that will lead you to a great success. We hope you can take our actionable suggestions from this article and make a smashing in Q4 2021.