//php the_post_thumbnail( 'post-thumbnail' ); ?>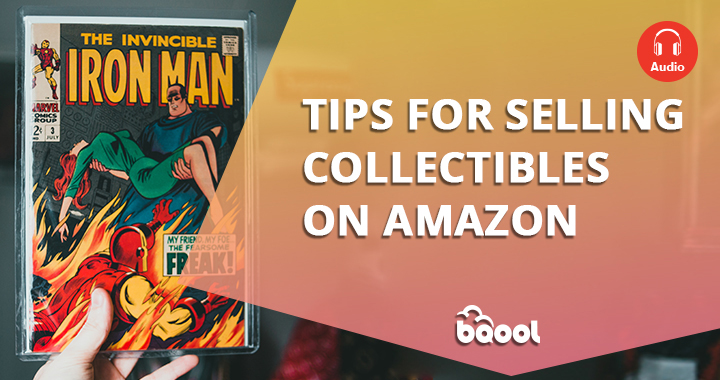 Collecting is a part of human nature. Most of us have our interests, and we live in a world that is full of merchandise for almost anything we're interested in — whether it's comic books, band t-shirts, or movie memorabilia. However, there can come a time that you need to sell some of the items you've amassed.   
Thankfully, our digital landscape offers no shortage of platforms to sell these on. However, many people overlook the potential for Amazon. For most of us, the large online eCommerce company is more associated with new items distributed from their warehouses or drop shipping sellers. But it can actually serve as a solid base for selling items as a private entity or small business. Obviously, you can't just throw any old junk up there and hope to profit, but certain types of collectibles can be listed on Amazon and make a profit.    
However, as with any endeavor, it's always best to weigh up the possibilities and decide whether it's the right path for you. So, let's take a look at a few issues to bear in mind to establish whether Amazon is the ideal platform for your collectibles.  
Profit Considerations 
When it comes to finding a platform to sell your collectibles, your top priority is likely to be whether you're able to make any profit there. After all, you've likely invested a lot of money over the years, both from the actual payment for memorabilia and also potentially from time spent sourcing any rare items.  
Therefore, it's important to approach using Amazon as though you're operating a small business. Take time to understand what fees and shipping rates are likely to be applied to the volume of product you're likely to sell. If you only have a small number of products, you may find it less cost-prohibitive to register with an Individual Plan, which allows you to list up to 40 items per month with a small fee per item. However, if you've amassed a considerable amount of merchandise, you may find it less likely to eat into your profits by going with the Professional plan that has a flat monthly fee. The latter also gives access to Prime shipping, which may improve your profits by attracting customers who want swift delivery.   
That said, it's important to understand that the application of fees is not the only factor that will affect your ability to make a profit on Amazon. It's a platform that has a significant amount of other sellers, which could mean competition. Thankfully, there are tools out there that can help you automatically reprice your goods to keep up with the competitive nature of the Amazon marketplace. Especially if you're listing major studio collectibles like those centered around Marvel or DC superheroes. As such, if you're going to engage here it's worth regularly reviewing the marketplace to see what the same and similar items to those you're listing are being sold for. The top businesses on Amazon that sell the same items as you might be offering similar prices, but they will also benefit from having reviews that you don't. As such, you must think about whether you're able to price competitively and retain a profit. 
Access Potential 
Probably the most striking aspect when considering whether to sell on Amazon is the access to consumers. There is almost no other sales platform that can currently compete with it in terms of sheer potential customer reach. In July 2020 alone, the company shipped 415 million packages to consumers across the world. It would be natural to consider that if there's anywhere that your collectibles could connect to global consumers, it's Amazon.  
Indeed, when you're a seller who has signed up to be part of Prime services, there can be additional opportunities for engagement. Those customers subscribing to Prime are those who are already pretty loyal to the company — you're not having to develop trust bonds from scratch and having to convince buyers to take a chance with your brand. You're essentially riding on the company's reputation. Not to mention that, if you time it correctly, you can also benefit from the additional boost in engagement from events like Prime Day.    
Still, it's just as important to have realistic expectations here. Just because Amazon receives millions of visitors each day, that doesn't mean to say that they'll be flocking toward your items. The potential access to consumers is great, but it's still worth doing some market research into whether the types of collectible you're selling are subject to regular searches. 
Alternative Options 
Some of the collectibles that you have might be one-of-a-kind items or even those that have been out of production for some time. As such, it's unlikely that consumers will be trailing Amazon on the off-chance that these will be available there. Instead, consider online platforms that attract the kind of buyer looking for unique collectibles. Etsy for those items that are handmade, or eBay for rare items that you might be able to list through an auction-style situation.   
Then, of course, there's the potential that your collectibles have been with you for a while and have seen some use. These can be common for comics — after all, they're made to be read — and those with some wear or creasing aren't likely to be suitable for Amazon. However, yard sales are a good venue for this type of collectible. With some research and focus, you can get a decent return on them. Some simple best practices, like scheduling a sale for public holidays and weekends when the most people will be out and about, can be smart here. It's also vital to be confident about your pricing, and where you're willing to have a little negotiating room. You might even find geek events in your area that are more appropriate avenues to personally sell collectibles and memorabilia.
Conclusion 
Collecting memorabilia can be a fulfilling way to express your fandom, but there may come a time you need to sell some of it. If you have a large volume, you can find that there are advantages to utilizing Amazon as a selling platform. This is particularly the case if you treat it as a small business opportunity and take advantage of aspects like Prime. However, for some items, it can be smarter to look elsewhere at online platforms and in-person methods more suited to the style and condition of your collectibles.
Author Bio
Jori Hamilton is an experienced writer from the Northwestern U.S. She covers a wide range of subjects but takes a particular interest in covering topics related to business, marketing, and technology that benefits both of those endeavors. To learn more about Jori, you can follow her on Twitter.