//php the_post_thumbnail( 'post-thumbnail' ); ?>
 
Would you rather listen to this blog instead of reading it? Just click play below. (Audio Recording by Samuel Krushnisky)
Amazon is among the giant e-commerce platforms known today. It allows retailers to sell products from consumer goods to digital media. Many retailers find Amazon the perfect additional sales platform that brings in more revenue for their company. In the era of internet technology and cloud computing, Amazon continues to provide great e-commerce services to the retail industry.
What is Dropshipping?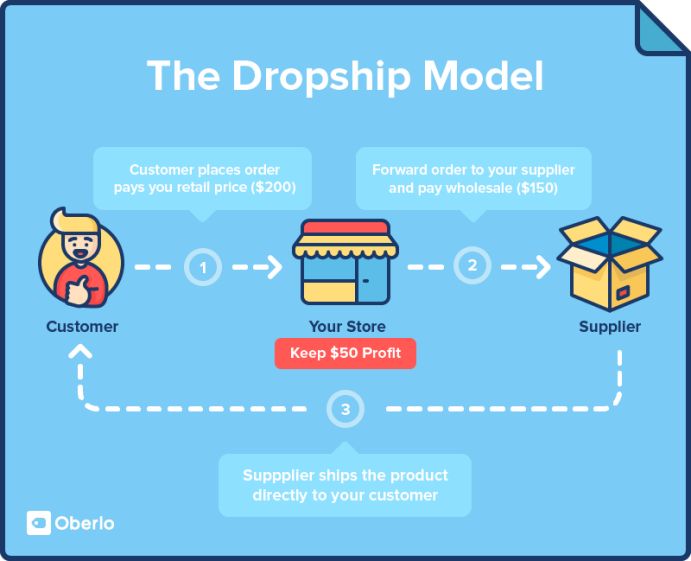 Photo from Oberlo
Dropshipping is a process that allows retailers to sell products without carrying the burden of maintaining inventory or even shipping out the goods purchased. Sellers in the dropshipping business can set their prices based on a specific source price while considering other fees and expenditures. While the drop shipper sells and markets the products, the manufacturer creates the products, maintains the inventory, and ships the orders directly to the drop shippers' buyers.
Pros of Dropshipping
Hold no inventory
The biggest benefit of dropshipping is that you can start a business with zero inventory. This is great because it makes the business model less risky for the dropshipper. Without inventory in stock, you have fewer tasks to do in the business. Besides, there are also fewer costs as you don't need to pay for a warehouse to hold the inventory.
Few skills required
Having a successful dropshipping business does not require you to have a set of particular skills. Dropshippers need to be good at marketing, day-to-day operation and providing excellent customer service. As there's no inventory to carry, you can pay full attention to how to attract more customers, keep a smooth order process, and provide stellar customer service.
Test the market quickly
Another benefit of dropshipping is that you can test the market quickly. You can run ads on products to see there's a market according to conversion. If any items don't convert to sales, you can remove them from your listing. It only costs you a little to test the market instead of investing a large dollar amount on inventory upfront for meeting unpredictable market demand.
Low start-up cost
The dropshipping business model is a low initial investment, so it's easy to get started. First, you don't need to purchase products until a customer places an order. Second, you don't need a physical space for inventory, so there is no cost for a warehouse. Third, you don't have to hire staff to help you manage the shipping of products. Basically, your main expenses include costs of goods, advertising, and a website.
Cons of Dropshipping
Fierce competition
Dropshipping businesses usually come with intense competition due to the low barrier of entry. What can possibly set you apart from the competition is to sell some unique products. However, there's nothing you can do to stop other sellers from selling the same products as yours as you don't have exclusive deals with your suppliers.
To beat your competition, offering a lower price seems the only thing you can do, but this leads to a "race to the bottom" and reduces your profit margins markedly.


Note:

How to avoid "the race to the bottom" price war on Amazon?

  

Long delivery times
One of the biggest concerns about dropshipping is to deal with long and slow shipping times. Whether goods shipped from Amazon fulfillment centers or your place to a customer's door, it only takes a few days. But dropshipping goods are from the suppliers and manufacturers who are often based overseas, and it can take a few weeks to reach your customers.
Less quality control
Because the product is sent directly from the manufacturer to the buyer, there's no way for you to ensure the quality of your products. And the longer distances packages move, the easier they could get damaged.
How To Start Dropshipping with Amazon?
Dropshipping on the Amazon marketplace is generally acceptable. You can start to dropship on Amazon via their Fulfilled by Amazon (FBA) program. This program allows you to ship your products to Amazon. The program carries out the inventory and shipment of your products so that all you have to do is to market and monitor your sales. The biggest benefit of this program is that it provides the fastest shipping times so that your customers can receive their orders at a faster pace.
Important: While dropshipping on Amazon is acceptable, there are a set of certain guidelines that need to be strictly followed. Keep this in mind if you are planning to do dropshipping on Amazon.
The Amazon Drop Shipping Policy
The excerpt below is taken from Amazon's drop shipping policy. You can read more about the policy here. 
For anyone who intends to dropship on Amazon, the following do's and don'ts listed below should always be followed.
DO's:
Be the seller of record of your products;
Identify yourself as the seller of your products on all packing slips and other information included or provided in connection with them;
Be responsible for accepting and processing customer returns of your products; and
Comply with all other terms of your seller agreement and applicable Amazon policies.
Don'ts:
Purchasing products from another online retailer and having that retailer ship directly to customers; or

Shipping orders with packing slips, invoices, or other information indicating a seller's name or contact information other than your own.

You can read more about how to dropship with Amazon on their website here.
There are several conditions and prohibitions that store owners should adhere to if they want to sell their merchandise on Amazon. Based on Amazon's guidelines, eligible stores that can add their products to Amazon include product niches on books, office products, electronics, computer video games, and more. These products do not need to get approval to add their products on Amazon. On the other hand, Amazon also came up with a list of products that require approval before being added to the Amazon sales platform, including hoverboards, hazardous goods, and a lot more.
Read more about categories and products requiring approval from Amazon Seller Central help section.
4 Tips for Success When Dropship on Amazon 
Sell the right product


Make sure you follow the Amazon requirements and restrictions, and the products you wish to sell something not included in a list of the restricted products. Then you can start conducting product research to find a niche product with sufficient demand and low competition. If you don't know where to start, here are some

useful practices for finding products to sell on Amazon

. 

Find the reliable dropshipping supplier


A reliable supplier should be well-organized and capable of handling multiple tasks from accepting new orders to ordering fulfillment, inspecting items before prepping, packing, and shipping. In addition, a reliable supplier is also characterized to give you a decent price to make great profit margins, provide quality goods, guarantee timely delivery, and after-sale support if necessary.

Promote your listing


To sell your dropshipping products, you will need to drive traffic to your product listing. You can implement these marketing approaches such as

Amazon SEO

and

Amazon PPC

to optimize your product page. You can also

drive external traffic to your listing

through social media channels, a blog, email, or the sites of influencers. 

Offer great customer service


Providing great customer service is crucial to your overall success selling on Amazon. Things like making a good first impression,

having effective communication

, and taking the feedback you receive seriously benefit your customers, which also helps you to win more sales and chances of getting positive feedback.
Summary:
While Amazon allows drop shipping, it is mostly allowed only through the FBA program. So if you consider dropshipping on Amazon using the dropshipping arbitrage module, know that this may not be possible under certain conditions. Looking through the set guidelines of the FBA program, traditional dropshipping is possible.
Regardless of the limitations, Amazon empowers millions of retailers and brands with the best eCommerce platform and support, as well as customer-seller protection.
About the Author: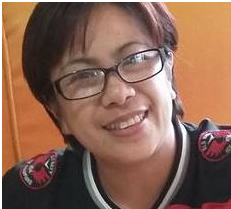 Michelle is part of the marketing arm of DSM Tool, a dropshipping marketing tool providing all the required components from finding the top products to listing the products on Ebay. She is also a content curator for the DSMagazine since 2016.
This blog post was originally published in June 2018 and was updated by Christina Chen in July 2020 due to product updates or Amazon policy changes.