//php the_post_thumbnail( 'post-thumbnail' ); ?>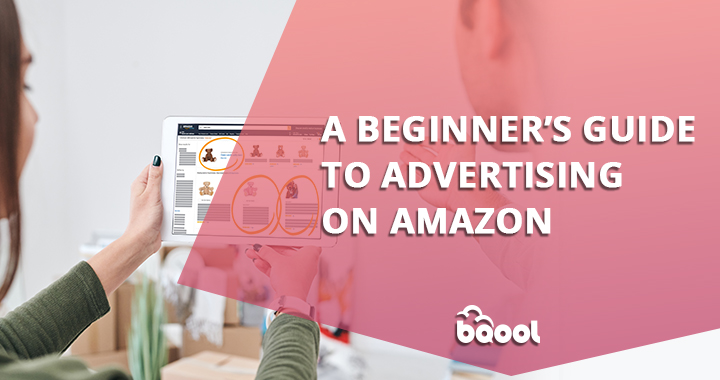 No matter what you are selling, one of the essential Amazon selling strategies is letting millions of Amazon customers reach your items. And that's the reason why every Amazon seller keeps looking for a way to increase the visibility of their products to accelerate their sales. 
In the 21st century, almost everyone is living on the internet instead of just using it. Imagine when you renovate your house and wish to share the happiness with your friends and families, what would you do? I believe you may post some pictures and announce the good news on Facebook or via email. So, we can see why digital advertising continues to grow.
Today, we are going to tell you how to advertise your listings on Amazon. Get ready to advertise your listings and expand your business with us!
Amazon Ads solutions mainly help sellers to achieve the following results
Relevancy: 

Ads are targeted to customer searches

Visibility: 

Increase product exposure

Sales Growth: 

Increase sales with relevant ads

Cost-effective: 

Incur costs only when shoppers click on your ad
Amazon Advertising Products
#1. Sponsored Products 
Your product listing will be marked with a tag that reads "sponsored" and shows up in Amazon's search results and on product pages when potential customers search for things using the keyword that you assign. You only pay the ad fee when shoppers click your ad.
Search results:

 At the beginning, middle, end, or next to the search result (see picture)



Product pages: Display carousel on product pages

#2. Sponsored Brands (formerly Amazon Headline Search Ads) 
A cost-per-click (CPC) ad features your brand logo, custom headline, and multiple products that appear in relevant shopping results to help boost your brand awareness.
#3. Sponsored Display (beta) 
A self-service advertising solution gives you the ability to quickly launch display campaigns and re-engages shoppers both on and off Amazon who viewed your products or similar products.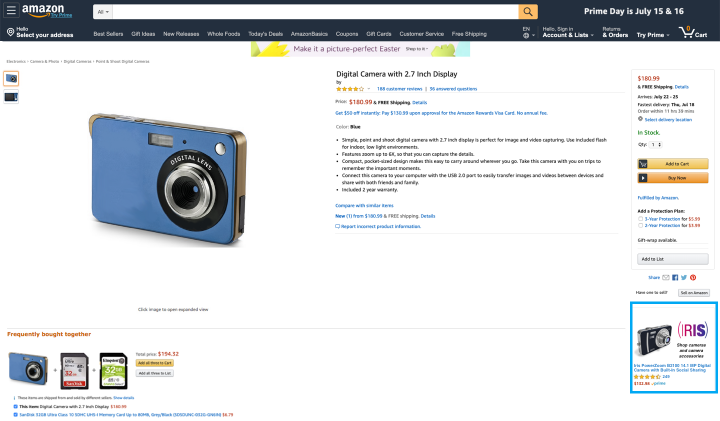 #4. Stores 
Stores allow you to build a multi-page website to showcase your brand and products for increasing brand visibility. See the example here.
Creating a store is free for sellers enrolled in Amazon Brand Registry, vendors, and agencies.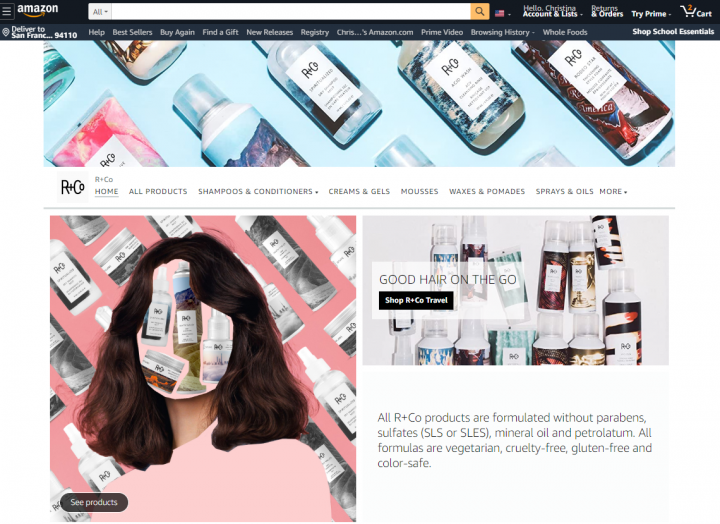 More Amazon advertising products
#5. Amazon DSP
Amazon DSP enables advertisers to programmatically buy display, video, and audio ads both on and off Amazon to reach audiences.
#6. OTT (over-the-top) and Out-stream Video Ads
Amazon video advertising solutions combine first-party insights, measurement capabilities, exclusive inventory, and a unique relationship with Amazon Publisher Services. Use OTT and out-stream video ads to engage audiences across Amazon subsidiaries like IMDb.com, devices like Fire TV, and across the web.
#7. Custom Advertising Solutions
Advertisers can develop flagship customer experiences across Amazon's online and physical stores with campaigns from the Custom Advertising team. 
#8. Amazon Attribution (beta)
Amazon Attribution is an analytics and measurement console that helps brands track their advertising performance across multiple channels. Now you can discover how your non-Amazon digital marketing tactics are helping drive sales on Amazon. 
#9 Audio ads (beta)
Amazon audio ads help brands connect with audiences during the screen-free moments in the home, at work, or out and about—wherever they're listening to Amazon Music's free ad-supported tier.
Amazon Advertising Comparison

Type

Amazon PPC

Amazon DSP

Name

Sponsored Products & Sponsored Brands

Sponsored Display (beta)

Display Ads

Video Ads

Do you have to sell on Amazon?

Yes

No

Where do they show?

On Amazon

On Amazon product pages & off Amazon on third-party websites and apps

On Amazon, Amazon devices, AMZ owned websites, other websites

Within video content or part of a Display Ad on Amazon devices, Amazon owned websites

Who can buy them?

Amazon Vendors

Amazon Sellers (enrollment in Amazon Brand Registry required for Sponsored Brands/Display)

Amazon DSP users who have a marketing budget exceeding $35,000 and who want to work with an Amazon Advertising Consultant.

Or brands who are willing to work with a qualified agency to access Enterprise Self-Service.

Eligibility details

Must be eligible categories (not used, not adult) & Buy Box eligible ('performance based')

Where do the ads direct the user to?

Amazon pages

Any page on and off Amazon

How are the ad placements charged?

PPC – Pay Per Click

CPM – Cost Per Thousand Impressions

What are the targeting options?

Keyword, ASIN, categories, brands

Behavioural, Lifestyle, Contextual, Remarketing, Audience Lookalike, Advertiser Audiences

Source: 

sellics.com/blog-amazon-advertising
How to set up?
To get started with Sponsored Products, Sponsored Brands, Sponsored Display (beta) or Stores, you can choose one of the following options:
Log into Seller Central, under Advertising > Campaign Manager, and choose your campaign type.
If you have a Vendor Central account or represent a vendor, sign in to get started.

For Kindle Direct Publishing (KDP) authors, you can currently advertise with Sponsored Products only. After signing in, click Promote and Advertise next to the title on your Bookshelf.
If you have an Advantage Central account, you can sign in and look for Advertising in the main navigation if your account is eligible.
To get started with display ads, video ads, custom ads, and Amazon DSP, contact an Amazon Advertising consultant here.
After you set up and run the ads, you can manage the outcome by going to Reports > Advertising Reports.
Wrapping Up
You may have the best quality products, but it would be a shame if there is no way to connect with customers at the right stage in their shopping journey. Whether you are trying to get the Buy Box, choosing the best product image, or optimizing your listing descriptions, one of the best ways to attract customers is definitely advertising your products on Amazon.
This blog post was originally published in April 2015 and was updated in July 2020 due to product updates or Amazon policy changes.