//php the_post_thumbnail( 'post-thumbnail' ); ?>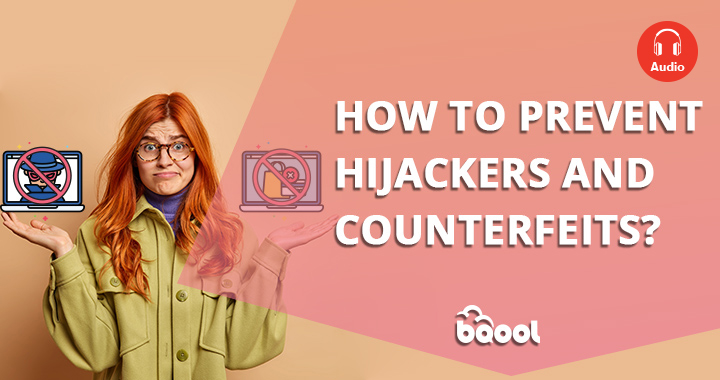 Counterfeit has always been a socio-economic issue over the years, however, with the advent of the information technology and the expansion of the eCommerce, the counterfeit practice is now more rampant and sophisticated around the world. The change in consumer's consumption pattern also exacerbates the counterfeit problem making it more insidious than ever. Counterfeit is a crime that exploits the intellectual property (IP) of a brand, company, person etc. for profits without legal authorization. In addition, fake items business may finance other criminal organizations such weapons, drugs, human trafficking, or terrorism. Buying counterfeit online unknowingly is more common than you think. Indeed, the eCommerce platforms give profiteers the opportunity to reach customers and mislead them to buy ingenuine items. BQool wants to share with you some tips to protect your business and your customers from falling victims to such activity.
Over the years the online counterfeit business has strengthened with the development of eCommerce platforms, therefore the two leaders of online sales platforms Amazon and Alibaba have adopted some measures to slow the counterfeit proliferation and reassure sellers and consumers.
I. Amazon and Alibaba
Last year Amazon destroyed more than 2 million fake products and take down more than 10 million suspected listings. The platform wants to restrain the spread of counterfeit products; therefore, it relies on different programs and measures. The first program is the Amazon Brand Registry that helps you to protect your brand on Amazon. The Brand Registry enrollment is free; however, it requires that you need an active trademark registration in your country. If you want to learn more about the Amazon Brand Registry, you can read this article.
The second program is the Project Zero program that enables brands to fight against the counterfeit. The program combines three major features. First, Amazon relies on automated protection to help detecting the counterfeit products, in fact the technology uses different key data to identify fake items and delete them from the platform. The advanced technology can deal with many listings per day. Another feature that can help brands to combat against counterfeit is the self-service removal. In fact, the brands that joined the program can remove the counterfeit products by themselves. They do not need to directly contact Amazon and wait until the platform to take actions. Finally, the last feature that fortify the sellers' protection is the product serialization that enables brands to apply a unique code for each item and the item could be authenticated by the Amazon system that can block the products before they reach the customers. This program requires specific criteria to be eligible for enrollment. You can find the different steps to join this program on this page.
The other anti-counterfeit program put in place by Amazon is the Transparency program that can provide a unique serial number. This program gives a better transparency about the origin of the products and customers can verify the authenticity of products enrolled in Transparency program.
Finally, the last program launched by Amazon is the IP Accelerator that helps business to obtain faster the Intellectual property for their brand protection on Amazon. This program provides you a list of law firms specialized in IP recommended by Amazon that can help to register your trademark for your business based on where you are located.
On another hand, B2B eCommerce marketplace like Alibaba also strives to contain the counterfeit on its platform by launching its AI, named "Turing Lab" that can identify the fake luxury items in 30-50 milliseconds. This new advanced technology has been apparently successful and enables Alibaba to keep a better control over the counterfeiting business on its platforms. Of course, it is impossible to neutralize the whole counterfeit products especially on a booming market such as Chinese one, but it could discourage and effectively reduce the number of fake items that circulate online to protect the brands reputation and customers.
Obviously, there is an effort from online sales platforms to try to limit the negative impacts of counterfeit on the legit sellers and their businesses. However, we want that you keep in mind that it is very essential for your business to get the copyright, patent, and trademark protection especially if you're developing your own products because the intellectual property will give you all the legitimacy of your product ideas and your brand.
However, despite the involvement of the eCommerce platforms and the different solutions they bring to sellers and customers, they are not 100% of successful to protect the customers from counterfeiters. How can you protect your business and customers from counterfeiters? BQool can share with you some tips to thwart counterfeiters and dissuade them from stealing your Intellectual property online.
II. Tips to Protect your Business from Counterfeit
The first thing we can recommend you to do is using our CRM software, BigCentral, that can help you to manage your products. BigCentral can spot the counterfeiters with its review management feature. Indeed, BigCentral gives you the ability to know if someone sells your products without your consent by finding negative reviews left by customers who complained about the ingenuine products in the review section. You will be notified by BigCentral that your products have been sold by someone else. However, as soon as you get the suspicion that someone is selling your items, you will need first to collect evidence against the potential counterfeiters and then report them to Amazon for further investigation.
Another tip that we recommend you do to protect your business, is to sell your items in a bundle by pairing the item that is prone to be counterfeited with a unique item that is difficult to be sourced. This method will discourage counterfeiters to replicate your products or list against you as they cannot sell the whole bundle without having both items.
Other recommendation that can help you to dissuade counterfeiters is the customization of your packaging. Instead of having a plain and basic packaging which is easy to replicate, we recommend you personalize as much as you can to have a unique and inviolable packaging signature. For example, you can add an authentication certificate or a special note inside your package that can authenticate your products. More you will be singular in your methods less you will be an easy target for the counterfeiters.
Finally, BQool also encourages you to inform your customers about the risks of buying counterfeits. If your customers are aware of the danger of fake items, they can help you to track the counterfeit products. These methods combining with ecommerce measures and programs can help you to protect your business and your customers from counterfeiting.
Over the years the online counterfeiting grew and strengthened with the development of eCommerce platforms. As we explained counterfeits could have heavy consequences on legitimate businesses and impact the brand image, that is why it is important to act and implement measures which are the best weapons that you can use to choke off counterfeit sales online.