//php the_post_thumbnail( 'post-thumbnail' ); ?>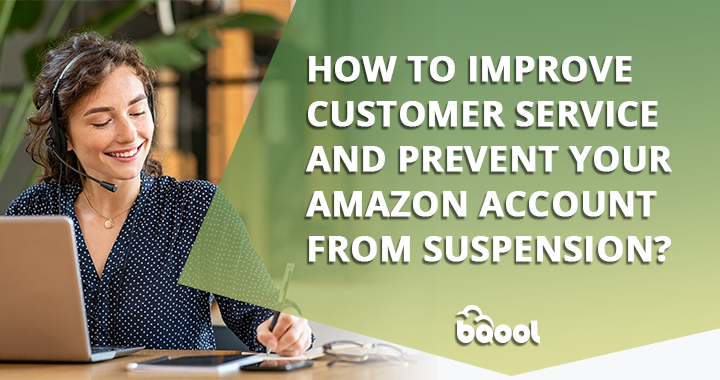 Customer service matters a lot on Amazon. The platform is clearly committed to please the customers by providing a very flexible return and refund policy and takes all customers' feedback very seriously. Dealing with customers as an Amazon seller can be very stressful, and you must adopt the right strategy to respond to discontent customers because bad feedback and review can negatively impact your business. Indeed, potential clients will avoid buying your items due to negative reviews and you will miss a bunch of opportunity. In the worst case, your account can be suspended by Amazon if you accumulate too many negative reviews. It is impossible to completely control what your customers think of your business and make them all happy buyers; however, you can improve their shopping experience and influence their feedback. As people always say, "prevention is always better than cure", so BQool will give you some tips to improve the customer satisfaction and avoid being penalized by Amazon.
Basic Tips to Improve Customer Service
As an online seller you know how important it is to provide good customer service for protecting your brand image and your reputation. Having negative reviews can impact your business and put off potential customers. Another thing you must know is that customers usually consult other customer reviews before buying an item, and bad reviews will lead them away from your store.
First, it is important to pay attention to the pictures, information, and description of your items. Make sure that the picture is the exact picture of the product that you are selling and all the information that you put in the description are correct. You do not want to receive bad reviews because the pictures you have used mismatch with the product you sell. Same goes for the description and the information you provide about the products.
The second tip we would like to recommend is to turn negative feedback and review into action. After you figured out what the reasons of discontentment, you can finally take actions: maybe you can consider stopping to sell unpopular items that have usability issues or change suppliers…etc.  If you are a FBA seller, Amazon feedback may not seem too crucial to your store as long as Amazon is in charge of the fulfillment part. You can request having negative feedback removed from Amazon, however if you are a FBM it is your responsibility to take care of the fulfillment.
Another tip is to be reactive and easily reachable as a seller because the communication between you and your customers could determine the future of your store and product rating. If customers cannot get the support they need for their purchase, this could undermine your brand reputation.
If you are a FBM seller you must be very careful about the carrier that you select because the shipment is your responsibility, and you need to meet Amazon's fulfilment standard. Some carriers would present a high risk of losing your packages as dropping off the parcel on recipient's front porch and leaving it unattended is a common practice (you can check this article for more information).
Last tip is to be diligent towards your customers. If you are too slow to reply to your customers or to ship the products etc. The customer can fill in a complain and then your account can be reviewed by Amazon.
Remember you do not have the power to control what customers are going to say about your business and your products but at least if you pay attention to these details, it will show your sincerity and commitment as a seller towards customers.
Return and Refund Policy
As a seller it is important to identify the reasons why the customers return your items. In fact, if you receive too many negative feedbacks from clients pointing the same issue such as defected item, your account will be suspended by Amazon until you fix this problem. Keep in mind Amazon is dedicated to the customers satisfaction at all costs and the platform will do everything to satisfy the customers in priority.
Indeed, the customer may return purchased item if he has problems with your products (defective, size, color, damaged…etc.). Some customers can even request a refund without returning the item (Amazon's Refund Policy Without Return). If you are a FBA seller, Amazon is in charge of the fulfillment. Usually the buyer has 30 days to return the item depends on the items category. (You can check the return conditions here).
As a FBA seller you cannot decide to accept a product as a return, even if the buyers damage the product, you do not have control over Amazon decision. In rare cases, Amazon can email the seller to alert about the return procedure and deduct the cost of the order from the seller's account balance.
If you are a FBM seller on Amazon, you are responsible of the fulfillment process. Usually, FBM sellers can accept return items after 30 days.
All the return items will be sent back to the returned address you indicated on your seller account. You have the obligation to refund the customer within 2 days of receiving the return shipment.
Under special circumstances Amazon allows sellers to charge customers a restocking fee. A restocking fee is a percentage of the item's price based on the condition of the returned item without including shipping.
Big Central
It is crucial to provide a great customer service to enhance your brand image and your professionalism as a seller. Amazon is a very competitive environment and even if you follow the basic tip to provide a good quality customer service it is not always easy to stand out from the competition. Perhaps, you already noticed a lot of sellers sell the same items as you do and use the similar title, description, and other listing details. To differentiate yourself from other sellers you must provide a better customer service with the help of a CRM tool.
BQool recommend BigCentral CRM software to improve your customer service. BigCentral allows you to stay up to date with your account with a Review Alert & Tracker that enables you to receive a quick email notification about the latest review, so you may promptly resolve the buyers' concern and improve their review status. It can also help you to manage and download reviews.
In addition, you can easily manage your feedback and improve your seller rating. You can configure your settings to automatically receive email alerts when your customers leave negative feedback and when negative feedback has been removed.
On BigCentral feedback performance dashboard you can view the total number of negative, neutral, and positive feedback. It is possible to analyze your feedback data and other seller metrics to assess your store performance so you can gain valuable insights to improve your feedback rating.
You can as well use the automated email campaign manager to help you solicit positive feedback and reviews efficiently. You can program an emailing campaign to target key buyers and excluding buyers who left a negative review about your products.
In conclusion, BigCentral provides you detailed analysis to avoid cumulating too many unnoticed negative reviews at the same time.Thanks to BigCentral you can track, follow, and analyze reviews and keep a high level of customer satisfaction.
You know how stand out is important especially on Amazon platform. You cannot afford customers to be driven away because you fail to provide a good customer service. Keep in mind your customer service must be consistent and irreproachable towards your shoppers and always take their feedback seriously. We recommend you follow ours hints and use a software to improve your customer service.