//php the_post_thumbnail( 'post-thumbnail' ); ?>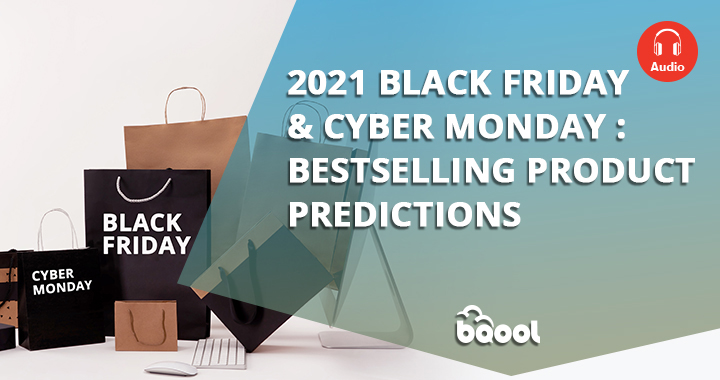 Black Friday and Cyber Monday are around the corner. BQool wants to help you preparing your Amazon business before the shopping frenzy starts. We indicate which product may have the opportunity to be a bestselling this Q4. First, we suggest you keep an eye on Amazon platform to see what might be on the most wished for list or the top rank products that have good sales numbers. Second thing, you can use our intelligent product research software BigCentral to help you search and track the best promising products on Amazon.
BQool gives you some insights to track the right potential bestselling products at the right time. You can also check this article for further information and tips about Black Friday & Cyber Monday sales events.
I.Black Friday & Cyber Monday
It is not new; Black Friday and Cyber Monday are huge sales events of Q4. Usually, these two periods are very profitable for sellers. To be successful during this period we have selected some very promising items that can be classified in different categories:
1# Fashion
Usually, trendy products in the fashion category sell well on Amazon. However, you should start by identifying which kind of fashion items are trendy in 2021. First, we suggest you focus on Basics Fashion Items, instead of looking for special and too much elaborated items. Simplicity is the key! In addition, the advantages with fashion are that everybody is always looking for basic outfits and never reject interesting deals even if the customer intention was not to buy clothing at the beginning.
Here is a list of trendy basic outfits that you can start to source if you plan on selling fashion for this Black Friday and Cyber Monday. To help you to find some ideas, we followed the recommendations from an ELLE article. Those items are highly recommended by the fashion magazine, and you can easily resell them on Amazon.
SPAGHETTI STRAP U-BACK DRESS
 Based on our observations, this item has a high selling potential on Amazon. As you can see, we researched the product with our BigTracker Extension and track the product to monitor its sales trend. To understand more about this type of product, we generate an overview report for all the products related to the keyword "SPAGHETTI STRAP U-BACK DRESS" on Amazon. We then check on the product performance. With BigCentral software, you can also collect important metrics that reflect the product potential so you can adjust your sourcing strategy accordingly.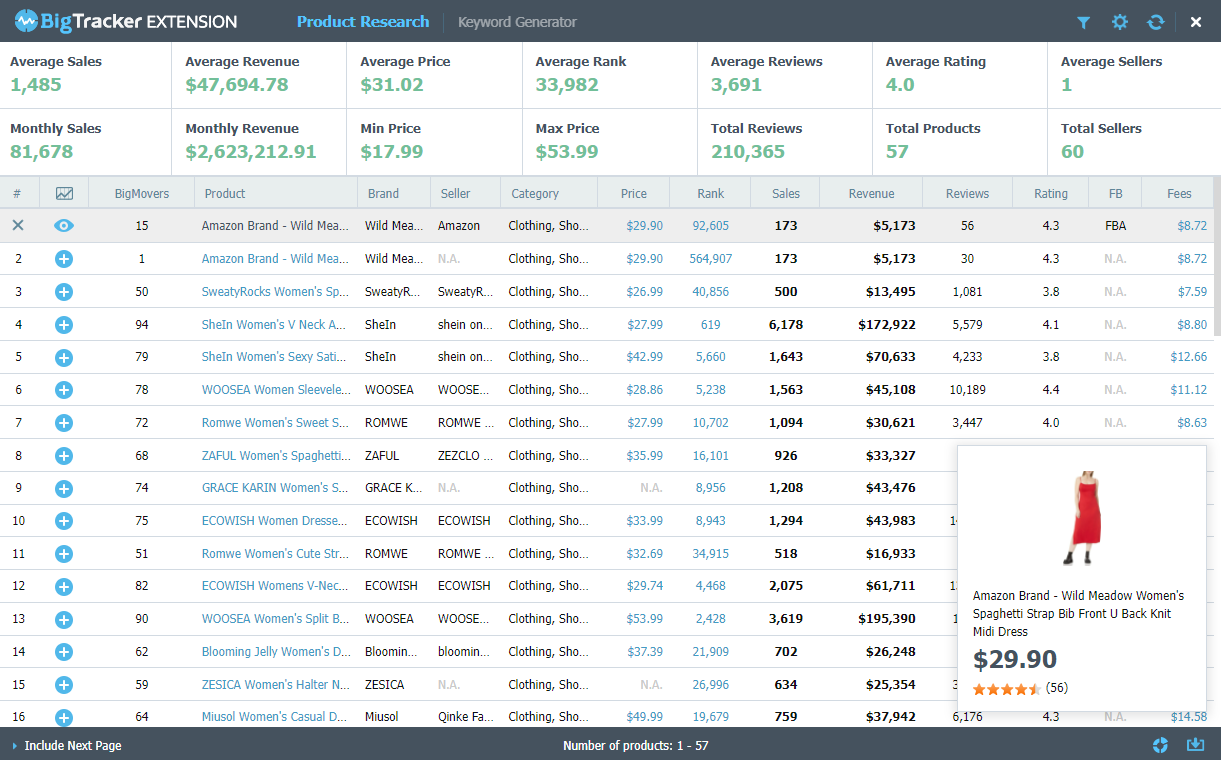 TEDDY BEAR FLEECE OVERSIZED-FIT COAT
The second promising fashion item is the teddy bear fleece oversized-fit coat. Because winter is coming soon, this coat is a popular choice for a lot of shoppers to keep warm while looking stylish. In addition, looking at the chart on BigCentral, this coat displays a positive outlook with good sales rank and estimated sales number on Amazon.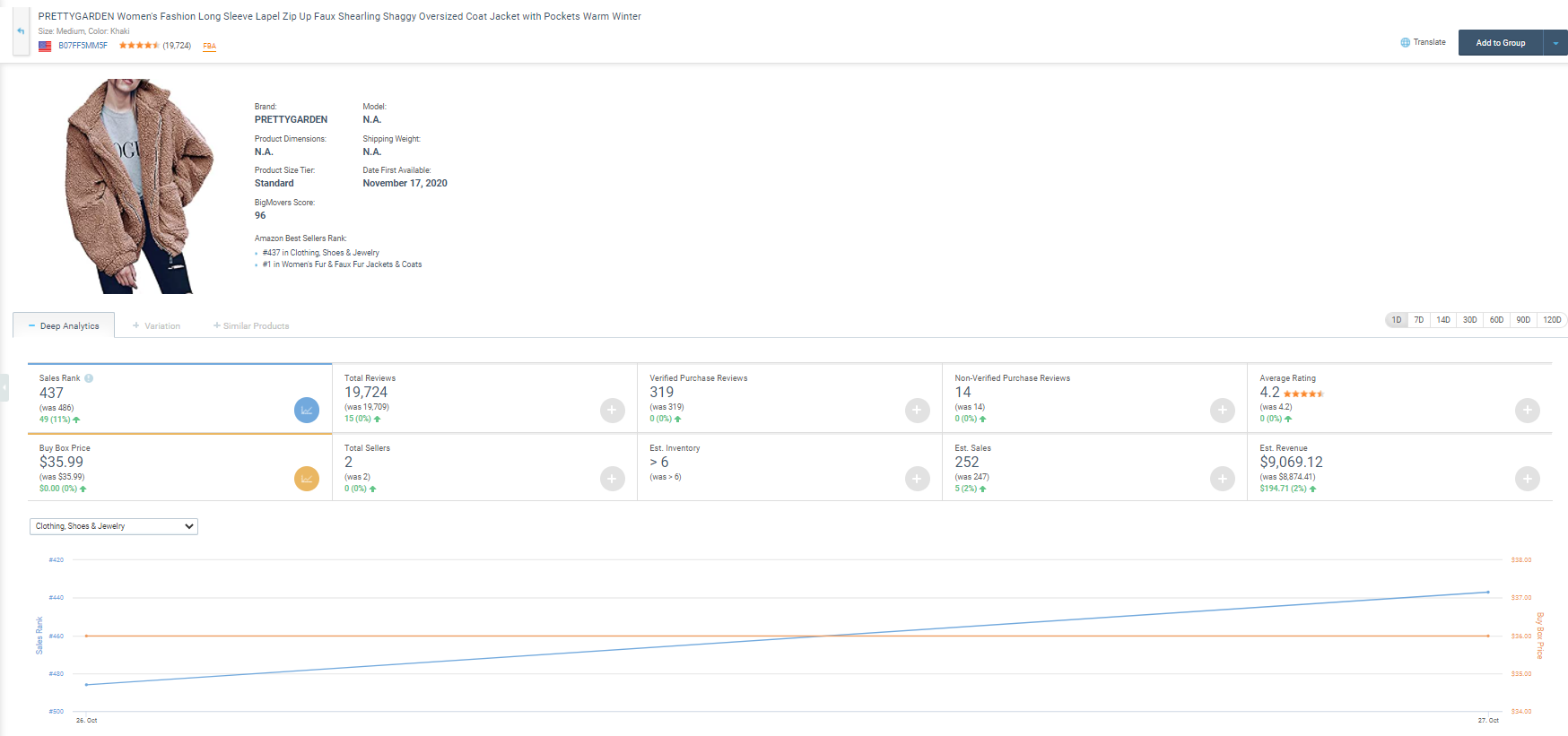 LONG SLEEVE RUFFLE YOKE SHIRT
 The last piece is very popular as well. Indeed, we spotted long sleeve ruffle yoke shirt on every online selling platform. Due to its popularity on the internet and the result of our analysis, we predict this item will have a good potential to get on the shoppers' wish list this black Friday and Cyber Monday.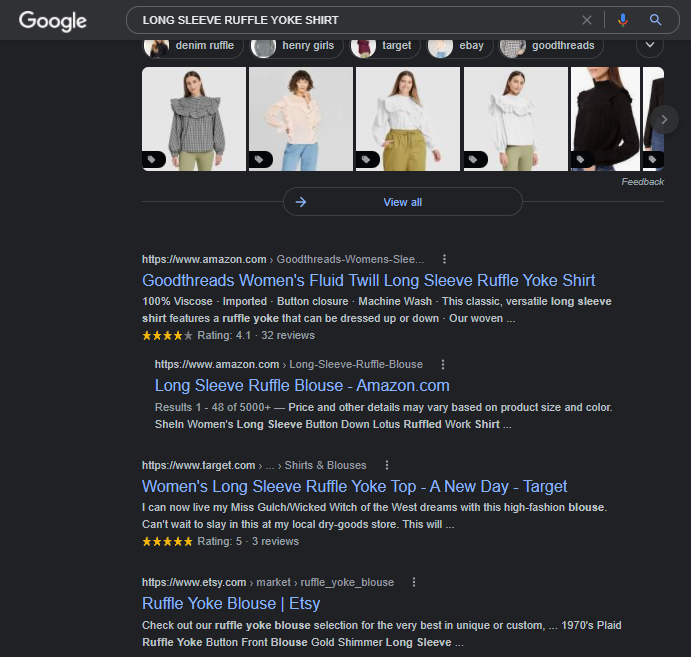 2# Beauty
Beauty items, no matters the period of the year, are always very popular and highly demanded. We have prepared a selection of products you can easily source to resell this year in the beauty section on Amazon.
Dryer and Volumizer Hot Air Brush
According to our observations, hair dryer and volumizer hot air brush are very trendy. We estimate these kinds of items will be highly demanding by customers for the 2021 Q4. Indeed, if you type "Hair Dryer and Volumizer Hot Air Brush" in your internet browser you can see the popularity of this item because it is sold everywhere, online and offline.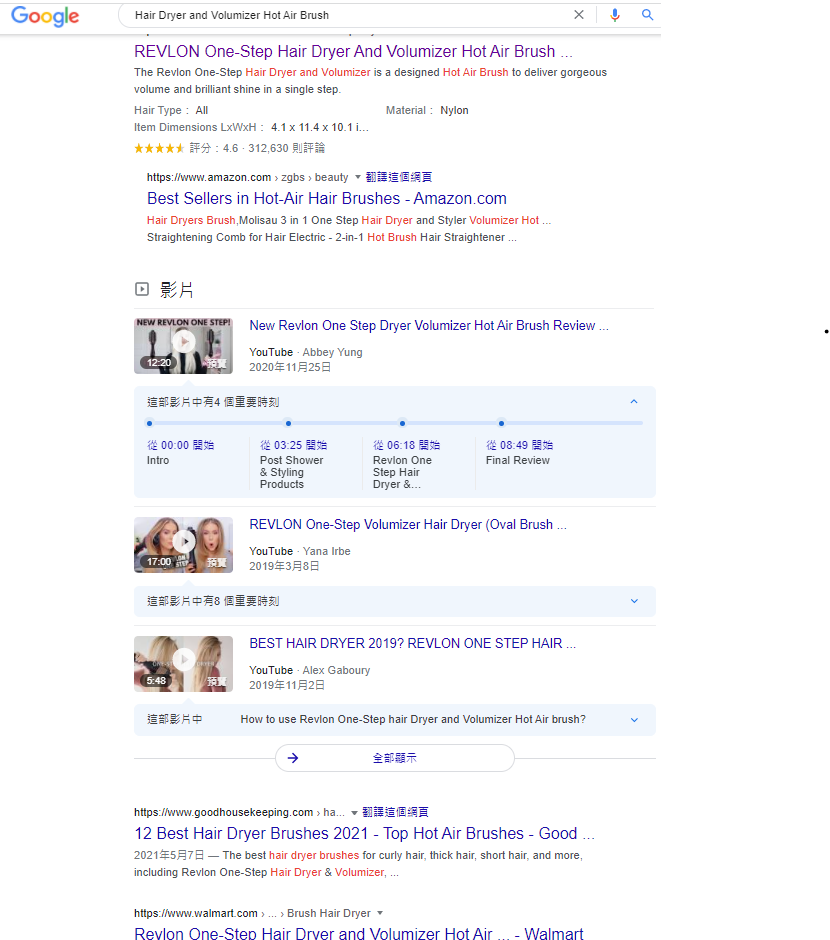 Fast Drying Microfiber Towel
Another indispensable beauty accessory this season, is the Microfiber Towel. This item is highly demanded by customers. Usually, the price per unit is not very high and they can be found in ordinary retail stores such as Target, Walmart…etc.
We have investigated the popularity of this item with our BigTracker, and we tracked the product to see its sales performance on Amazon (price fluctuation, rank, and estimated sales).
3# High Tech Deals
Black Friday & Cyber Monday always offer good opportunities for high tech products deals. Commonly TV screens, Laptops, Phones, Watches…etc. are always highly demanded for customers during these major sales events but fortunately not all the sellers are looking for this kind of items. Some of them are looking for high tech accessories which are easy to find. This year, if you think about reselling high tech products, we have spotted three bestselling potential items that you can right now start to source.
Robot vacuums are quite popular this year. You can find a lot of limited deals on Amazon. That is quite a good indicator to show the popularity of an item.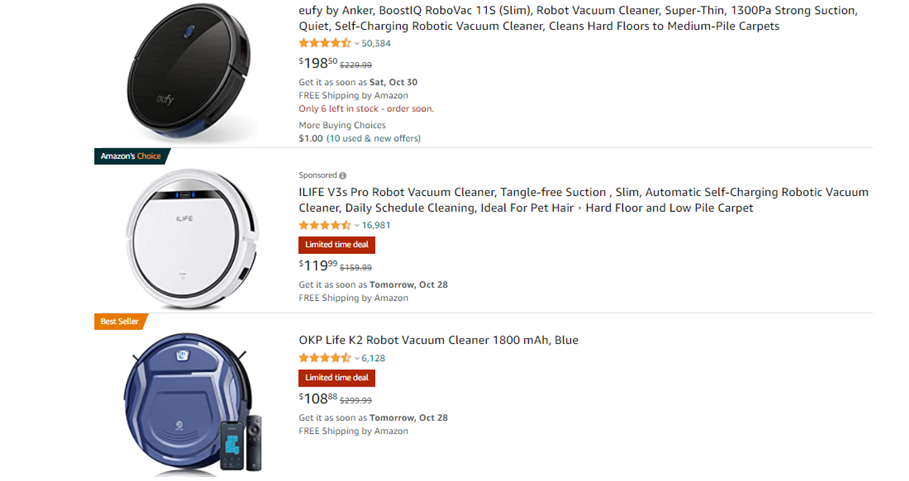 Another thing to know is a robot vacuum is usually higher in price than a traditional vacuum. The average price for this item is between 100 to up 800 dollars.
Let's use the BigTracker extension to search and track the "robot vacuum cleaner" on Amazon.
Based on our observations on robot vacuums on Amazon, the estimated sales, rank and BigMovers indicators are pretty good and show an optimistic forecast for selling this item.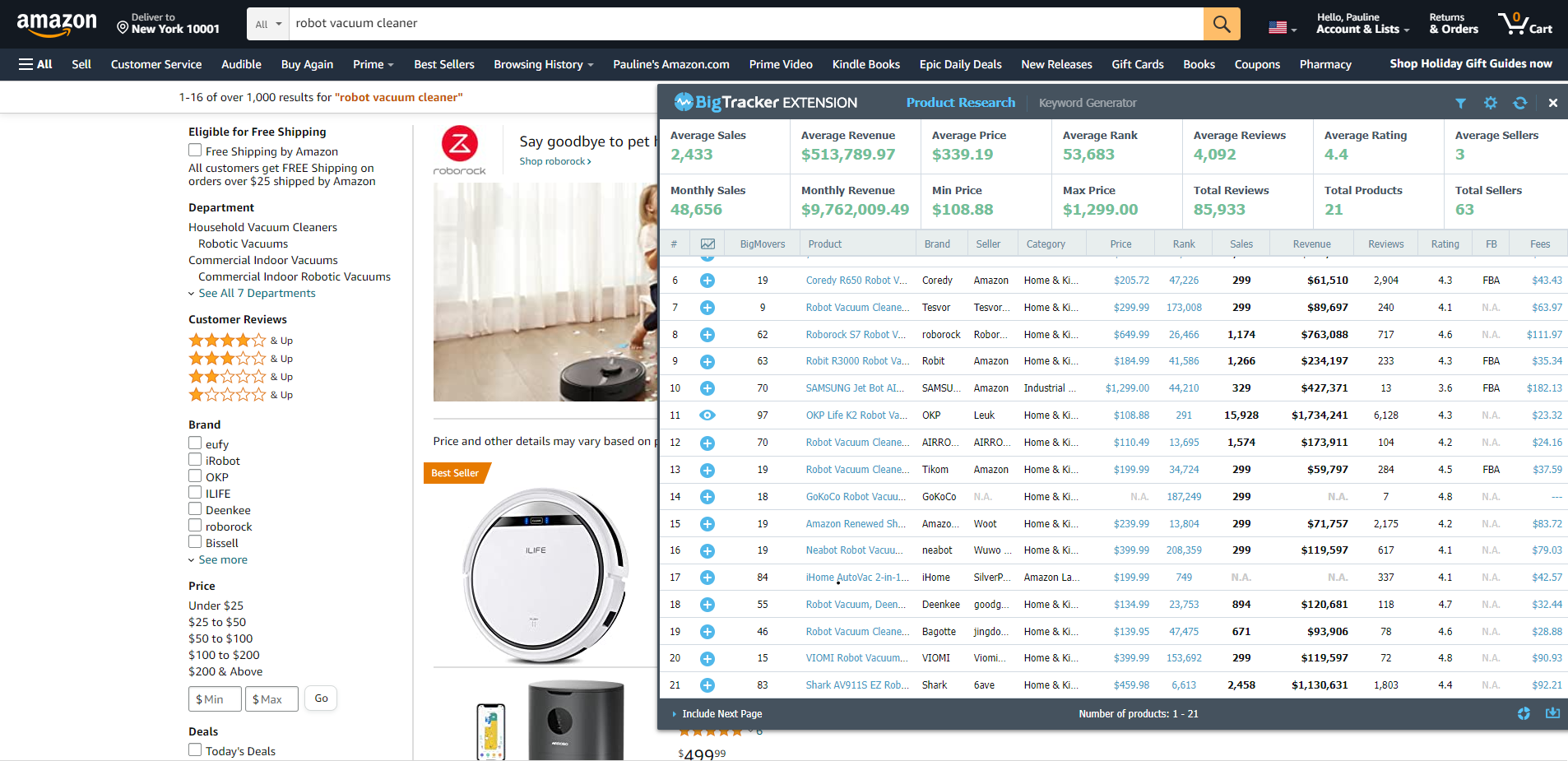 Smart plugs are the last trend that everybody is looking for. Basically, the smart plugs are designed to help people having a better control over all their electronic appliances in their house and monitor the energy they use through a smartphone. Even if the product seems very fancy, it does not cost too much, but of course it goes without saying not all smart plugs are created equal. It is up to you to choose which smart plugs you are going to source; Usually the less expensive one costs around 10 dollars (single outlet).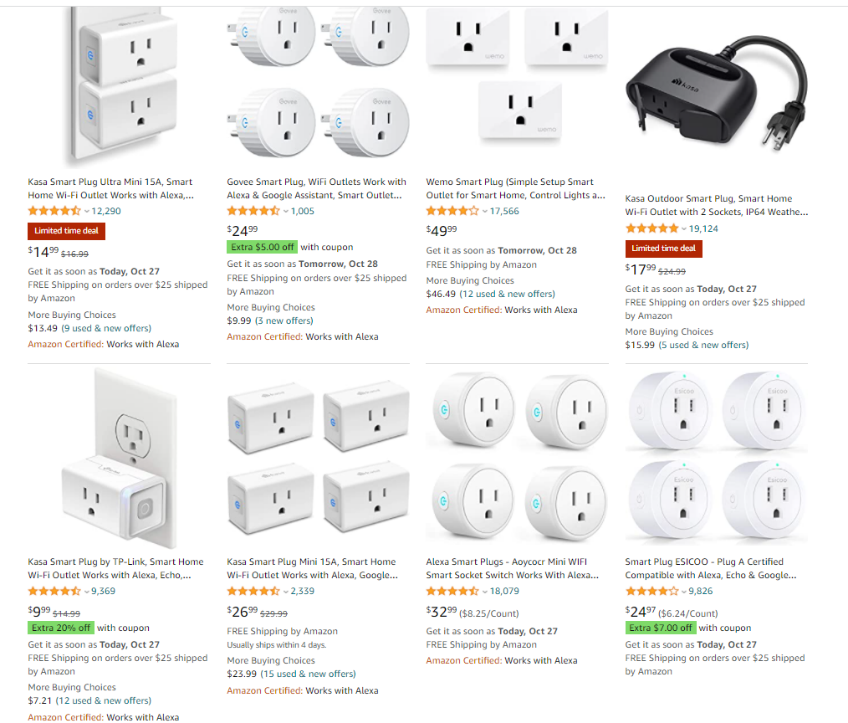 True Wireless In-Ear Earbud
Recently, Wireless In-Ear Earbuds become very popular. The advantage of selling the earbud is that it is cheap, easy to source and fast to sell. You can find a variety of features on the product such as noise cancelling, special sensor, programmable buttons… etc. Because it is a very trendy item, you know they will be high in demand. Usually, the starting price for this kind of item is sold around 25 dollars up to 400 dollars.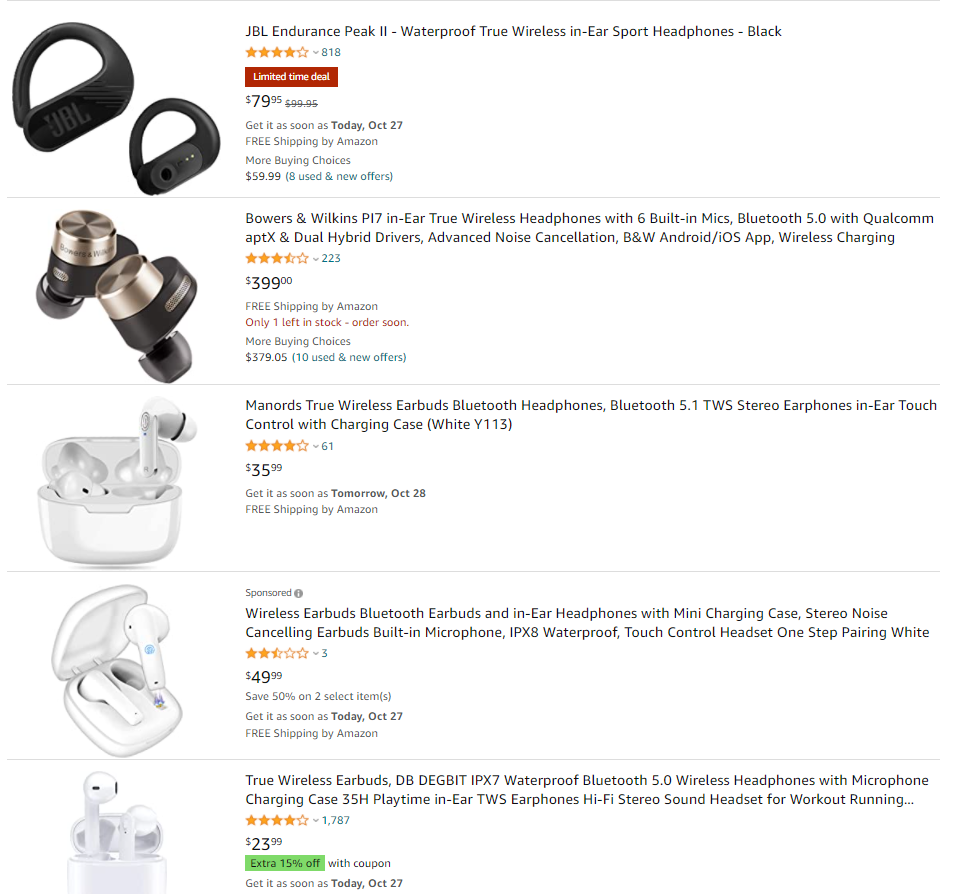 It is better to well prepare your business than rushing listings out to the shelve on your Amazon store carelessly. This is especially true for Black Friday and Cyber Monday events. For sure, start planning earlier will help you to be successful this holiday season.  Through our analysis you can use the data that we collected with our software BigCentral and its feature to track the right products you might have interest in selling this year. Finally, remember that Amazon has millions of products on its platform and a lot of opportunities find the suitable items to resell for your business. We hope that our suggestions in this article, will inspire you to select and source the right items that will guarantee you a successful Q4 on Amazon.