//php the_post_thumbnail( 'post-thumbnail' ); ?>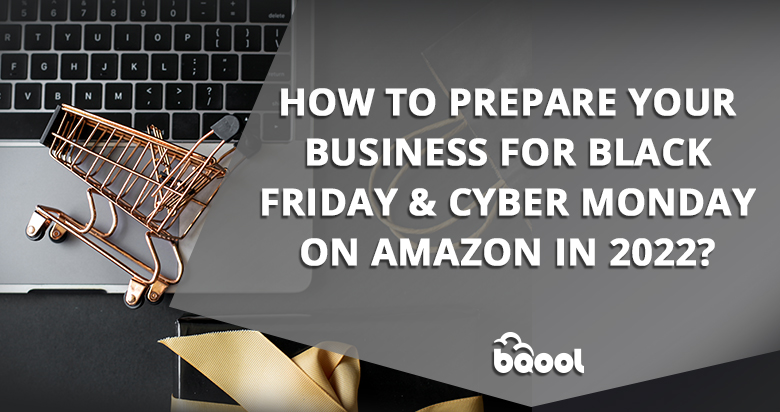 Black Friday and Cyber Monday are usually the most important shopping events of the year. However due to the pandemic and the consequences of cargo shortage this year, Black Friday and Cyber Monday are going to start early. Amazon launched Black Friday-Worthy Deals earlier last week to give customers the opportunity to shop and give them access to incredible savings to prepare the holiday season. Black Friday starts normally on November 26, but it is expected the Amazon Black Friday starts unofficially in the beginning of November with new deals dropping through the month.
As a seller, it is important to keep an eye out for Amazon Black Friday deals over the course of November and stay alert on your competitors. BQool gives you some tips to get your business ready for the Black Friday and Cyber Monday and get a successful sales result in Q4 2022.
# Check your inventories
First of all, you have to check your stocks. Making successful sales during the holiday season requires you to be well prepared and have enough stock to be able to sell a huge quantity of your items during the Black Friday and Cyber Monday.
BQool recommends you check your bestselling product as well so that you can properly estimate your inventory and have enough stock to take on Q4.
If you are a FBA seller, another point is to be very careful about your old inventory, it would be a pity to pay extra fees for your old inventory while you are 100 percent sure you will not sell it.
You can check the September Amazon news recap to learn more about the new Amazon Policy concerning the old inventory liquidation.
# Update Your Product Listings
BQool recommends you optimize your product listings to generate traffic on your product page and get your listings ranked in search results on Amazon for these two big events of the year. To update your listings, you need to make sure that all the information concerning a product is updated (title, description, pictures) and the chosen keywords are relevant. Make sure you follow the Amazon Style Guides according to your product category, if you do not respect this guideline, Amazon will delete your product.
Last tip concerning the keywords research, we suggest you spy on your competitor's listings to see which kind of relevant and popular key words pop out. Finally, you can use the keyword "Black Friday Deals", or any keywords related to these two major sales events, to increase your product visibility on the Amazon platform.
# Create an original Customer Service Process
Normally having an irreproachable customer service is important on Amazon. You cannot ease up your customer service during Black Friday and Cyber Monday. It goes without saying you must be perfect with your customers.
First thing we can recommend you to do is to include some products insert inside your packaging to thank your customers for their purchase. This kind gesture can increase your customers appreciation about your online business, and they might recommend your shop to their entourage.
Another tip with product insert is to provide some tips to your customers, of course it depends on which kind of products you sell, but if your items are related to food, you can share some recipe or give advice about using it. If you sell some books, you can recommend other books related to the same category…etc.
If you have some struggles with customer service on Amazon, we recommend you check this article.
# Marketing Campaign
You can use social media to advertise your online shop. It is a good strategy to use during Black Friday and Cyber Monday to attract more customers to your Amazon store. We recommend you strategize your visibility on the most promising networks to get better result.
Positive feedback from customers on the social media about your online business can boost your popularity and influence potential buyers to choose your shop and your products.
# Free shipping and return
it is always very appealing to get something for "free" especially when you are a customer, and you are looking for the best deals for Black Friday and Cyber Monday. Because Black Friday and Cyber Monday are big events of the Q4 as seller offering free shipping and return is a smart strategy to attract more customers to your store and influence the final customers' purchase choice.
# Use Amazon tool to stand out from the competition
BQool suggests you use a Repricer and a CRM management software to help you to deal with the selling frenzy of Q4. Repricing Central and BigCentral are two multifunctional software that include Repricer, email automation, product research, product tracker, feedback management, and more solutions that help Amazon sellers save a lot of time and succeed in Q4.
If you want to know more about the advantages to use our Repricer you can read this article.
# Keep an eye on the competition
Black Friday and Cyber Monday are big events, and the competition is intense during this period on Amazon. Indeed, your competitors will try to get more attention by offering super deals earlier. BQool provides a CRM software BigCentral, to spy on competitor's daily activity, including their product's price changes, sales rank, estimated sales, and steal their keywords to optimize your listings.
# Test the market with new product ideas 
Being innovative is crucial and especially for the Q4. Moreover, each year, there are always some few trendy things that are particularly popular and sell in a flash on Amazon. Of course, we do not tell you to make these specific trending products your main sales, but you should consider to stock some of them to get ahead the competition and offer a diverse catalog to attract more customers. BQool recommends you take some time to source trending product on Amazon and spot the worthiest items. You can start to sell new products in advance as a test and see which one has the bestselling potential. You can use our BigCentral software to help you monitoring products performance, pricing history and track product reviews. You can also analyze your new product test and improve your listing before the official product launch. Finally, you can use the buyer reviews and feedback to prepare your product list for the next Black Friday and Cyber Monday.
Haven't tried BigTracker yet? Start your 14 day Trial to experience the smartest product research software now!