//php the_post_thumbnail( 'post-thumbnail' ); ?>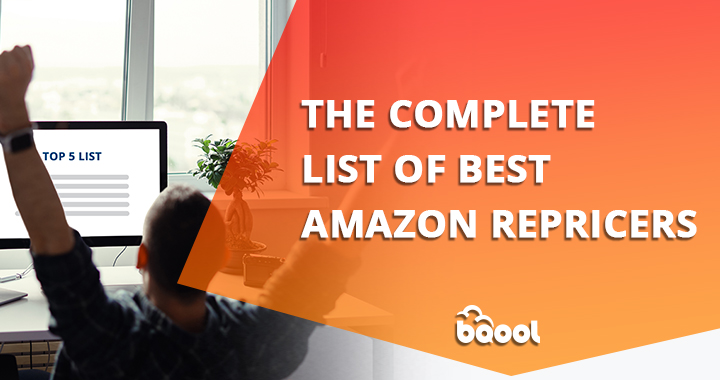 On Amazon, product prices are changed 2.5 million times a day, a price change happens every minute. The price you have on your product decides if you are going to get the Buy Box or not. If you are still manually tweaking your listing price, you need an Amazon repricer to automatically adjust your prices. An Amazon repricer can save you a tremendous amount of time from manual price adjustment, minimize human pricing errors, and much more.
If you are wondering what the best Amazon repricer is for winning the Buy Box on 2020 Prime Day, you are in the right place for an answer. We have put together a list of the best Amazon repricers in 2020 that are worth trying out. 
7 Best Amazon Repricers

BQool Repricing Central is a performance-driven dynamic Amazon repricer that automatically detects price changes ahead of your competitors and raises or lowers prices by responding to their price change intelligently. Easy-to-use and easily affordable, BQool repricer can keep your prices updated based on customizable repricing rules you set so that you can always stay competitive, win the Buy Box, and maximize your profits.
BQool is the embodiment of winning on Amazon. Any top Amazon sellers who take their Buy Box seriously, they entrust BQool Repricing Central to protect their Buy Box from the vicious competition and safeguard their profits. When it comes to genuine Amazon repricer recommendation from well-known sellers, BQool Repricing Central is always on the top of the list.
Bqool is, hands down, the best tool that I've added to my Amazon business in the last 3 years. Only InventoryLab and Keepa (both of which I started using 4 years ago) have eclipsed BQool in the impact that they've had on my Amazon business today. – Stephan, FulltimeFBA
When your sales have stopped and you no longer maintain a share of the Buy Box, it's time to step up your game and try BQool repricer to win back what's yours.
Pricing:
BQool currently provides 4 plans featuring 5-15 minutes repricing speed, InventoryLab Synchronization, Compete Against Buy Box, Price & Profit Calculator, Repricing Scheduler, Dashboard and Report, and additional features included in the advanced plans. Support US, CA, MX, EU (UK, DE, FR, IT ES) and JP marketplaces. 
$25 per month for 15-min repricing speed and 1,000 listings

$50 per month for 15-min repricing speed and 5,000 listings

$75 per month for 15-min repricing speed and 7,500 listings

$100 per month for 5-min repricing speed and 10,000 listings
2. Sellery (SellerEngine) 
Sellery by SellerEngine is an Amazon repricer with fully customizable repricing strategies, and it also has solutions to change prices on Private Label items.
Pricing: 
You pay 1% of your gross monthly sales, with a minimum charge of $50/month and a maximum of $2000/month.
3. Repricer.com (xSellco) 
Repricer.com, formerly known as xSellco, automates pricing across 16 Amazon marketplaces, and it helps sellers to sell more and maximize profit margins.
Pricing:
Basic Plan: $79 per month for 2,500 SKUs, hourly repricing, and support 3 channels with regular product performance reports.

Plus Plan: $249 per month for 50,000 SKUs, 5-min repricing, and priority 24/7 support unlimited channels.

Ultimate Plan: $399 per month for 250,000 SKUs and added features.

Extreme Plan: $1199 per month for 1,000,000 SKUs and all the same features as the Ultimate Plan.
4. Informed.co 
Informed.co, formerly known as Appeagle, enables sellers to reprice their items based on algorithmic repricing strategies and performance analytics.
Pricing: 
You have access to all of their features for a price that directly aligns with your monthly revenue. The features include 5-min repricing, 50k listings, repricing all Amazon marketplaces, etc.
5. Feedvisor Repricer 
Feedvisor is an AI-based repricer that enables you to optimize your prices for improving your Amazon revenue and profit. Unlike most software providers, they don't offer a free trial.
Pricing:
Three pricing plans are available: Professional, Premium, and Enterprise Plan. Each plan has its own set of features, including an algorithmic Buy Box repricer, access to predictive intelligence, and Amazon expertise support. However, Feedvisor does not specify the price for each plan, so you need to contact them for pricing and also request a demo.
6. RepricerExpress Repricer 
RepricerExpress is a repricer that changes your price based on your repricing rule. You set your Min and Max prices for each SKU and a repricing rule to decide how you would like it to compete.
Pricing:
RepricerExpress offers 5 pricing plans according to the number of listings you want to reprice, and each plan has the same set of features, including access to 13 marketplaces, reports, and email/chat support.
2,500 SKUs: £46 (Est. $60) per month

5,000 SKUs: £59 (Est. $77) per month

10,000 SKUs: £82 (Est. $107) per month

25,000 SKUs: £119 (Est. $155) per month

50,000+ SKUs: £199(Est. $260) per month
7. Aura Repricer 
According to your business need, you can set up Aura Repricing tool to automate pricing based on the strategy you selected to increase profit and sales.
Pricing:
Aura offers a monthly plan for $97, and you can manage up to 50,000 SKUs. The plan features instant repricing, 3 supported marketplaces: Amazon US, Canada, Mexico, strategy templates, bulk uploads, etc.
How to choose the right Amazon repricer?  
When deciding which Amazon repricer to use, you can consider the following points before you invest your money. 
Is it a penny repricer?
A repricer needs to follow a set of rules and conditions set by the user. If the repricer doesn't reprice based on a user's setting, it could drive all user's listing price to a penny. A notable example of the penny repricer incident reported on The Guardian: Click Here
What marketplaces does the repricer support?


If you sell on Amazon US but also sell on Amazon UK, the repricer that allows you to reprice cross both marketplaces will be ideal.
Does the repricer have integration with other Amazon solution?
For example, many sellers use inventory tools such as InventoryLab to manage and control their inventory. It's a plus if the repricer has an integration with other Amazon solutions to help you manage your Amazon store efficiently.
Which pricing plan is right for you? 
Pricing is the main concern for many Amazon sellers when comparing different Amazon repricers. You don't want to sacrifice your profit just to invest in an Amazon repricer that charges you a ludicrous amount of money. For this reason, there are sellers who steer clear of repricer with revenue-based pricing plan.
Is the Amazon repricer fully customizable and allows users to define how to reprice based on multiple scenarios?


1. 

Stop repricing when there is no competition so that you can maximize your profits.
2. Stop lowering prices once you win the Buy Box.
3. Increase your price when you have no competition.
4. Adapt your repricing criteria in relation to your competitors conditions such the fulfillment types, shipping methods, sellers rating, item condition, etc.
5. The repricer can be set to ignore competitors that are back-ordered or out of stock
6. Set your repricing schedule to begin or pause repricing activities
Is the repricer safe and secure?
A good repricer allows you to protect your profit against loss by calculating exactly how much money you make on each product, which considers the Amazon referral fees, your estimated profit, ROI, and EU VAT fees where applicable. And the price change safety net ensures that you never sell below the minimum price you set. Otherwise, you may have the penny repricer issue which BBC reported: Click Here
Is the repricer data-driven?
A data-driven repricer allows you to monitor your Amazon listing information such as rank, offer, Buy Box win %, position, and fulfillment, and also provides a competitor analysis for you to make strategic pricing decisions.
Why spend more for less? Start using the most popular Amazon repricer today! 
BQool Repricer is now 40% OFF! Save up to $360! Get BQool repricer so you can prepare for the October Amazon Prime Day and beat your competitors to the buy box with our blazing-fast repricing speed.
For BQool existing users: 
Apply this coupon code: TA8EXZWE at checkout.
For new users:
Apply this coupon code: 4WRR0LJT at checkout.
For more information about the promotion. Please contact: support@bqool.com