//php the_post_thumbnail( 'post-thumbnail' ); ?>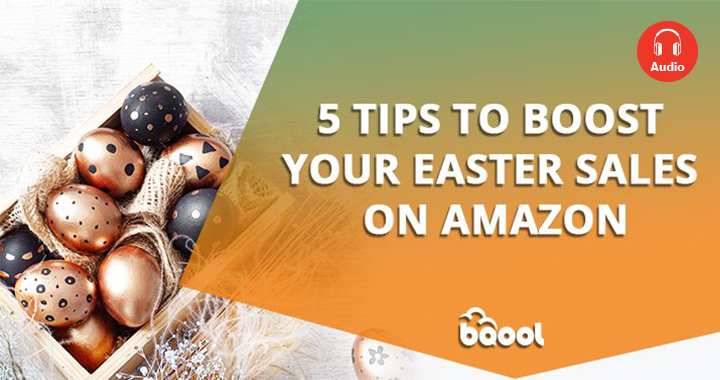 Easter is coming up in less than two weeks! Every year, the holiday presents the best opportunity for sellers to sell Easter eggs, bunny decorations, sweets, and greeting cards that are seen in every household. Meanwhile, Easter is also the perfect time for sellers to do a Spring cleaning of their Amazon FBA inventory in preparation for the busy summer season ahead. Here are some last-minute tips that you can try to boost your Easter sales on Amazon. 
1. Forecast and Plan Your Easter Sales 
The best way to predict your sales at Easter this year is by looking at your previous sales performance. Historical sales data from the last couple of years during the same period would be a good indicator of your potential sales this year. Also, don't forget to add a few percentages of growth to your expected sales volume to ensure you will have sufficient inventory in stock.
2. Focus on Your Existing Products
Focusing on products that you have sold before is a good strategy since you should be able to predict sales velocity based on historical data. It's better not to release new products during this period because you don't want to waste time and concern yourself with unfamiliar products.
3. Develop Your Pricing Strategy
After forecasting your potential Easter sales this year, you can estimate your profit margin and decide on how much discount you would be able to offer. You may also need to reduce the price of slow-moving products you've had in your inventory for a long time. If you use an Amazon repricer, you can lower your expected ROI for old items so that they can be sold out as quickly as possible to avoid extra storage fees. Using an Amazon AI Repricer like BQool can achieve good sales result to help you clear inventory quicker as AI is able to reprice with logical pricing decisions and optimize your buy box prices.
4. Optimize Your Listing
Needless to say, you will be facing lots of competition during the Easter shopping season, so make sure customers are able to easily find your products easily. Listing optimization can help you reach high product rankings and finally generate more sales. This process includes keyword research, optimizing listing text descriptions and visuals, and increasing the number of reviews.
5. Find Profitable Summer Niche Products 
The last thing you don't leave to the last minute is to start preparing for your Summer merchandise when getting into Summer. You've probably already noticed some department and grocery stores starting to get in some Summer products such as slip and slides. Some useful tools can help us discover trending searches. Google Trends shows that the search volume of slip and slides started increasing in the middle of April of the last year.


And for checking the search term popularity on Amazon, you can use BigCentral Product Research tool. Its Keyword Research feature can also show searches for this product are trending upward on Amazon recently. Additional information includes average sales, most clicked, and the number of unique ASINs found in the keyword search. This provided information can help you verify market demand for a product.


You are one step closer to being the next Amazon Top Seller. With the help of BQool all-in-one Amazon seller tool, you can win the Buy Box, get reviews, find more product & keyword ideas, and make more money!