//php the_post_thumbnail( 'post-thumbnail' ); ?>
The latest update for BQool's Repricing Central has now been released and includes an exciting and unique new feature, an AI-Powered Repricer, as well as other minor feature updates.
AI-Powered Repricer

Get Buy Box – Add Your Price

Other minor updates
AI-Powered Repricing
With the burning desire to support sellers in dominating the Buy Box and maximize profits, BQool has reinvented Amazon repricing with their all-new exclusive AI-Powered Repricing. This complex AI repricing algorithm was heavily researched and developed to reflect various relationships between key data points that affect Buy Box wins/price. The result is a more Aggressive and Flexible repricer that can:
AI Buy Box Winner I – Intense Competition
Reprice aggressively. Recommended fulfillment type: FBM
AI Buy Box Winner II – Moderate Competition
Reprice moderately. Recommended fulfillment type: FBA, FBM
AI Buy Box Winner III – Low Competition
Reprice incrementally. Recommended fulfillment type: FBA
And with all these performance enhancements, setup and deployment are even easier than before. No more detailed and customized rules, just a few settings and the AI will handle the rest. 


(AI Strategy Selection)
Below is a quick comparison between AI-Powered Repricer and Rule-Based Repricing strategies.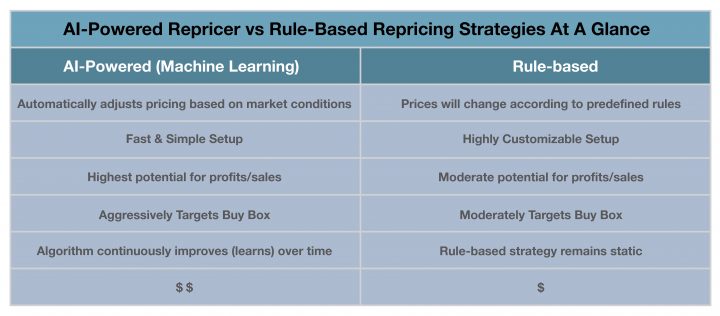 Get Buy Box – Add "Your Price" settings
Within the Rule-Based Repricing rules, the "Get Buy Box" setting defines how BQool reprices when a seller is not in the Buy Box. Sellers may now compete with the lowest price or the Buy Box price with the newly added "Your Price" selection.
Where applicable you may now add the following selection:
"Your Price [+/-] ___ [$/%]"


(Example: Competition found between Min & Max)
Other Minor Updates
The latest version of Repricing Central includes a few cosmetic (UI) changes.
In the Listings screen and within Bulk Actions, the FBM Shipping Cost is now optional and will be calculated as zero if left blank.
The AI-Powered Repricer is available on selected pricing plans. To learn more about it, click here or feel free to contact support at support@bqool.com or check out our blog post about the latest BQool product updates.