//php the_post_thumbnail( 'post-thumbnail' ); ?>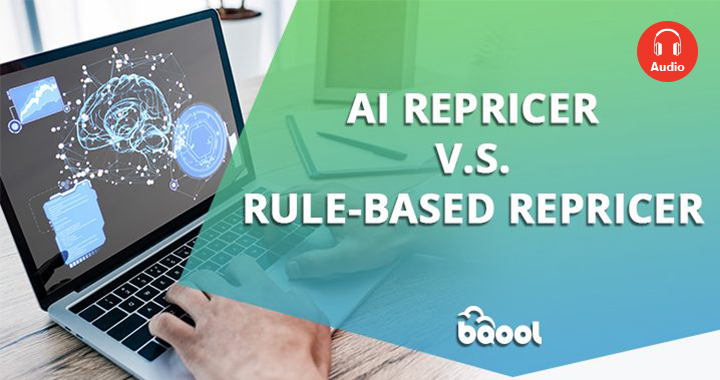 BQool AI Repricer is coming very soon! If you haven't heard about AI repricing, you can read this article to learn about AI and introduce how machine learning technology is implemented in Amazon repricing. Whether you are already a BQool's Repricer user or you are considering which repricer to use, we will explain the difference between rule-based and AI-based repricer, and you will learn which one is the best for you.
Most sellers manually adjust listing prices at the beginning, and it's fine when there is only a few ASINs. But it quickly becomes difficult to manage and control when your business starts to expand. This is why many sellers tend to use repricing software to automate the process. 
Repricing software in the market usually comes in two types: rule-based and algorithmic. Both types are efficient to reprice your ASINs competitively on Amazon, but you will get different results.
In this post, we're going to explore the differences between rule-based and algorithmic repricing in order to help you find the one that will work best for your Amazon pricing strategy.
Rule-based Repricing
Rule-based repricing gives sellers full control to change prices in response to his or her competitors. It requires sellers to manually set up rules based on different scenarios and the factors to tell the repricer how you want to price against competitors. You also choose your minimum and maximum price for your items by percentage or currency and measure the results.
You can create the rules to price higher, lower, or match with competitor prices, or decide to stay competitive or maximize profit once you are in the Buy Box. You can even filter the type of competitors by the fulfillment types and feedback ratings, etc. The established rules will not interfere with one another, but rather they will work together to make sure your price is optimized.
If you don't have any matches against competitors, you can also set a rule that will maximize your price to make the most profits out of these products.
Pro of Rule-based Repricing: 
Allow you to have full control of price change
Cons of Rule-based Repricing: 
The setup process is time-consuming and can be complicated to make sure there's no conflict with each rule.

The options of scenarios and factors for repricing rules can be restricted and inflexible to consider in repricing due to the repricing software provider.

There will be a slight bias when creating the rules.

The market is constantly changing, so you will need to monitor the market conditions to update the rules to stay up to date. 

It takes time for humans to analyze the market trends, so a rule-based repricer is not able to function in real-time to capitalize on the growth opportunities.
Algorithmic Repricing
Algorithmic repricing is a much more intelligent tool, which applies AI algorithms to set the best possible price according to all market conditions. It analyzes the market trends to determine the price by considering a wide variety of metrics. The variables that affect the seller's chances of winning the Buy Box. BQool AI algorithms use machine learning to predict pricing trends, so the more you reprice over time, the better price predictions and optimization our algorithms can make on the price.
Pros of Algorithmic Repricing:
The setup is simpler and quicker. 

Machine learning algorithms are based on data to reduce human bias.

Accelerate the Buy Box win rate and boost the percentage of Buy Box.

Algorithms have the ability to identify other factors more than your competitor's price to Increase profitability and chances of getting the Buy Box.

Machine-learning algorithms continuously learn from the historical data and the competitor's behavior to adapt to the constant change in market trends.

Algorithms free you up more time and effort to focus on something else to do in your business and personal life.
Cons of Algorithmic Repricing:
Sellers have less control of price change, so this can be seen in a negative way for those who prefer to have more control of most things in business.

Algorithmic repricing is an advanced technology, so it's more expensive than the other options. 
Conclusion:
The biggest difference between rule-based repricing and algorithmic repricing is that algorithmic repricing has a self-learning ability that mimics human brains to perform the tasks while considering a wide variety of metrics. This certainly increases your odds of winning the Buy Box and boosting your profits.
With machine learning Algorithms, BQool's AI-Powered Repricer is designed to help you incrementally reprices to win the Buy Box and maximize profit.
BQool's AI-Powered Reprice will be free for 14 days with full features. Sign up now and boost your Amazon sales!

Act Fast, all codes expire on December 12th, 2021