//php the_post_thumbnail( 'post-thumbnail' ); ?>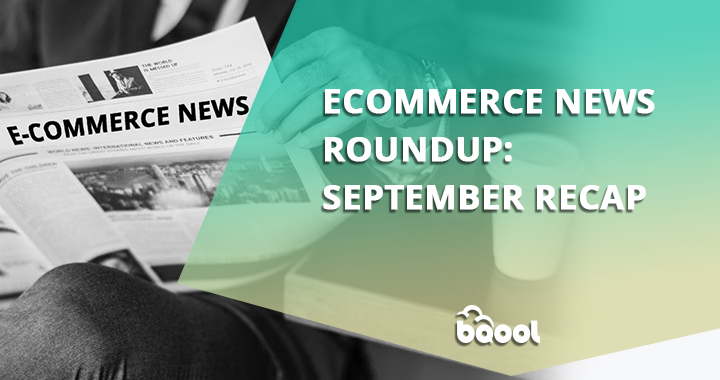 As an Amazon seller, it's essential to keep up with the latest news in ecommerce. With Ecommerce News Roundup, it's easy to stay updated with everything that matters to your business. Let's recap the top headlines in September.
Amazon Helps Sellers Donate Excess Products
Amazon's Fulfilment by Amazon (FBA) Donations program has started on September 1, 2019. Amazon works with one of the leading product charities Good360 to distribute the goods to people in need. This program helps sellers in the U.S. and U.K. to donate the excess and returned products in its warehouses to charities including Newlife, Salvation Army, and Barnardo's. To check your enrollment status, you can log into your seller central account and go to Settings > Fulfillment by Amazon > FBA Donations program.
Amazon has expanded its Prime subscription service to Brazil. Amazon Prime Brazil offers free unlimited shipping for about 500,000 products out of the 20 million in Latin America, and it will be available in 90 cities.
Amazon Could Soon Make It Much Easier to Leave an Online Rating 
Amazon will make it easier for users to leave an online rating in a single tap on their phone. Users can leave star ratings by skipping the steps such as filling the review title and a full written review on the Amazon website and in the Amazon app. Amazon hopes to encourage buyers to give more authentic reviews with this new approach.
Amazon provided a convenient checkout option for customers who prefer to pay in cash to enjoy a hassle-free shopping experience on Amazon. Amazon PayCode, customers will receive a QR code or a number after selecting this new checkout option to allow them to pay for their purchases at one of 15,000 Western Union locations within 24 hours. Amazon PayCode can give a true payment solution that satisfies the needs of cash-dependent consumers.
Amazon FBA Repackaging Service Can No Longer Be Disabled
Amazon FBA repackaging service that used to be optional is now mandatory. This could be an option for Amazon to reduce the sales of distressed goods through Amazon Warehouse, but it is likely to lead to additional complaints from customers when they receive the merchandise in less-than-optimal conditions. From a seller perspective, they are at the risk of being suspended by Amazon for selling used goods as new.
Get the latest ecommerce news and Amazon seller tips at blog.bqool.com. Subscribe for updates!