//php the_post_thumbnail( 'post-thumbnail' ); ?>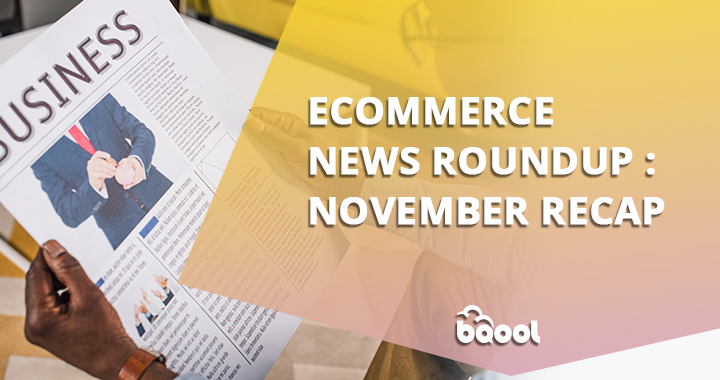 We hope you had a wonderful Thanksgiving! While you are getting ready for the busy holiday season ahead, we brought you some exciting e-commerce news and updates from Amazon. Here are some of the stories of the last month.
Transparency Launches in Japan, Australia
Amazon expands its Transparency program to Japan, Australia, making it available in 10 countries where Amazon has a store. Transparency is also celebrating a milestone of enrolling over 10,000 brands into the program and has prevented 500k suspected counterfeits.
Transparency allows brands to uniquely identify each unit they produce through the application of unique codes on the product or its packaging. These codes allow Amazon to inspect and authenticate every unit enrolled in Transparency proactively, detecting and stopping counterfeits before they ever reach customers. Additionally, customers can use a mobile app to scan the code and verify authenticity regardless of where they purchased the brand's products.
If you are selling on Amazon Japan, Australia, US, Canada, UK, Germany, Spain, Italy, France, and India, and would like to find out more about how Transparency works. Visit Transparency page.
Help customers discover your products by adding missing details
It's time to verify your product detail pages having all the necessary information for the holiday shopping season, so customers will be able to discover your products.
The Fix Your Products page can help you check for inactive and suppressed listings that have incomplete product detail page information. Resolving these issues helps ensure customers seeking your products can find them. You can further help to improve the discoverability of your listings by adding missing product details on the Listing Enhancements page.
Search Suppressed and Listing Enhancement information can be found by downloading a "Listing Quality and Suppressed Listing Report" from Inventory Reports. You can update these listings in bulk by uploading this file using the Add Products via Upload process.
Learn more about Suppressed Listings.
New tools for adding and editing listings on Amazon Seller App
Amazon has brought new features to the Amazon Seller mobile app to make it easier to list and edit products one at a time from your mobile device. You'll notice that the new Add a Product and Edit Product workflows look more like and include features from the Seller Central experience.
This means you'll be able to:
Create and edit product variations from within the app.

Search for categories of products you're listing and save frequently used ones as favorites.

View detail page information side-by-side with your product data when you edit listings.
You can download the Amazon Seller App from the Apple App Store and Google Play Store.
New guidance to help you prevent product condition issues
Amazon now has a Preventing product condition issues Help page to help you prevent product condition issues. By describing your products accurately and addressing potential product condition issues early, you can maintain great account health.
Common complaints include scratches and scuffs, previously opened packaging, signs of damage, and items not working. To prevent these complaints, you can:
Describe your products accurately and select the correct listing condition according to Amazon's

Condition guidelines

. This will ensure that there is no confusion about what the customer should expect to receive.

Improve your quality control processes and inspect your products regularly to ensure that they match the description in your listing and function as expected. Work with your supplier to identify issues and areas for improvement.

Implement packaging improvements to prevent minor damage during storage and shipping, keeping in mind the unique features of your products.
For more information about evaluating your listings, quality audits, packaging, returns processing, and storage and shipping practices, visit Preventing product condition issues Help page. 
Open your Amazon Singapore store now
Amazon launched in Singapore, and it's beneficial to the sellers to sell on Amazon.sg because of its easy and affordable logistics shopping and lower FBA fees compared to the US. Amazon Singapore marketplace operates in English, so sellers don't need translation for their listings.
To help sellers get started, Amazon is waiving the account subscription and Deal/Promotion fee through June 2021. Visit Amazon registration page for more information about selling in Amazon.sg.
Find guidance to help grow your business with Spotlight on Amazon advertisers
Want to invest your budget in Amazon advertising to grow your business, but have no ideas on how to do it? You can check out the new Spotlight on our advertisers page, where other advertisers share their stories, insights, and success tips. And you can get the resources to help you build up your advertising knowledge, such as real-time examples and how-to videos, tips for all experience levels, and additional educational resources from Amazon.
Providing tracking IDs for shipments just got easier
Providing carrier tracking information can help Amazon better prepare to receive your inventory and make your products available for sale sooner. When using your own carrier, you can now provide carrier tracking IDs for small parcel shipments to Amazon by using a barcode scanner, or by using a spreadsheet to upload them in bulk.
On the Track shipment tab in the shipment creation workflow, you can scan shipping barcodes from box labels, or scan barcodes from carrier receipts and invoices. To learn more, visit Summary of shipment process.
Payment Statements now available on the Seller App
You can now view your payment statements while you are on the go using the Amazon Seller mobile app. Log in and tap Manage Payments on the home screen to view information including the transfer amount, transfer date, and breakdown of your balance. Select the All Statements tab to see previous statements and select one to view details.
Download the iOS Amazon Seller App from the App Store
Get the Android Amazon Seller App on Google Play
Potential pricing errors offer deactivation notification in Pricing Health
Amazon detects potential pricing errors in your listings based on several factors including the Marketplace Fair Pricing Policy and the Featured Offer price. When Amazon identifies these potential errors, they will notify you. In more serious cases, they might deactivate the affected listings to avoid a potentially negative customer experience.
You can review your offers that have been deactivated because of potential pricing errors in Pricing Health. Reconsidering your price inputs in Pricing Health may resolve this pricing issue and reactivate your offer. Amazon also has reference prices to help you identify any potential pricing errors.
Visit Pricing Health today to see if you have any potential pricing errors for review or learn more about Pricing Health and other notifications available.
Introducing Amazon Pharmacy: Prescription Medications Delivered
On November 17th, Amazon announced two new pharmacy offerings to help customers conveniently purchase their prescription medications. Amazon Pharmacy, a new store on Amazon, allows customers to complete an entire pharmacy transaction on their desktop or mobile device through the Amazon App.
Customers can now purchase prescription medications through the Amazon online store – convenient and reliable access, without leaving home. Amazon Prime members receive free two-day delivery and up to 80% savings when paying without insurance, with new prescription savings benefit. To learn more and get started, visit amazon.com/pharmacy.
Get the latest eCommerce news and Amazon seller tips at blog.bqool.com. Subscribe for updates!