//php the_post_thumbnail( 'post-thumbnail' ); ?>
How to price your Halloween products competitively
If you are going to sell Halloween products on Amazon this year, you will find all the information that you need to help you to succeed in our Halloween special series "Make More Money on Amazon by Getting Halloween Ready".
Last week we talked about how you can successfully identify potential hot-selling Halloween items using the product data collected by BigTracker from Part 1 and Part 2.
The final part of this series will provide you with useful tips on how to price your products competitively to win the Amazon Buy Box and make more money during this Halloween.
Demand-Based Pricing
A Wonder Woman pet costume is priced between $11.00 to $39.00 by different sellers on Amazon. Demand-based pricing is the practice of charging customers different prices for the same product based on customer demand. With Halloween quickly approaching, the demand for Halloween-related products increases, but the competition increases accordingly.
Avoid Racing to the Bottom
We all know that price is key to stealing customers away from your competitors, and customers will always want lower prices. However, race-to-bottom pricing might be the worst pricing strategy for your business, especially if you are a private label or brand seller as this will not help you to grow.
For holiday-specific or seasonal products such as Halloween costumes, customers are usually less willing to spend too much on a single item, so if you price your item too high, your inventory won't sell at all. On the other hand, setting prices too low will kill your profits. That's why when you set a price for an item on Amazon, you need to consider its minimum and maximum price:
Specify your lowest price – to make sure the price is still profitable
Specify your highest price – to maximize profits margins
Stay Competitive by using a Repricing Tool
Do you want shoppers to choose your products over the products of your competitors? Of course, you do! Using an automated repricing tool to get the Amazon Buy Box helps you to maximize your profits. This is why you need your secret weapon – BQool Repricing Central, an amazing Amazon repricer with features like:
24/7 price monitoring to detect price changes ahead of your competitors
Price Adjustment every 5 to 15 mins
A profit calculator which helps you to estimate your profit margin, product cost, Amazon fees, and so on (see image below)
Competitor analysis that helps you to make strategic pricing decisions (see image below)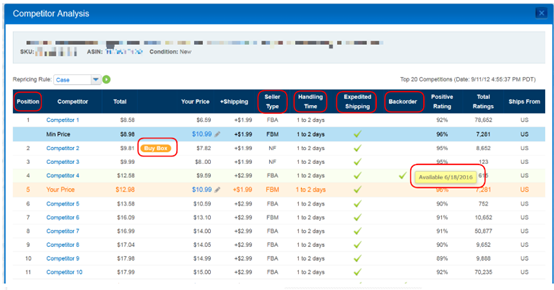 The custom repricing setting is fully adapted to meet your needs based on your competitor's fulfillment method, feedback ratings, item status and condition (see image below)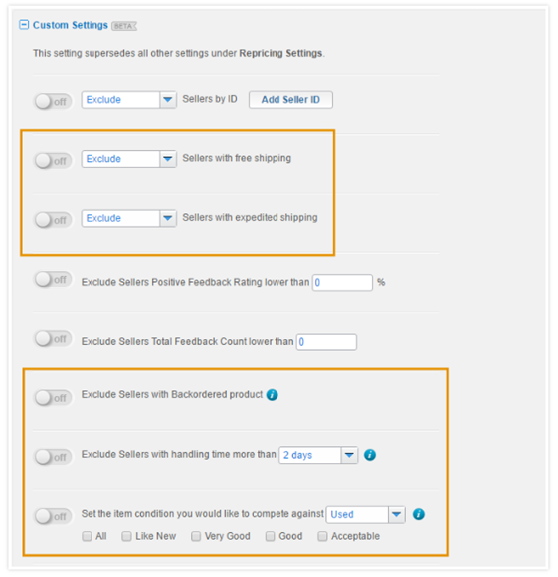 Schedule automatic repricing to begin and stop during a specific time of day (see image below)

Win the Buy Box
The most important factor to guarantee more Halloween sales is to make sure that you are the Amazon Buy Box owner. When your product is in the Buy Box, buyers can purchase your products straight from a listing page by clicking the "Add to Cart" button. If you want to compete for the Buy Box, you should be aware of following key criteria:
Have a Professional Seller account
Have Buy Box Eligible status for the product (formerly Featured Merchant)
FBA seller
Items must be new
Consistently provide low selling price including shipping
Stock availability
Low Order Defect Rate (ODR)
Low Return Dissatisfaction Rate
Fast Response Time
No Late Responses
Low Pre-Fulfillment Cancel Rate
Low Late Shipping Rate
Valid Tracking Rate
Lots of positive feedback

You can keep an eye on adjusting your prices automatically with Amazon repricing software to maximize your profits during the Halloween season. Most importantly, a powerful repricing tool can help you to win the Buy Box even if your competitor is Amazon itself.
Last but not least
After you have successfully sold the products to your customers, remember to follow up with your customers. Send out automated feedback request emails to them to increase higher customer satisfaction.
Don't forget, negative feedback is informative and can help to shed some light on which components of your Amazon business you should focus your attention on and how to improve the overall shopping experience for your customers.
We hope that this series of articles on selling Halloween products on Amazon has shown you just how easy it can be to pick profitable Halloween products, price them competitively and how to manage post-purchase feedback with the following tools.
BigTracker – Identify potentially lucrative products
Repricing Central – Maximize your profits and revenue.
Feedback Central – Win customer loyalty and generate more feedback and reviews.
Are you ready to increase your Halloween sales and beat your competitors? Give our products a try for free today!