//php the_post_thumbnail( 'post-thumbnail' ); ?>
Are you losing sales to your competitors on Amazon and struggling to figure out the reasons why? What if you had the ability to spy on Amazon competitors and see exactly what they were doing and what strategies they were implementing to ensure their success on Amazon. It certainly sounds like a challenge, but by utilizing the best available Amazon product research tool on the market, you can easily conduct a detailed comparative analysis between yourself and your competitors.
1 – Spy on Amazon Competitors & Track their Sales Performance
Competition in the market is one of the inevitabilities of being in business. In order to stay ahead of your competitors, the first step is to identify who they are. This can be as easy as performing a search on Google, investigating your competitor's social media presence or by looking at the "Other Sellers on Amazon".
The next step is determining what your competitors are doing, this is often a little harder than simply performing a Google search. Some factors to consider are how they are better or worse than your business. Do they have more product variety? What is their average selling price? How about their reviews, sales and rank? It does seem like an awful lot of time-consuming investigation to take on as an individual. If your potential market is not niche and you have many competitors, this could all sound like one big nightmare.
With an Amazon product research tool such as BigTracker, you can easily review your competitor's performance at a glance and scope out the competition by monitoring the better-performing brands.
BigTracker's Brand Tracker gives you access to your competitor's overall performance with up to 120 days of historical data.
Additionally, you can see the number of active, inactive and new products, as well as the daily sales volume and revenue of your competitors.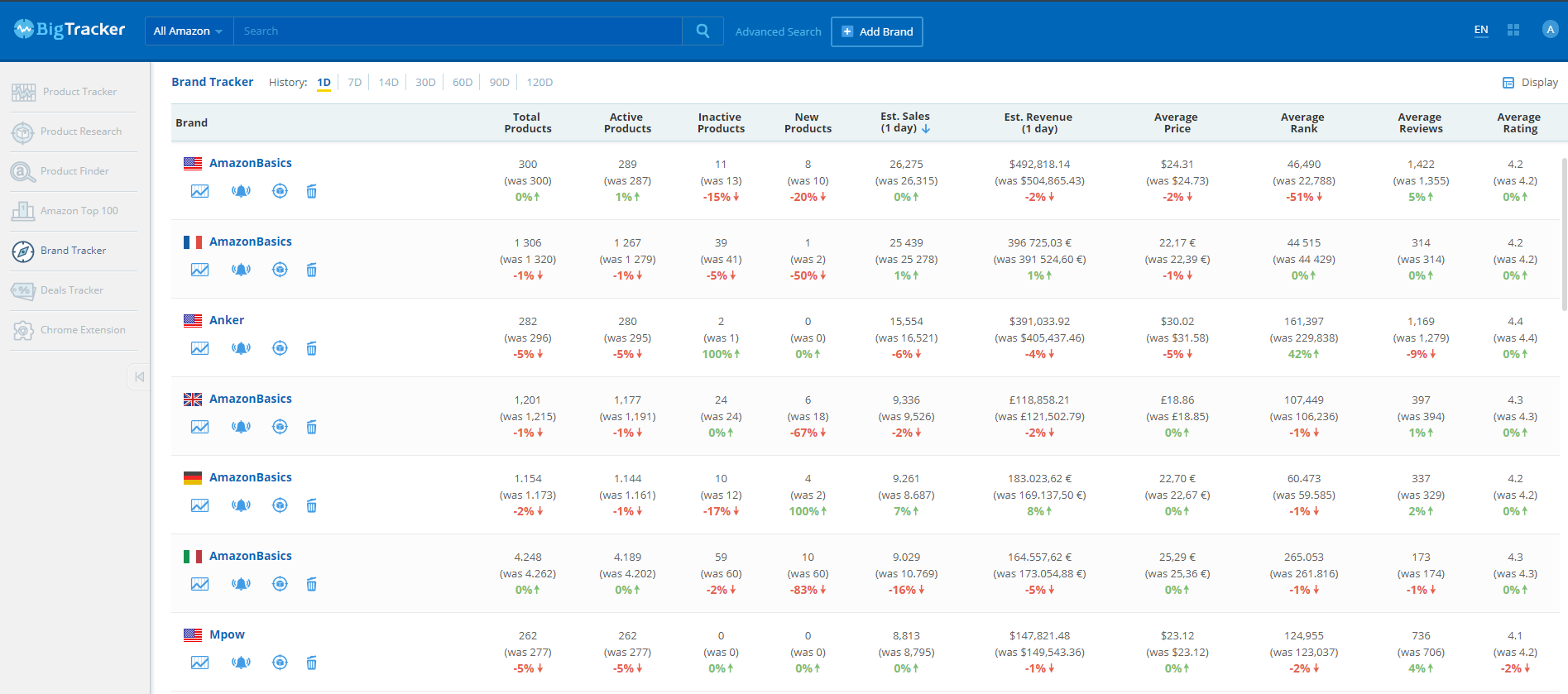 Another way to effectively spy on Amazon competitors is to set up an alarm notification. BigTracker's alert system will automatically notify you of any changes to your competitor's inventory, price, reviews, ratings, revenue and more. This enables you to remain one step ahead of the competition at all times. By gathering competitor intelligence, you can get a clear understanding of where your business is positioned within the market.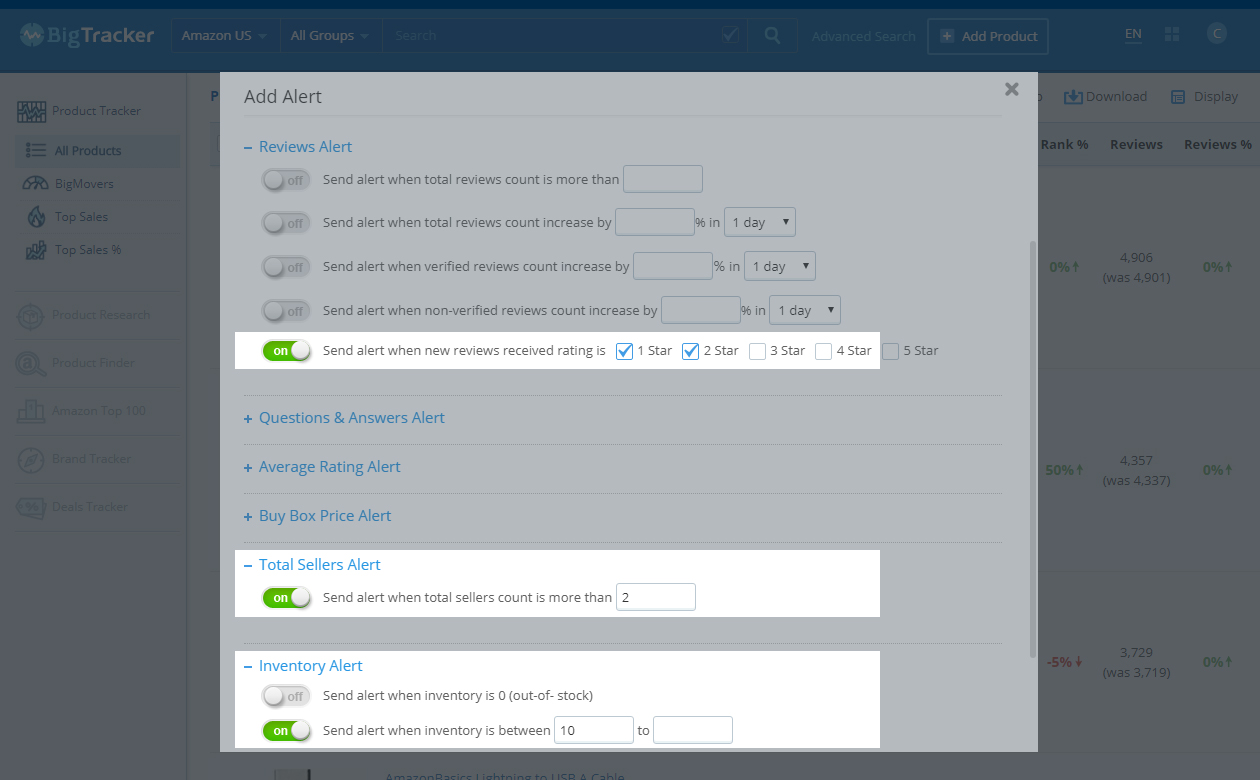 2 – Spy on Amazon Competitor's Best Selling Products
Another key reason to actively spy on Amazon competitors is to find out which of your competitor's products are stealing your revenue. Your competitors are not just those that are selling the same products as you, but also other brand sellers who are selling products that can be purchased as supplements to what you are selling. Therefore, it is crucial that your track your competitor's product performance.
With BQool's newest product research tool, BigTracker, you can easily identify your competitor's best selling products and monitor the product price, reviews, sales, profit margin and inventory amount. With all of this insightful analysis, you can implement actionable plans to compete with your competitors and differentiate your products. By tracking your competitor's top selling products, you can establish why their best sellers are selling differently and further utilize the information to form new product ideas.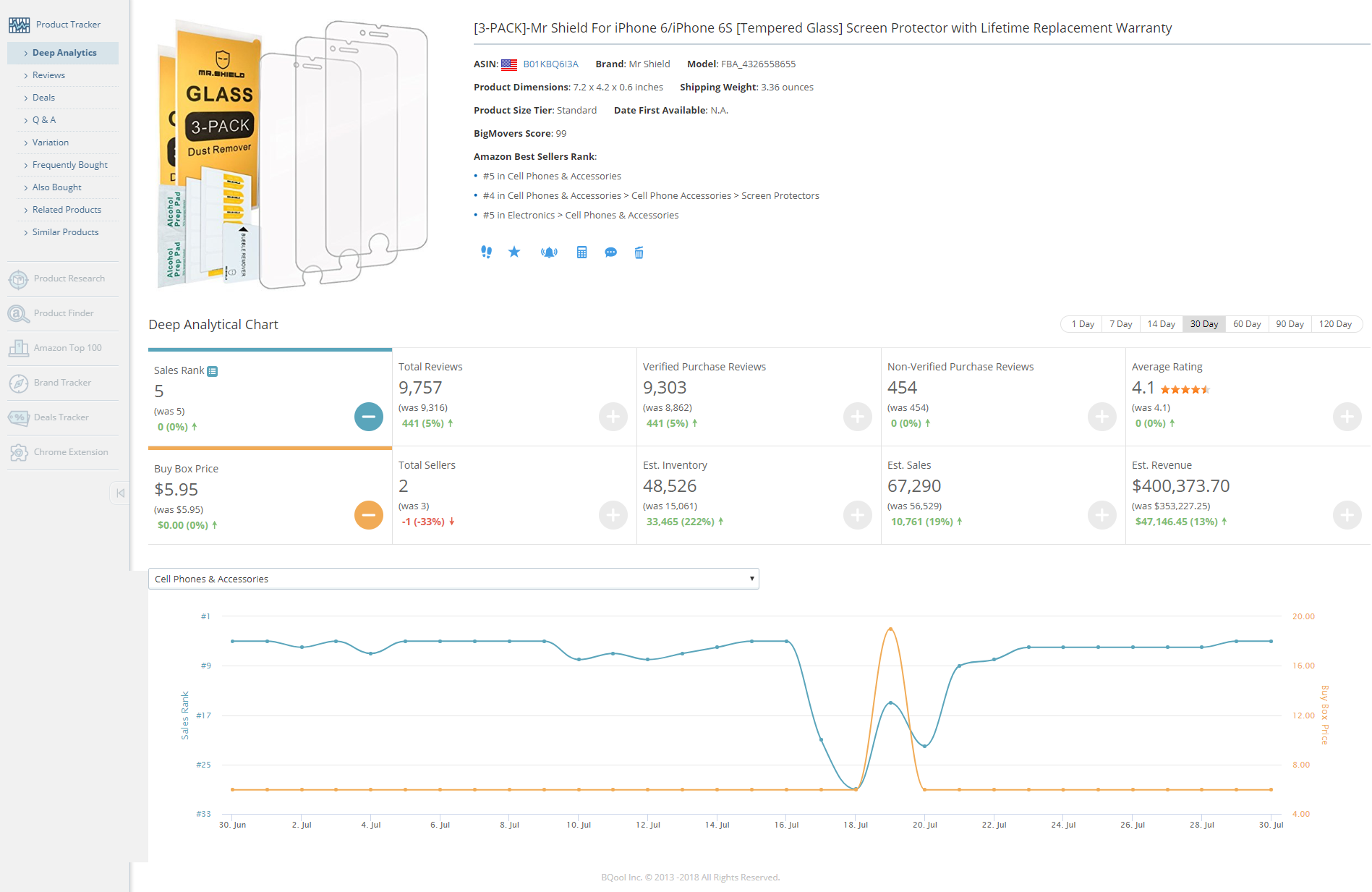 3 – Track your Competitor's Promotions and Sales
Have you ever wondered why you've suddenly lost a significant amount of orders to your competitors? After spending a long time researching, you then realize that your competitors were running a special promotion. Knowing what your competitors are offering can help you to measure their strengths and weaknesses, hence gaining further insight.
How can you discover when your competitors are running promotions?
You can check "Today's Deals" on Amazon
Maybe visit your competitor's website to see if they are offering any discounts or deals.
How about monitoring social media? Many brand sellers will also release their special deals on their fan pages. You can spy on their promotional campaigns online.
However, these methods require a lot of time and manual effort, especially when you have many competitors. Here's where an Amazon tracking tool like BigTracker comes in to play. BigTracker not only captures your competitor's promotional sale prices but also records other promotional information such as when the sale started, the amount of discount, product rating and type of Amazon deal. You can also turn on BigTracker's Deals Alert function to receive notification when your competitor's product is on offer. This allows you to plan your next move in response to their promotion, e.g. start running a deal, cut down your inventory or run the deal after your competitor's deal has ended. By visualizing your competitor's deals and sales, you can enhance your promotional strategy to obtain the edge over the competition.

As you know, Amazon is highly competitive and there will always be sellers that want to steal your customers. One of the key steps to ensure you stay ahead of the competition is to actively monitor your Amazon competitors. Start tracking your competitors with BigTracker by adding both your competitor's and your products to the Product Tracker. This will enable you to stay up to date with your competitor's performance, pricing, sales and ratings. This will help you to fine tune your Amazon business strategy.
Start your 14-day FREE trial now!