//php the_post_thumbnail( 'post-thumbnail' ); ?>

If you are a Private Label Seller, the question you should ask yourself isn't "Should I enroll my brand in the Amazon Brand Registry?". The question is "When?" you should do it.
Brand Registry is a must for established Private Label products. It gives you not only more control over your products and listings, but it also provides your brand with the protection it needs against hijackers and counterfeits.
But as they say, every rose has its thorn…
What is Amazon Brand Registry?
Amazon Brand Registry is Amazon's answer to sellers who manufacture or sell their own branded products, and who want to have more protection and control over their listings.
The main purpose of Brand Registry is the protection of your registered trademarks, but increased authority over your listings is as important.
Brand Registry is not only for Private Label Sellers. It also works for manufacturers, distributors and even some resellers who can work as an agent for a brand. All those Sellers can benefit from registering their brands.
How to register my brand?
The process is easy, just visit this link. The problem lies somewhere else.
There are things you must do before you are able to register your brand. Preparations can be both expensive and time-consuming.
Let's look at the requirements:
A brand name that has a live registered trademark.
Government Registered Principal Trademark Registration or Serial Number. For USPTO marks, the Mark Drawing Type must be equal to one of the following and the text much match the brand name:
    "1 – TYPESET WORD(S)/LETTER(S)/NUMBER(S)"
    "3 – AN ILLUSTRATION DRAWING WHICH INCLUDES WORD(S), LETTER(S)/NUMBER(S)"
    "4 – STANDARD CHARACTER MARK"
    "5 – WORDS, LETTERS, OR NUMBERS IN A STYLIZED FORM"
Images of the brand's logo.
Images of products and packaging that carry the trademarked brand name. If the product is not branded, the packaging must be branded.
A list of product categories (e.g., apparel, sporting goods, electronics) in which the brand should be listed.
A list of countries where the brand's products are manufactured and distributed.
Source: Amazon
Trademark:
The first thing you will need is a trademark. That's the thorn I was walking about. It's also something that most of the sellers are afraid of.
Applying for a trademark isn't hard, and you can do it yourself. But you need time and money to do that. 
First things first – you must understand what trademark is. Trademark is "a word, phrase, symbol, and/or design that identifies and distinguishes the source of the goods of one party from those of others."
What does it mean in human language? It means that almost anything can be your trademark:
Brand name: Chanel, CASIO, Rolex
Product name: Whooper, G-shock
Logo: for example, our Bqool logo
Slogan: Nike's "Just do it"; McDonald's "I'm lovin' it."
Words in a stylized font: "Coca-Cola" and "Yahoo."
Color: Tiffany Blue, University of Texas Burnt Orange
Product shape: KitKat Candy Bar, Coca-Cola's bottle
Sound: MGM's lion's roar, Nokia's default ringtone
Symbol: Nike swoosh and Mercedes emblem
Combination: they include more than one feature, LG logo with words would be a good example
Now, when you know what trademark is you can decide which trademark you should apply for. This is the hardest part from a business perspective. If you are not sure which trademark you need, talk to a lawyer.
To join Brand Registry, you don't need to trademark your sounds, shapes or slogans. Those won't let you register your brand, anyway. Same with the product name. Remember, to get into Brand Registry you need to trademark your brand, not your product.
What kind of trademark I should apply for?
In most cases, you should go with a standard character mark (Word Mark).
To make things simple – Word Mark is just a text, without regard to the font, style, size or color. It provides the broadest protection and covers your wording regardless of its style. 
If you want to protect a graphic design or image (no wording), you should apply for a design mark (also known as a stylized mark). For example, your logo can be a stylized mark.
For Amazon Brand Registry you can go with either a word mark or design mark that contains words, letters or numbers. Logo without wording won't do. 
If you want to protect your brand fully, outside of Amazon, you should consider applying for both. And remember, you don't have to apply for both trademarks at the same time.
It may take several months (up to a year in some cases) before you will get your trademark. So, plan accordingly.
Other things you need:
Images of the brand's logo: it's obvious, just your logo
Images of products and packaging that carry the trademarked brand name: this is something you should consider before you design your packaging. Make sure to put your brand name on the package, just in case, even if you don't plan to apply for a trademark.
Website: a website is no longer required, but it's recommended. It's good to have a Facebook page, too.
Phone number
You need a registered business: if you plan to launch your PL as a side gig, without registration, forget about brand registry
UPC: If you are totally new to Amazon, don't forget that you need a UPC from GS1 to start selling your branded products
When you have all those things ready, go here and click on Get Started.
Next, provide all the information that Amazon asks for and you should see this: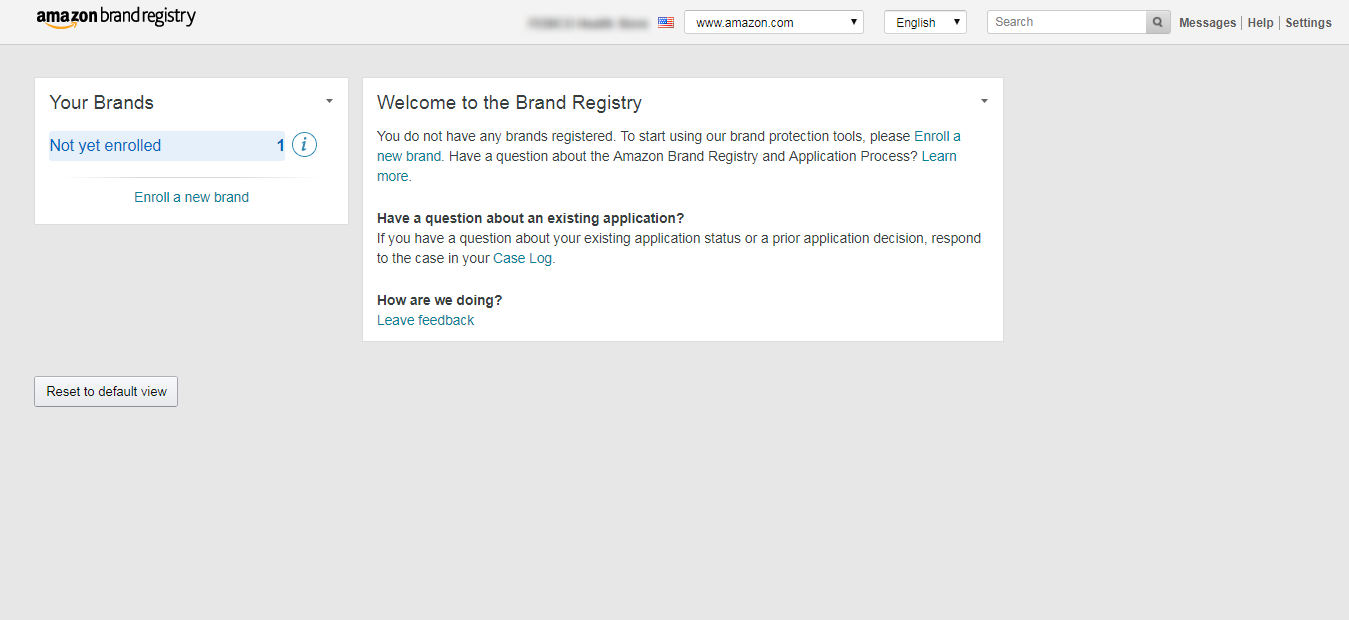 Click on Enroll a new brand on the left.
Here answer to Amazon questions and fill in the form. Remember that brand is case sensitive. You have to provide the brand name exactly as it is in your trademark application.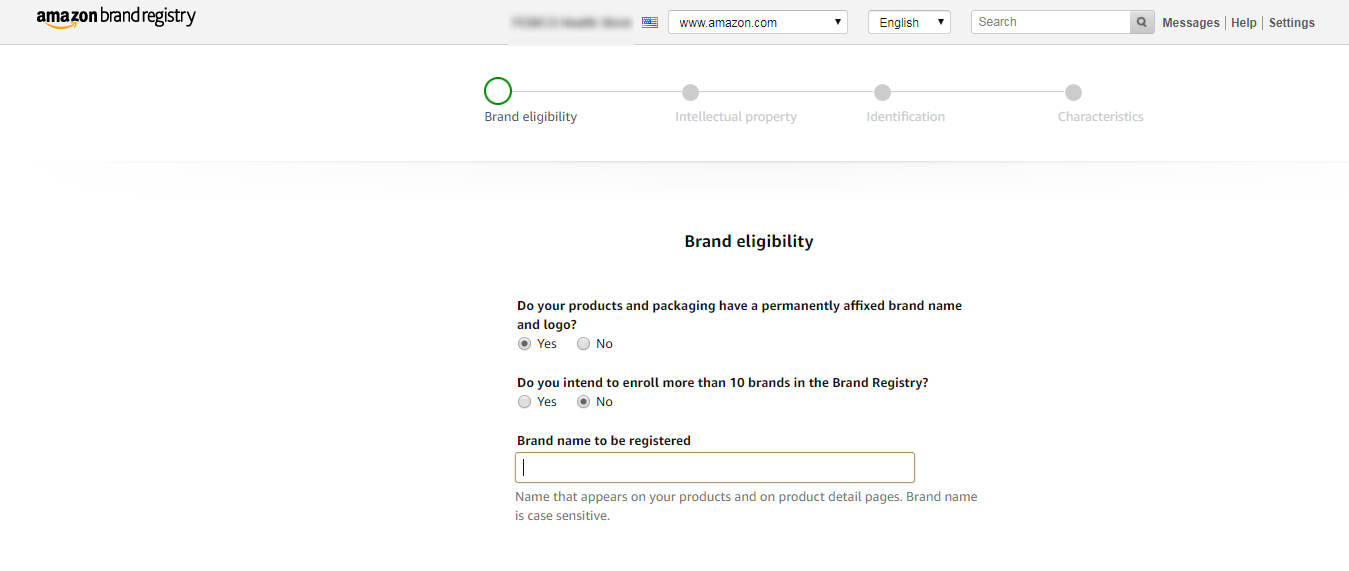 Next, provide Mark name, registration and registering office.

Amazon wants to double check that you are the owner of the brand. In this step, you have to attach your logo, products photos, and packaging. Be sure to have your branding on both the product and package.
Brand website and social media page are no longer required, but it's better to let Amazon know you are serious and provide both.

Benefits of Amazon Brand Registry
The biggest advantage is, of course, the protection Brand Registry gives you.
Amazon promises that with registered brands counterfeit claims will now be acted upon in just 4 hours (sic!). There is even better news – the burden of proof now falls upon the seller you reported. And you don't even need to do a test buy to submit a complaint.
Amazon also gives you access to some tools like "text and image search, predictive automation based on your reports of suspected intellectual property rights violations, and increased authority over product listings with your brand name."
Finally, Amazon is constantly improving Brand Registry. New features like custom videos on your product page or unique URLs are coming. It might be wise to enroll now and have access to those updates as soon as they come up.
I love Brand Registry for 3 reasons:
It's the only way to get access to Headline Search Ads. Those might or might not work for you, but right now HSA are the best way to increase brand awareness.
Brand Registry gives you access to Enhanced Brand Content. EBC is a bit controversial, but it works for me.
Many of my friends haven't noticed increased sales after enrolling to EBC, but I did. After I registered my brand and created EBC content, I got 20% boost in sales. Not bad, right? I also love how storefronts works.
I am not trying to say that EBC will make you sell more. Maybe it won't. But it's worth trying, especially if you are thinking about protecting your brand anyway. Remember, Enrolling is free.
Should I register my brand?
If you have just shipped your first product to Amazon, the answer is NO. You shouldn't bother with Brand Registry.
As I said, registering your brand is all about the timing. The main obstacle is the trademark. It costs money and takes time. That's why trademarking all your products at the very beginning is not a good idea.
Some of the products you'll launch on Amazon just won't sell. No matter how much research you had done before you ship to Amazon, you will have to kill some of them. And it's very hard to kill a trademarked brand, even if it doesn't sell. Trust me, it's painful.
In those cases, spending money and time on trademarking is like building a garage for a car you may not even buy.
So, when is "When?" It's simple. When your products start selling well. As soon as you know that your brand will keep selling, go and get a trademark and register your brand. Then you can launch more and more products under your brand, and they will be automatically enrolled.
But that's not all. Enhanced Brand Content might help you promote those new products at the very beginning. Sponsored products together with Headline Search Ads can work wonders.  
Key takeaways
If you are serious about selling on Amazon, then Brand Registry is a must. It makes fighting with counterfeits so much easier. It's even more important nowadays when it's so easy to sell on Amazon directly from China.
I also love those benefits of Enhanced Brand Content. It's good to have more control over your listings, and it's great to have more copy on your listings. 
Just Remember…Timing is Everything!
Jacob is a coffee addict, Amazon seller, and content manager at BQool, in that order. With 8+ years of experience in eCommerce, he is trying to share his passion for Sales and Marketing with others. You can usually find him with a cup of coffee surrounded by a pile of books. Jacob's favorite tool is BQool's BigTracker.